After GlaxoSmithKline K.K. made plans to move into a new building in Akasaka, a process that was formally completed on 2 October, the firm embraced the opportunity with gusto. Now, more than ever, their office is defined by open, collaborative spaces.
BCCJ ACUMEN was given the chance to take a look around and speak with the firm's president, Kanako Kikuchi, about what the new premises bring to the firm's work.
Modern workplace
Stepping into reception, it is immediately clear that this is an office for the 21st century. The gleaming new space is replete with information on GSK shown on large screens and projected on to white curved tables with which visitors can interact. Nearby, the firm's two British Chamber of Commerce in Japan British Business Awards are proudly on display.
Other features quickly catch the eye. A broad­casting studio—used for internal and external webinars—stands out with its green backdrop, high-tech gear and brightly lit on air sign. And by the seating area for waiting guests stands a counter offering an enormous variety of tea—a welcome sight for visiting Brits, no doubt. All in all, it is a far cry from the drab office spaces that many firms inhabit. But these are not intended to be mere cosmetic differences.
"GSK believes the modern workplace and new ways of working enable every single employee to feel supported and proud to give their best every day, which leads better productivity and stronger employee engagement", said Kikuchi. "In order to realise this vision, we needed the new and modern space and, thus, the move".
A large part of that vision relates to commu­nication, with GSK seeking to ease interaction between employees.
"The new office provides various types of communication areas, such as a community space called the Village, a common space for casual meetings with a spacious and open cafeteria", said Kikuchi. "Such spaces naturally promote far better communication, interaction and collaboration compared with our old office.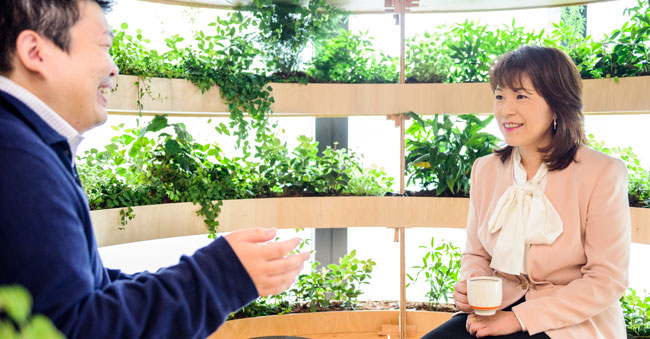 "We have adopted a "free address" system, so people can sit anywhere they want, which helps employees to meet people from different functions, which activates further interaction between employees.
"We also offer focus booths and quiet areas where people can come and work intensively for a couple of hours without being bothered by anyone. Actually, we see people really taking advantage of all these spaces and adopting a new working behaviour".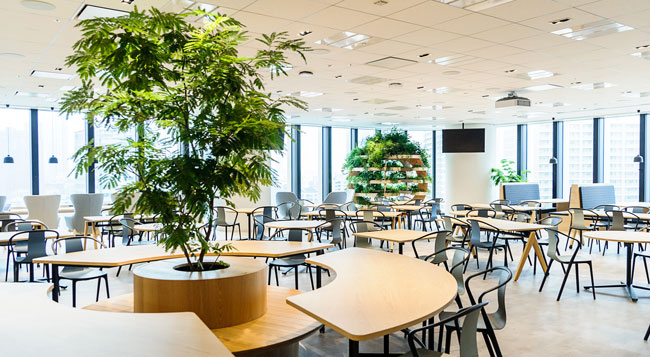 Certain concessions were made to Japanese work culture—slightly more emphasis was put on traditional meeting rooms than in equivalent offices in the UK and the United States—but that this is a more community-orientated space than typically found is immediately obvious upon entry. A significant amount of space is given over to small, round tables, allowing for quick and informal discussions, with meeting rooms located in adjacent units.
One room, however, stands out. With its large TV, bean bags, Lego set and bookshelf, the family room provides a welcoming space for staff who have children. This plays into another key GSK agenda: diversity and inclusion (D&I).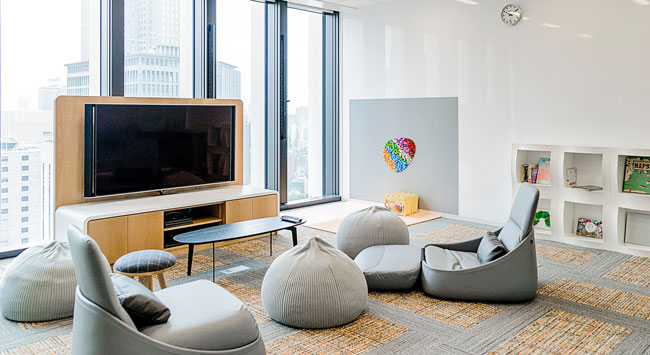 "We promote D&I as one of our strategic initiatives, and what we mean by D&I is not only to do with gender difference but something broader, including those who are differently abled; have different backgrounds, ways of thinking or work styles; and identify as lesbian, gay, bisexual or transgender. By adopting this approach, staff will drive innovation and create trusted partnerships with internal and external stakeholders, leading to the sustainable success of the firm.

"The layout also allows differently abled people to work safely and comfortably so that we can easily collaborate with one another, which eventually brings higher productivity".

On this front, the office incorporates braille, wheelchair-friendly doors and universal toilets—all based on feedback from employees. Adjustable desks are also on offer, allowing staff to work standing up should they so choose.

And as a healthcare firm, the wellbeing of employees was a consideration in the design. On site are a medical room, balance balls and a cafeteria serving healthy food. This dovetails with the accommodation of flexible working needs, built into the overall office design.

"Working flexibly by selecting work styles, the workplace and the space to work in the office will release people's stress and make it easier for them to feel refreshed, as well as increasing physical exercise", said Kikuchi.

In addition, she added, the building has a high level of earthquake protection, making it one of the safest in Tokyo.

Thought through

Underpinning many of the initiatives seen in the office is a concept GSK calls "SMART working". This seeks to create workspaces that are healthy, stimulating and encourage movement and collaboration.

"SMART working is all about creating our culture", said Kikuchi. "It allows employees to have autonomy to select and focus on the best working style to get things done in the most effective manner; to be accountable for their performance and results; and to develop—themselves and others—through working as a team".

Despite having only been in the new premises for about one month, Kikuchi was convinced that positive results were already manifesting themselves.

"I see both people working smart and happy with more conversations and interactions, as well as actual behavioural changes", she said. "The employee feedback so far is very positive, and many people like our new office.

"Employees are realising what the new workplace can offer them and how it contributes to individual employees, teams—and GSK".

Moving offices is a daunting occasion for firms both big and small, but it represents a chance to update and embrace new working practices, changes that can be hard to push through if staying in the same location. A chance to adapt and modernise is not one that firm's can miss in this era of rapid change and technological advances, as increasingly it is recognised that traditional work styles can stymie growth and development.