Herbal tea firm enters market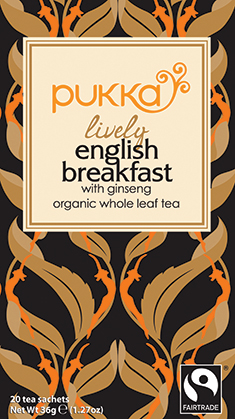 Japan, India and China may have been the birthplaces of the brew that is today considered Britain's national drink, but consumers in those markets are snapping up a range of herbal teas that can trace their genesis back to a spare bedroom in Bristol in 2002.
After all, says Pukka Herbs co-founder Tim Westwell, if they can carve a niche in the competitive and congested domestic market in the UK, then there is no reason the firms' selection of what he terms "tea cocktails" cannot fare equally well in Asia.
Westwell says he had become bored with his regular corporate-world job and wanted to find a way to directly contribute to society. He placed a simple advert, entitled "Do you want to grow business in a healthy way?" in a local newspaper in Bristol.
He received one reply, from Sebastian Pole, a qualified medical herbalist, and the idea for an ecologically and socially sustainable business— which also tapped into the Brits' obsession for tea—was born.
"We set out to create new, innovative teas that will help people to understand nature better, to improve their health and their lives", 53-year-old Westwell told BCCJ ACUMEN. "But, as well as having a positive impact on our customers, we also wanted the benefits to extend to our staff and the growers that we work with.
"As a herbalist, Sebastian knows and understands all the subtleties and benefits of herbs and has access to the raw materials all round the world", Westwell said. "And, watching him work, it's almost like alchemy as he brings together as many as 11 different herbs in a blend to create the perfect tea".
At present, Pukka Herbs—which takes its name from the Hindi word for real, authentic or genuine—produces 31 blended teas. A total of 17 of these teas, which are suitable for different occasions or moods, are available in Japan.
The naturally caffeine-free Relax tea, for example, brings together 100% organically grown chamomile flower, liquorice root, sweet fennel seed, wild fennel seed, cardamom pods, ginger root and marshmallow root. Like its name suggests, it is ideal to bring on a sense of calm, and can be drunk throughout the day or as a nightcap.
The Revitalise tea, on the other hand, melds cinnamon bark with orange peel, elderflower, cardamom seed, liquorice root, ginger root, green tea, spearmint leaf, clove bud and black peppercorn. It serves as a powerful pick-me-up when energy levels are waning and it makes an excellent change from a coffee-induced caffeine jolt.
The drinks have hit the spot in the UK, and the firm has won the most Great Taste Awards ever presented to a herbal tea business.
And the search continues for new tastes to add to the line-up of a firm that has grown from one working out of that spare bedroom, to one that employs 60 people in the UK and works with growers around the world.
Pukka has replied to demand in Japan for more mainstream teas—an Earl Grey and English Breakfast—but inevitably with a twist. The Lively English Breakfast, for example, includes ginseng that is hand-picked by indigenous tribes in northern Vietnam and the powdered root of the maca plant from South America.
"We take a lot of care with what we do: from selecting the best seeds in the country where they are grown, to the tea's place on the shop shelf and on to people's homes, we insist on having complete traceability", Westwell said.
"We have more than 200 ingredients that are sourced from the best growing regions of the world and we only select the most potent parts of the plants that we use", he added. "We think that is what makes the difference when the customer comes to taste the tea".
Pukka Herbs in Japan has been importing teas for six years and has seen a steady year-on-year growth in its sales over that period.
"We have grown faster in the UK because the herbal tea market there is more mature, but here we are trying to create awareness and build that market from a low base".
Japan was identified early on as a potentially fruitful market for Pukka, Westwell said.
"These are premium teas, in terms of quality, taste and price, and we identified countries where we thought that would be appreciated", he said. "This is a very affluent and health-conscious market with a long history of drinking green tea, so we believed Japan would be open to new ideas.
"And we are very aware that we now have to consistently live up to those high standards".
Pukka teas are available through many supermarkets and specialist food stores in Japan. Westwell admits that he would love to open a specialist store in Tokyo one day, although overheads are at present prohibitively high.
Nevertheless, the firm is growing in Japan at a rate of between 20% and 30% a year; in the UK, growth has been an impressive 45% over the past five years. In terms of Pukka's presence in Japan, the aim is to expand in the existing channels and to enter hotels and restaurants.
"There's a lot of wonder in nature and herbs", Westwell said. "We want to bring people back in touch with nature and the healing benefits of herbs and plants in a way that they can enjoy.
"That's why we have created teas that are designed to bring your senses alive", he concluded.