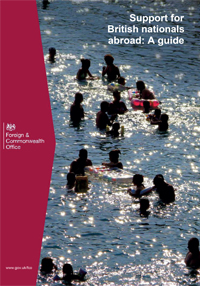 A recent event held at the office of the British Chamber of Commerce in Japan (BCCJ) saw the British Embassy Tokyo's Director for Trade and Investment Chris Heffer detail what exactly the UK government can and cannot do for British nationals in the event of a major disaster in Japan.
We put a series of questions to the embassy, looking at how you can ensure you are well protected, and to help you understand what the UK government can do to assist should there be a major incident.
In the unlikely event of a major natural disaster, accident, conflict, act of terror or other catastrophic event or threat, how can the UK government help British passport holders and their families visiting or resident in Japan?
Every disaster or crisis is different, but we do have some standards, procedures and principles to guide us. Firstly, it is the Japanese government's role—at a local or national level—to provide help and support to all residents and visitors. We can, however, assist British nationals—or other eligible people such as certain family members—in a crisis by:
Setting up an information hotline, short message service facility, and online webform for people to contact us if British nationals require assistance
Working with local authorities to establish if British nationals have been involved and providing information and support to those who have been affected
Deploying staff in the aftermath of an incident to provide assistance to affected people
Some crises involving British nationals abroad may need exceptional levels of response beyond what is described above. It is not easy to define in advance what these circumstances might be, but they might be the result of a large-scale accident, civil unrest, terrorism or conflict.
Conversely, there may be limits to what we can do in a crisis. Just as individuals need to take sensible precautions, read and follow advice provided and take responsibility for their own safety first, we have a duty of care to our employees and we will not send our staff into a situation where we judge that their safety could be seriously at risk.
And what can the embassy not do?
As you would expect from the UK, we will neither tell you what to do, nor can we make you do anything. Ultimately decisions about your safety and care can only be made by you and your families.
And bear in mind, we are not operating in the UK, but are also guests here in Japan. So we cannot guarantee your safety and security here, because this is the responsibility of the government and authorities of Japan. We can, and do, provide advice and assistance as required.
Will you train or relocate more staff to help Britons who may encounter serious trouble during the 2019 Rugby World Cup and 2020 Olympic and Paralympic Games?
Japan is a safe and relatively crime-free country, so we therefore do not anticipate encountering serious trouble during the Rugby World Cup or the 2020 Summer Olympics. These world events should celebrate the best of global spirit and host country omotenashi (hospitality), and we are confident that will be the case here, too.
However, Japan does have specific behavioural norms and some rules that visitors may be less aware of, and for the majority of travelling supporters this will be their first trip to Japan. So, our aim is to minimise the risk of visiting supporters requiring consular assistance during these two major sporting events by launching a communication campaign, highlighting issues such as the heat, public behaviour and restrictions on bringing in certain medicines which are common in the UK but illegal here. Our consular staff receive ongoing training and we will continue to exercise our Japan-wide crisis plans in the run up to both events.
What are the main threats in Japan for Britons and the British government?
The Japanese government regularly assesses the key risks to its residents and is also well known for having some well-drilled warning and response mechanisms. As you would expect, this centres on natural disasters, which Japan is prone to experience—earthquakes, tsunamis, typhoons, floods, mudslides, etc. We certainly don't want to worry readers, but the Japanese government does estimate the probability of a major earthquake in Tokyo as around 70% in the next 30 years. However, this ongoing risk means Japan is well equipped to cope with large-scale disasters that might floor other countries.
The British government does an assessment of other sorts of risks so that we can be prepared for the different scenarios they might produce, just as many businesses do. These would include more man-made incidents—terrorism, industrial disasters, transport disasters, civil unrest—but also wider incidents, such as the possible return of a pandemic to the region. To be clear, we do this so we are prepared for a wide range of possible incidents, rather than to make specific judgements about their likelihood.
How do Britons contact the UK government if they are in serious trouble?
Your first port of call should remain local emergency services. But if you are in Japan and you need urgent help from the UK government—for example, if you have been attacked or arrested or someone has died—call 03 5211-1100 and you will be put through to a consular officer. This service is available 24 hours a day, seven days a week.
Why can't Britons register their residence abroad at local embassies anymore?
Modern technology such as social media allows us to be more effective at keeping in touch with Brits in Japan. We used to have a global online registration database, named Locate, for people living abroad or travelling abroad, allowing them to leave contact details and next of kin details for use in case of emergency. However, the concept of registering with the Foreign & Commonwealth Office just in case of an emergency did not prove popular with the British public and, with lots of out-of-date information, the register did not provide an accurate picture of British nationals abroad. It therefore actually diverted our resources in a crisis rather than proving an effective part of our crisis response. Rather than formal registration, we advise British nationals—residents and visitors alike—in Japan to subscribe to our latest travel advice.
What else should Britons in Japan know about disaster preparedness and crisis response?
You are responsible for your own and your family's safety.
Our travel advice is reviewed regularly and updated following any significant incident that might affect British nationals visiting or living in the area. In a developing crisis, we update the information much more regularly and, if necessary, several times a day, and we use embassy social media channels to make people aware of the updated travel advice
The purpose of our travel advice is to provide information and views to help British nationals form their own judgements about travelling to, or living in, a particular country. While we take every care when preparing our travel advice, we cannot accept any responsibility, including legal responsibility, if you read the travel advice and choose not to take it into account when making any decisions relating to a particular country.
If you have not done so already, we recommend you subscribe to email travel advice alerts and follow our travel advice pages on social media.
Some other things you might consider:
Ensure you know what the local government advice is and follow it, including any suitable preparations for you and family
You should familiarise yourself with your own employer's evacuation and crisis policies
Make sure your employer has your next of kin details in case of an emergency
Ensure family and friends have your contact details and know your whereabouts, so they can give us this information if you are in an area overseas affected by a crisis
You may also want to consider where, in a real emergency, you might go—either elsewhere in Japan or overseas
Keep your passport, and those of immediate family members, up-to-date, and any visas that they may require; during a crisis, local UK passport or visa services may be limited or closed, which could make travelling at short notice more complicated