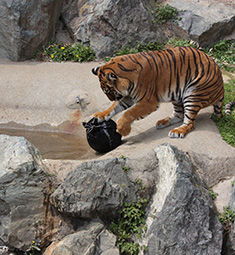 While some major zoos in Japan, such as Asahiyama Zoo in Hokkaido and Ueno Zoo in Tokyo, are crowded with tourists and families seven days a week, most others are facing a declining number of visitors. Many zoos are worried about their ability to continue operating in the future.
The total number of visitors to zoos that belong to the Japanese Association of Zoos and Aquariums peaked at about 65.6mn in 1991, and dropped to about 39.8mn in 2012. Major zoos can entice large numbers of visitors to return by installing new facilities and procuring rare animals.
However, this requires huge amounts of money, and most zoos in Japan are struggling to make ends meet as it is.
No exception is Kamine Zoo, which is located in Hitachi, Ibaraki Prefecture, and celebrates its 57th anniversary this year. Those in leadership roles at this zoo, as in other similar establishments, are not optimistic about future growth, given the current situation.
Takuya Miyamoto, a creative director of Tokyo-based advertising agency I&S BBDO, grew up in Ibaraki. When he learned about the situation facing the Kamine Zoo, Miyamoto saw an opportunity to give back to his hometown.

After a little research, he learned of a volunteer group of zoo supporters called the Mineko Club, set up to support Kamine Zoo. He reached out and suggested that they work together to revitalise the zoo by applying a new idea: something completely different from conventional approaches, which require great financial investment.
As part of their ongoing fundraising efforts for the zoo, the Mineko Club had been producing items for sale made using materials the zoo's animals regularly shed, such as feathers (from peacocks) and horns (from deer).
This inspired Miyamoto to use other by-products of the animals' everyday lives, including footprints, scratch marks and bite marks.
As a result, the Zoo Jeans project was launched. Zoo Jeans are quintessential, one-of-a-kind designer jeans made from distressed denim that bears the scratch marks, footprints and bite marks of real zoo animals.
The distressed denim for Zoo Jeans was created by wrapping the fabric around the animals' everyday playthings—such as old tyres and giant rubber balls—and letting them gnaw and claw at them.
The lions, bears and a tiger were very excited to find something new and different in their usual living environments. They played with the toys non-stop for hours at a time, biting and scratching the denim fabric. Thus they created the most unusual distressed designs imaginable.
The fabric was later collected and sent to boutique jeans manufacturer Rampuya & Co. in Okayama Prefecture. The artisans there cut around the scratches and bite marks, and created four pairs of wholly original distressed jeans: the Bengal Tiger edition, the Lion editions and the Ezo Brown Bear edition.
The Tiger and Lion editions of Zoo Jeans were available for purchase at Yahoo Japan Corporation's online auction site for one week (7–14 July). The proceeds have been split fifty-fifty between the World Wide Fund for Nature Japan and Kamine Zoo.
The campaign has gained extensive coverage worldwide in the mass media, as well as social media, and certainly increased the recognition of Kamine Zoo.