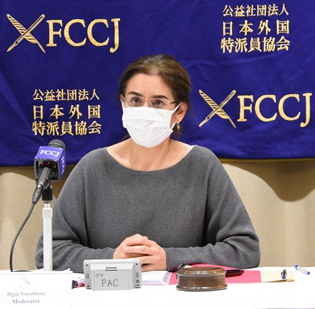 According to an October 2019 survey by the Japan Federation of Newspaper Workers' Unions, a group of 86 unions comprising workers from newspapers across the country and related firms, less than 10 percent of management roles at Japanese media firms are held by women. Of the 10 markets recently analysed by the UK-based Reuters Institute for the Study of Journalism, Japan is the only market that has zero women in the top editor position. This despite a steady and noted increase in female journalists. Such a lack of diversity affects the coverage of women-related issues and shapes how the media is perceived by the public.
On 8 January, the Foreign Correspondents' Club of Japan (FCCJ) held a virtual event entitled Women in Japanese Media: Views from the Front Line. FCCJ Secretary and Diversity Committee Co-chair and BBC World Turkish reporter Ilgin Yorulmaz (right) served as moderator. The panellists discussed being a woman working in Japanese media and how the industry, as well as the public, see female journalists. They also shared the changes they hope to see which would help young women starting their careers in media.

The diversity challenge
Yorulmaz opened the discussion by asking, "What is the main challenge you face in your job?"
Magdalena Osumi, a staff writer at The Japan Times, described the difficulties she faces as not only a woman but a foreign woman working in Japanese media. "Female journalists are often scrutinised for their work—especially when we cover issues that are more controversial and don't please a large audience. We are more often attacked on social media because we are women, and I think that's something that happens quite often to many women managers." She later added, "I have been told many times that I am a double punch because I am a woman and a foreigner". However, Osumi feels this can be used to her advantage. "I know this job is challenging, but over the past few years I have managed to share many stories that men probably couldn't cover, or notice these issues actually exist".
Grace Lee, Tokyo correspondent for the interna­tional broadcast news agency Feature Story News, works on stories for a variety of organisations in a range of countries. Being fairly new to Japan, Lee noted the lack of female experts that institutions put forward for comment, as well as the lack of willing­ness from Japanese women to actually speak to her. While these issues do not impact Lee personally, they do affect the stories she tells. "Because I work for international companies doing international coverage, women aren't exactly very keen to speak to me and have their faces on TV complaining about their home country," she explained. "Since I've been here—and having grown up in South Korea—I do recognise and sympathise with the kind of environment that women and girls here are growing up with".
Hiroko Aihara, a freelance journalist and former staff writer at Fukushima Minyu Shimbun, spoke on the adversity she faces as a freelancer, as the lack of recognition due to being a female journalist limits the number of main media outlets that are willing to hire female freelancers. "We are confronted with the economic difficulties. I could work with some main media outlets, but the diversity challenge continues those difficulties".
Push for change
Under former Prime Minister Shinzo Abe's Womenomics initiative, the Japanese govern­ment set a 30% female representation target across the board in business, politics and media. Prime Minister Yoshihide Suga is carrying this forward.
Yorulmaz asked the panel what expectations they have of the government—particularly as women are dealing with new work–life balance challenges brought on by the Covid-19 pandemic. Yoko Hani, editor-in-chief of Fujin-no-Tomo (Women's Friend) magazine, spoke about how the political world is dominated by men. "Many people think that political news mainly belongs to men," she said. "We have to change that situation. We need to talk more about politics and the daily lives that are connected to it. Those are the stories I want to see".
Yoshiko Hayashi, co-founder of Women in Media Network Japan (WiMN), worked as a writer for the Asahi Shimbun for more than 30 years before leaving to become a freelance journalist. She said: "When talking about gender equality, I don't think the current Japanese government are really enthusiastic about that.
They just want women to contribute to the economy because the population is declining". Hayashi added that the Japanese government's basic understanding of women's rights may be insufficient. "That is why we need more women journalists, to talk about these issues".
As the discussion came to an end, ACUMEN asked the panel what advice they have for young women just starting their careers in Japanese media. "Believe that you belong here," Lee said. "A lot of young women start off with a lot of imposter syndrome, thinking that maybe I'm not the right person to tell this story or I don't have the authority to do this. But I have many unqualified male counter­parts and they do their job. Keep your head high and make as many connections as you can".