An Evening Celebrating Excellence
The very best of business acumen in the challenging Japanese market was on display at the 3rd annual British Business Awards, held at the Conrad Tokyo hotel on 19 November — an event guest speaker Ian de Stains OBE described as demonstrating the "excellence" that has been applied here by firms both large and small.
The BCCJ executive director for 24 years — warmly welcomed by members and guests after more than two months' absence following heart surgery — immediately demonstrated that his humour has not suffered during his convalescence by joking that he had only been asked to be guest speaker to prove he was still alive.
"Rumours of my demise have been slightly exaggerated, but I am delighted and honoured to be with you here tonight", he said. "I want so say how deeply thankful I am to everyone who sent messages when I was hospitalised. Thank you, quite literally, from the bottom of my heart".
After being introduced by Philip T Gibb, the BCCJ president — who said his internet search for Ian had produced more than 30,000 entries — he admitted that he had been somewhat frightened when considering which topic might be appropriate for the speech, but had settled on "excellence" and what it means to be the best in any given field.
"Some people define excellence as being the best, but that raises other questions", he said, adding: "According to what criteria? By whose standards?"
Attending a grammar school in Yorkshire encouraged him to be the best he could be — academically, at rugby, in music and drama — before he won not just one of the very few and coveted places at the Royal Academy of Dramatic Art in London, but a scholarship.
"So you get in and think to yourself: 'I must be pretty good' — and then you very quickly learn that you can't move correctly, you can't speak and you definitely can't act", he recalled. "You start to learn that being the best, being excellent isn't perhaps what you thought it was and it doesn't necessarily come easily".
After joining Yorkshire TV, Ian moved on to the BBC, where his training was centred on excellence. Seconded to NHK in 1976, he noticed the commitment to excellence prevalent in both organisations and the close similarities between the two nations.
"After moving to NHK, I learned a lot about this country and its culture", he said. "I saw that the UK and Japan are similar in the pursuit of the best — history shows how we learned about that from each other. British excellence in railways — believe it or not — shipbuilding, architecture and so on was called on to help build the emerging nation. In the 1970s, the roles were reversed and the UK learned about the best in quality control, just-in-time supply chains and management by consensus from the Japanese.
"In the BCCJ, part of our mission is to demonstrate that today, Britain means business in and with Japan", he said. "I am proud that a few years ago, a visiting senior UK minister for trade said that he thought the BCCJ was the best chamber in Asia. It's nice to think that the work of the Secretariat is recognised, but this speaks much more to the fact that the calibre of our membership is extremely high.
"We can do our job because you do yours to the best of your ability — and that's what we are celebrating this evening", he said.
"So", he asked, "what conclu-sions have I come to about what excellence means?" "It is not as simple as being the best, since being the best does not actually matter to me. What does matter to me is that I am the best I can be; it's my criteria, my standards and, if I let myself down, that is far worse than not measuring up to some arbitrary benchmark. We can all, if we try, set our own standards for excellence — to be the best we are.
"I've had a wealth of wonderful teachers throughout my life and most people I meet and interact with teach me something", he said. "Opportunity is a great teacher. All you need to do is listen. Just be mindful. I am excited to be here to be able to congratulate the nominees; you are already winners in a way".
The evening had got off to a rousing start with the 112 guests — including a number in kilts — treated to an impressive display by The Tokyo Pipe Band as they enjoyed champagne in the lobby. After moving upstairs to the ballroom, a lone musician piped the guests of the head table to their seats before Master of Ceremonies Tom Wilken gave the Loyal Toast to the Queen.
Once seated, Wilken turned the microphone over to Michael Di Stasio, producer of Rock Challenge Japan, which was staged in Yokohama the following week. An initiative to engage young people in dance, music and performance, Rock Challenge has been held in Japan annually since 2006 and one of the teams competing in Yokohama gave an eight-minute performance at the awards ceremony.
The children who study martial arts and dance at the Sho Kosugi Institute in Meguro were aged between five and 17 and gave an eye-catching performance of some of their repertoire. Set to the soundtracks of a number of films, the youngsters demonstrated a series of choreographed stick fights, one-armed cartwheels, pole vaults and sword-play sequences.
The meal was then served, guests appreciatively noting that each table was decorated with a bottle of 15-year-old Highland single-malt whisky, produced by the GlenDronach Distillery in Aberdeenshire.
After dinner, Ambassador David Warren announced the winners of the five awards and presented each victor with an elegant marble trophy sculpted by Kate Thomson and entitled Resonance.
"This is a very important event on the embassy's calendar and it is important for us to support these awards because we at the embassy here in Japan exist primarily to support British firms selling to the Japanese market", he said. "The core of our business is here tonight.
"This is an event that celebrates excellence and achievement in this crucial but also very difficult market. This is an enormously important responsibility, but I have been extraordinarily impressed by this evening".
THE WINNERS
CORPORATE INNOVATION
Dyson KK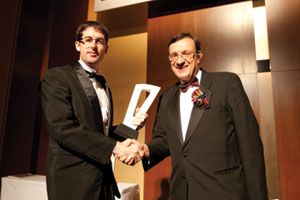 "Dyson is a firm that is founded on innovation and has excelled internationally", Ambassador Warren said, adding that the Wiltshire-based firm's success is even more impressive given its achievements in a country that already has plenty of firms producing advanced household appliances.

Martin Peek, senior design engineer for Dyson in Japan, accepted the award and underlined the organisation's ongoing commitment to developing new technologies and "beating the competition abroad".


---
SOCIAL ENTERPRISE/NPO
Blastbeat Japan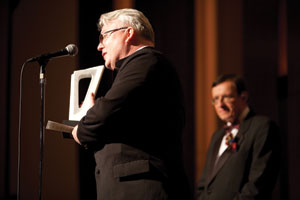 The next award of the evening went to a nonprofit organisation, founded by Robert Stephenson, which started in Ireland and is designed as a youth-empowerment organisation. Blastbeat has grown to involve 250 schools across the UK and more than 12,000 students attended the final competition at the O2 Arena in London in early 2010.

Blastbeat has an innovative approach for disadvantaged people in Japan, Ambassador Warren said, and wants to develop the concept with the assistance of corporations in this country.

"Blastbeat is a change-maker", said Stephenson after he had accepted the award. "I founded the organisation eight years ago and we came to Japan in 2009. Our aim is to encourage businesses to sponsor schools, to mentor those schools, and to wrap it all around music, enabling the children to learn to run a music business.

"That, in turn, gives them the idea of becoming a social entrepreneur, because 25% of what is earned goes back to social programmes".


---
BEST ENTREPRENEUR
Whisk-e Limited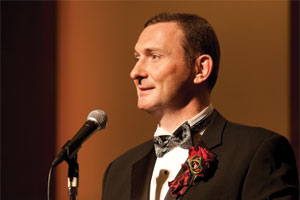 Ambassador Warren emphasised that the firm had been started from scratch by CEO David Croll and now imports some of the most famous whiskies in Scotland—including products from the Isle of Arran Distilleries, Jura, Springbank and The BenRiach Distillery. The firm has been quick to take advantage of e-commerce to build up its business, utilising iPad applications and Q-codes to access its products, and is also deeply involved in food and cultural events and groups here, including the Japan-Scotland Society and the annual highland games.

Thanking the ambassador for the award, Croll said: "Whisky is one of the most traditional businesses because it is made from four ingredients only: water, yeast, malted barley and—the most important one—time".


---
CORPORATE EXCELLENCE
Rolls-Royce Japan Co., Ltd.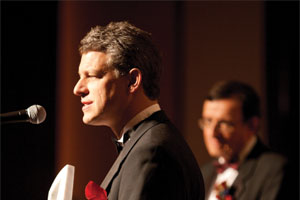 The most fiercely contested award was won by a firm established in Japan nearly 50 years ago, but that has had business links here for more than a century. While it may be famous for its aerospace products, including supplying All Nippon Airways with engines for its passenger jets, Rolls-Royce is also very active in supplying gas-turbine engines.
Richard Thornley, regional director Japan, accepted the award on behalf of his 60 staff, expressing his "honour and delight" as well as his appreciation for the loyalty of both British Airways and Virgin Atlantic to the Rolls-Royce brand — and apologising for "pipping them to the post for the award".


---
SPECIAL AWARD
Hands On Tokyo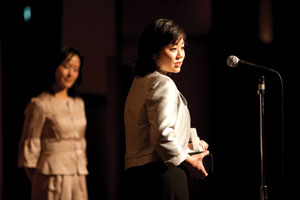 The final presentation of the evening went to a grassroots organisation founded in 2006. It helps those less fortunate in society here through a network of 1,900 registered volunteers. Social projects range from assisting people with impaired vision to refugees, single-mother households and those living below the poverty line.
Yayoi Sogo, the programme director, pointed out that the poverty ratio in Japan stands at a shocking 15% and added that receiving the award "is a great encouragement to us".


---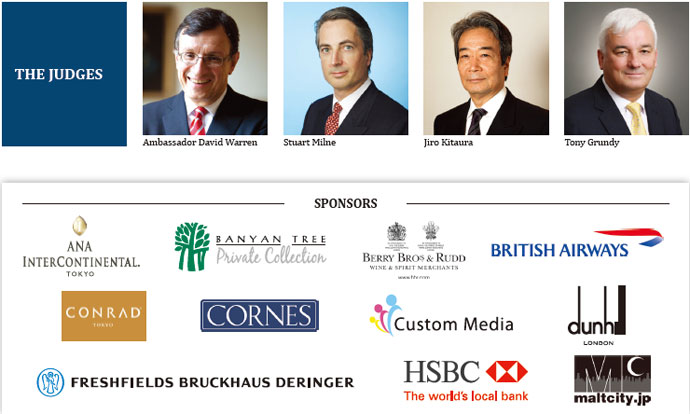 GALLERY