shoji
sliding doors. It is quiet, warm and peaceful. An ideal setting for anyone struggling to come to terms with what is probably the most frightening diagnosis they are ever likely to hear.
Maggie's Tokyo officially opened on October 10, becoming the 20th location in the international network of Maggie's centres, which provide a space for people suffering from cancer, their relatives and friends. Located in the Toyosu district of the city, the centre enables visitors to be both heard and empowered so they can determine the course of their cancer journey with the support of cancer specialists.
The first Maggie's centre opened in Edinburgh in 1996, shortly after the death of Maggie Jencks, a landscape designer and researcher of Chinese gardens. The centre was a stable building in the grounds of the hospital and was redesigned by Richard Murphy, with the advice of Charles Jencks, Maggie's husband.
A network of drop-in centres for anyone touched by cancer had been Maggie's aim after she was informed that her breast cancer had returned and spread to other organs. Today, that vision is kept alive by the Maggie Keswick Jencks Cancer Caring Trust.
And while it took nearly a decade for the Tokyo centre to move from concept to completion, Masako Akiyama, who heads the facility, hopes it will be the first of many across Japan.
"I used to be a home-visit nurse for a hospice care organisation, so I visited many cancer patients in their homes for many years", she told BCCJ ACUMEN. "And I always felt that, during their cancer journey, they should have as many opportunities to talk through their illness and their feelings, but when a nurse goes to a patient's home they are already near the end of their lives and have had very few such opportunities. "I wanted to find a way to do something about that problem, to help people who are now treated as outpatients to receive the support, advice, information and care that they want and need".
Today, there are 17 centres across the UK and a further four in development. Although each centre is located in the grounds of a National Health Service hospital, the centres are organised and run independently. And from the outset, Maggie's centres have been committed to providing purpose-built, comfortable spaces with leading architects—including Frank Gehry, the late Zaha Hadid and Richard Rogers—providing unique designs for each centre.
Akiyama first learned of Maggie's in 2008 and later travelled to the UK to meet Laura Lee, who was Maggie's cancer nurse and now serves as chief executive of the charity that bears her name. Lee agreed that a Maggie's centre in Japan was a good idea and later visited Tokyo at the invitation of Akiyama and her supporters.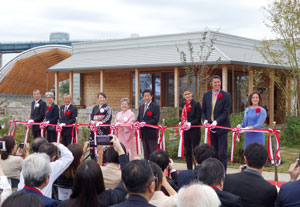 "So we had the plan, but it was impossible to make things happen very quickly", admitted Akiyama, who teamed up with Miho Suzuki, a television reporter and cancer survivor, to move the project forward.

"One reason, of course, was money, but we also needed a place", Akiyama said. And while hospitals in the UK are open to the idea of having Maggie's centres in their grounds, medical facilities in Japan lack that sort of space.

"We want to be the place that is between the home and the hospital, their second home where they can come to be heard and to describe just how they are feeling", she said. "And that goes for people living with cancer as well as the families, friends and healthcare professionals around them".

Another hurdle that the Tokyo centre has had to overcome is the broader issue of the need to nurture a "charity culture" in Japan, said Akiyama. But if Maggie's can operate as a charity, then that will help all charities in the future.

Nevertheless, the first Maggie's in Japan has benefitted from the kindness of members of the public and firms, including the donation by a local wood importing company of a 3.5 metre-long slab of thick 300-year-old African cherry wood that makes a perfect centrepiece table.

The centre looks out on a canal that feeds into Tokyo Bay and has been designed to be bright and airy. Built of wood, it has large windows and a veranda that leads out to a safe inner courtyard, a very important part of the original concept behind Maggie's centres.

Inside, there is a communal kitchen, where anyone can prepare a drink, as well as a large communal area around the table. It also has separate rooms where people can go for privacy behind the

shoji

. Even the toilet has been designed as a space where someone can go to shed a few tears in private.

The main building covers 100m² and is joined by the veranda to another slightly smaller building of a similar design that has more chairs, sofas and relaxing spaces.

"It was quite difficult to find a suitable space for us in Tokyo, partly because Maggie's has strict architectural guidelines, but we believe this is a good location because there are several cancer hospitals nearby, including the National Cancer Centre in Tsukiji, the Cancer Institute at Ariake Hospital and St. Luke's International Hospital", said Yasuko Jimbo, executive secretary.

"Since we opened, we have between 20 and 40 people who come each day for consultations and to talk with our staff", said nurse Akiko Kimura. "Some want to talk about what they are going through, others want to share decisions with their family, and others are relatives of someone with cancer who want to talk about their own thoughts and feelings".

The first Maggie's in Japan is only able to stay at its present location until 2020, due to planned redevelopment by the site's owner, and the organisation is already looking into another location in Tokyo. It is also encouraging groups in other parts of Japan—notably Kyoto and Hiroshima—to push on with their own plans for support services similar to Maggie's.

"There is a need for this sort of support, and we want to encourage others to do what we have done, so that those affected by cancer can find how to travel their own personal journey", said Akiyama.

The late morning sun streams through the floor-to-ceiling windows, catching the natural wood floors and bookshelves, the couches and the