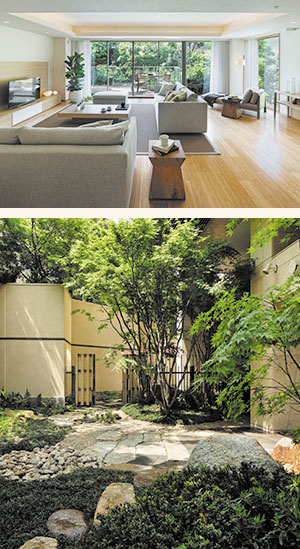 Amid the vast expanse of Tokyo, punctuated by skyscrapers, neon and busy energy, Azabu Gardens is truly an oasis of green and peace.
Looking across a Japanese garden that melds traditional stone lanterns with maple trees, ferns and bamboo, it is hard to believe that the property is within a few minutes' walking distance of the entertainment areas of Roppongi as well as the boutiques and bistros of Azabu-Juban and Hiroo.
Nestled on a quiet back street amid mature plants selected to reflect Japan's four distinct seasons, these light, airy apartments are designed to the highest standards and fitted with top-of-the-range equipment.
Thoughtfully designed small touches are apparent throughout: heated floors in the kitchen and bathroom; a utility area with vast storage space; environmentally friendly LED lighting and double-glazed windows, and features of Japanese interiors, such as elegant shoji doors.
Residents can also enjoy a 24-hour fitness centre, multi-use club lounge and landscaped roof terrace, with a children's play area and stunning views.
There is a real sense of space as indoor living areas flow into manicured terraces. Residents, particularly those whose homes incorporate the stunning outdoor areas, will no doubt experience that same unique feeling every time they open their front door.
Stepping through the floor-to-ceiling glass doors, the transition from the wooden floor of the apartment to the stone courtyard garden is seamless. And this is stone that is used in the traditional Japanese way: selected and sited with care. Indeed, many stones that have been utilised in the courtyards were found on the site and date from when it was a private estate.
Reminiscent of the gardens of traditional Kyoto townhouses, the green oasis offers a complete sense of peace. Secluded and private, natural light floods in and the nearby maple trees promise a vision of spectacular reds and oranges in the autumn.
Azabu Gardens apartments, attractive both inside and out, and ranging from 135m2 to 300m2, are available exclusively for lease from ¥1.4mn per month.
Leasing contact: Pacific Development & Management Co., Ltd.
03-3437-2753
General contact: Azabu Gardens, 3-7-5 Moto-Azabu, Minato-ku, Tokyo