Six firms joined the hall of fame of UK–Japan commerce on 2 November, at the British Business Awards (BBA), with the enterprises recognised and applauded for their achievements in Japan.
The British Chamber of Commerce in Japan (BCCJ) was marking a decade since it celebrated its first awards, with the dazzling event attracting 345 guests—making it the largest in the chamber's 69-year history—and staged in the elegant surroundings of the Grand Hyatt Tokyo.
"The event is in its 10th year now and it is clear to me that it is going from strength to strength", said BCCJ President David Bickle.
"I'm absolutely delighted that there are more people here tonight than we have ever had at one of our events", he told BCCJ ACUMEN. "I see this as a platform for members and guests to help celebrate the successes and achievements that our award nominees have enjoyed in the past year. And it is absolutely right that we do celebrate those successes".
Shining lights
The evening commenced with a Champagne reception in the foyer of the hotel ballroom, while a gin bar operated by The Botanist—an artisanal gin crafted by the Bruichladdich Distillery on Islay—was much in demand, even for the concoction that took a traditional gin and tonic and then fortified it with a dram of Scotch.
Guests from the 25 firms and individuals nominated for awards were invited to have their photos taken alongside a stunning smokey-grey Range Rover Velar, provided by headline sponsor Jaguar Land Rover Japan Limited, while one of the firm's Jaguar F-Pace vehicles also attracted admiring glances.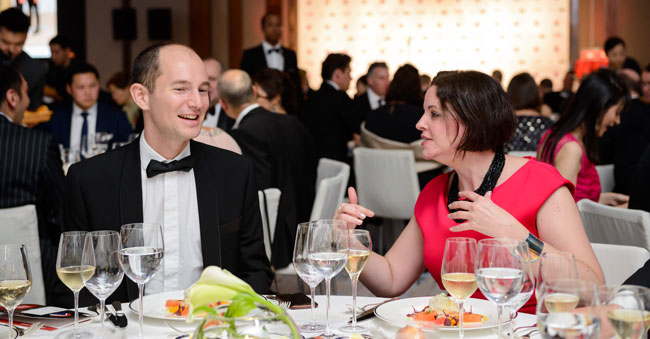 Once the ballroom doors opened, guests took their seats to the accompaniment of a musical selection performed by the Jazz Band of the British School in Tokyo.
Showing no signs of any impact from his recent switch to the early morning slot on InterFM897, Guy Perryman MBE once again assumed the role of master of ceremonies for the evening, accompanied as always by Madoka Kato.
In his kanpai speech, Bickle paid tribute to the nominees as "shining lights of the very best of UK–Japan business" at a time when Britain is reaffirming its commitment to a strong bilateral relationship with Japan.
Guests then enjoyed a five-course, British-themed dinner that started with smoked salmon with a citrus and fennel salad and orange dressing, followed by leek and potato soup with a truffle mousse. After the pear cider sherbet, a tranche of roasted Angus sirloin was served, accompanied by horseradish and apple mustard potatoes in a port sauce. The meal—complemented throughout by a selection of fine wines provided by Berry Bros. & Rudd, including an excellent 2013 English sparkling wine from the Gusbourne Estate—was topped off with an oh-so-British sticky toffee pudding with clotted cream ice cream.
Surveying the business talent on display, Mark Dytham MBE, co-founder of previous BBA winners Klein Dytham architecture, emphasised the importance of the awards.
"The chamber has been doing this for 10 years now and every year it gets bigger and better. But it also just goes to show how British innovation and progressiveness are alive and well in Japan, while also demonstrating that this is still a great place to do business.
"I've known that for a long time and, year by year, other people are learning the same lesson", he said. "Tonight shows off British firms and it is a great and important celebration of the talent we have here".
"Everywhere I turn I see these stunning combinations of creative collaboration", Dytham added. "And that is just wonderful".
Best of the best
BCCJ Executive Director Lori Henderson MBE, who returned to the BBA from maternity leave in September, then got proceedings for the main event of the evening under way by introducing the British Ambassador to Japan, Paul Madden CMG.
"I have been here for nine months and it has been a very busy period with lots going on", he told the assembled guests. "Boris Johnson came here—at just two weeks' notice and curtailing my summer holidays—while Prime Minister Theresa May visited for talks with Prime Minister Shinzo Abe on security and business issues, and I believe that visit really helped to move the relationship on.
"Tonight, we only have to look at the names of the nominees to appreciate the diversity and the quality of the British business community in Japan", the ambassador added. "Everyone who has received a nomination is a winner and deserves our admiration".
Innovation
The first award of the evening was for Innovation, with six firms nominated, but SciBite Limited emerged as the winner for its revolutionary data mining advances in the life sciences sector.
Community
Unilever Japan then proudly accepted the Community Contribution prize, for its initiatives to operate a sustainable business through its "Work from Anywhere and Anytime" and "Women Empowerment" programmes.
Accepting the prize, President and Chief Executive Officer Fulvio Guarneri emphasised that similar schemes would be easy to adopt in other member firms' operations in Japan, but particularly "flexible hours that especially allow young mothers to combine their families and their careers".
Partnership
The UK–Japan Partnership award went to STH Japan, a pioneering alliance between domestic travel giant JTB Corporation and Sports Travel & Hospitality Group, that is introducing top-class experiences for sporting events in Japan. In particular, the firm is now focusing on the 2019 Rugby World Cup and the Tokyo 2020 Olympic and Paralympic Games.
Entrepreneur
Six individuals were in the running to be recognised as the chamber's Entrepreneur of the Year, with Ian Gibbins, founder of the Swan & Lion deli and bakery in November 2013, lifting the gong.
Gibbins expressed his appreciation for the support of the chamber and its members since his establishment in Kudanminami started selling homemade pies, salads, sweets, cakes and a range of chutneys, pickles, marmalade and lemon curd.
"Our motivation is to make great food that just happens to be British", Gibbins said as he accepted his award.
Company of the year
As is the tradition, the final award of the evening went to the Company of the Year, with five firms nominated for the honour. The panel of five judges selected Aston Martin Lagonda Limited for the award, with chief executive officer Andy Palmer accepting it from the ambassador.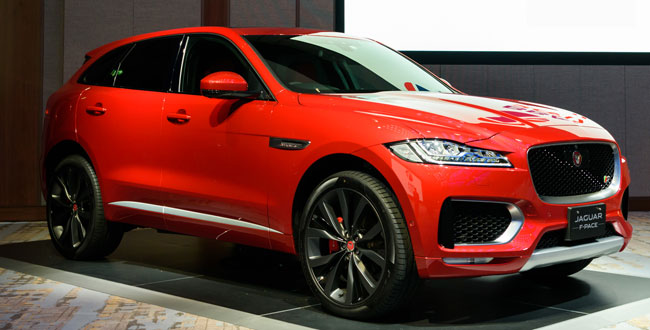 "Just three years ago, we were a little player in this market and I challenged these guys to change that", said Palmer, referring to the colleagues sharing the stage with him. "Japan is my second home and it is inconceivable for me that we will not reach the number one position in the luxury sports car sector in this market".
The award coincides with the opening of the brand's new Tokyo dealership on Aoyama-dori, with the firm's business in Japan in the coming five years expected to be worth up to £500 million.
"We aspire to make the most beautiful cars in the world", Palmer said. "We believe that the skill that goes into hand-made cars is something that the Japanese people will and should appreciate.
"So move over Ferrari, because we aim to be number one in Japan".
Following the awards ceremony, live music was provided by The Conductors, drawing many dancers, and the after party continued in the Grand Ballroom Foyer.
"It has been a great way to go into what will be the chamber's 70th year", said Bickle. "And I believe that as a showcase for UK–Japan business we can be even bigger and better this time next year".
Sponsors
Headline sponsor
• Jaguar Land Rover Japan Ltd.
Gold sponsors
• Robert Walters Japan K.K.
• Taylor Brunswick Group
Bronze sponsor
• Standard Chartered Bank, Japan
In-kind sponsors
• Berry Bros. & Rudd
• Coca-Cola (Japan) Company, Limited
• Life.14 Inc.
• The Botanist Gin
• Unilever Japan
Media partners
• An-yal Ltd.
• Custom Media K.K.
• Financial Times Ltd.
• Guy Perryman
• Mojoprint Ltd.
PR Sponsor
• Candlewick Co., Ltd.
BBA 2017 Winners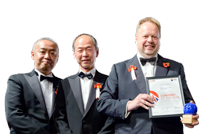 Company of the Year
Aston Martin Lagonda Limited
The luxury car maker was awarded for their latest deal, which is expected to be worth £500mn over five years and will strengthen trade and investment between the UK and Japan. The transaction, agreed in August, will support British manufacturing and the Japanese supply chain, as well as help develop the Aston Martin brand in Japan. The firm will also open a new brand experience centre, the House of Aston Martin, in Tokyo on 21 November.
---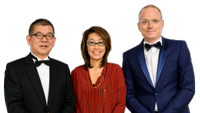 Community Contribution
Unilever Japan
The global consumer goods firm was recognised for its move towards operating as a sustainable business. The award also acknowledged their diversity and inclusion achievements through "Work from Anywhere and Anytime" and "Women Empowerment" programmes, which help to promote a wider social movement, as well as change in Japan's corporate culture.
---

Entrepreneur of the Year
Ian Gibbins, Swan & Lion
Ian Gibbins, founder of the popular deli and bakery in Tokyo, was recognised for his take on modern British food. In addition to introducing Japanese customers to a wider range of British cuisine, Gibbins' firm has developed an events catering service and attends many markets across Japan.
---

Innovation
SciBite Limited
Experts in text mining, semantic analysis and data intelligence, SciBite received the award for its innovative technology. The firm has transformed data management in the life sciences, bringing Japan huge advantages. They are also revolutionising research and development for pharmaceutical firms.
---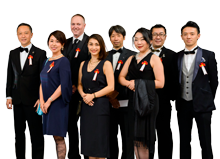 UK–Japan Partnership
Sports Travel & Hospitality Group Limited and JTB Corporation
In March, the two firms announced a joint venture, STH Japan. This new firm links the UK and Japan by helping to build high-class hospitality experiences for domestic and international sports events in Japan. In particular, the new venture is focused on developing opportunities around the 2019 Rugby World Cup and the Tokyo 2020 Olympic and Paralympic Games.