In a landmark year for UK–Japan relations, marked by a series of royal visits, deepening trade links and, unforgettably, the incredible roller-coaster ride of the Rugby World Cup 2019, Britain's business community added to the revelries with the 12th annual British Business Awards.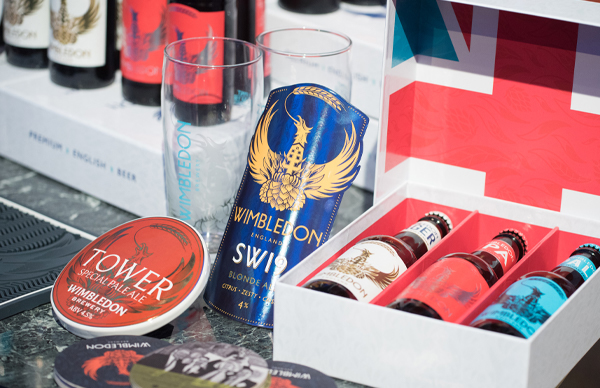 The five winners announced on the night embraced entrepreneurship, the finance sector and partnership between the two nations, with AstraZeneca KK repeating its victory of last year by being selected as Company of the Year.
Rugby lessons
Always a highlight of the British Chamber of Commerce in Japan (BCCJ) calendar, the awards were held this year in Meguro at the Hotel Gajoen Tokyo, just six days after the final match in a rugby tournament that many renowned names from the sport had acclaimed as unquestionably the best ever.
And while all the Home Nations had ultimately fallen short—in England's case, agonisingly short in the final against South Africa—the chamber, embassy and broader British community in Japan have a lot to be proud and optimistic about in the future, said BCCJ President David Bickle.
Four years after he addressed the chamber with England dumped out of the pool stages at its own Rugby World Cup, much has changed, he said—although some things remain the same.
"As rapidly as sporting fortunes change, so do politics and international relations. Trust, in parti­cular, that we take for granted, needs to be carefully nurtured and protected. We must be resilient and persistent in protecting the trust between the UK and Japan, and must seek to further develop this trust further through partnership".
Applauding all 32 nominees across the five award categories, he emphasised that "UK and Japanese business has a major role to play in promoting partnership and collaboration between our two countries".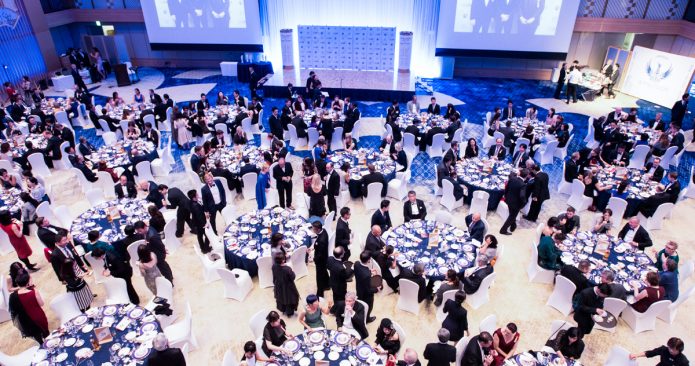 BBA 5.0
The theme of this year's awards was 5.0, building on the chamber's purposes of innovation in the digital and technology spaces, responsible business, as well as diversity and inclusion—collectively known as the BCCJ 5.0 project.
The 300 or so guests were greeted with a reception featuring Merchant's English sparkling wine, produced in Hampshire and generously provided by in-kind sponsor Berry Bros. & Rudd, and a selection of excellent craft beers poured by gold sponsor Wimbledon Brewery. The firm is resurrecting a brand that was lost in the catastro­phic Wimbledon Brewery fire of 1889 and is aiming to import its pale ale, IPA and award-winning lager in the near future.
And while nominees were attaching their rosettes and having their photos taken by photo­graphy studio and BBA in-kind sponsor LIFE.14, the string quartet Tacticart played a selection of classical numbers.
With Guy Perryman airborne and heading for Australia, emcee duties fell upon Madoka Kato, his long-term on-air partner, who kicked off the evening by introducing the Fabulous Sisters. A fusion dance group based in Tokyo, the 10 dancers who took to the stage were a fury of energy in scarlet and black dresses. It is not hard to see why they had been chosen to perform in London on the Britain's Got Talent television programme and in the youth finals of the US programme World of Dance.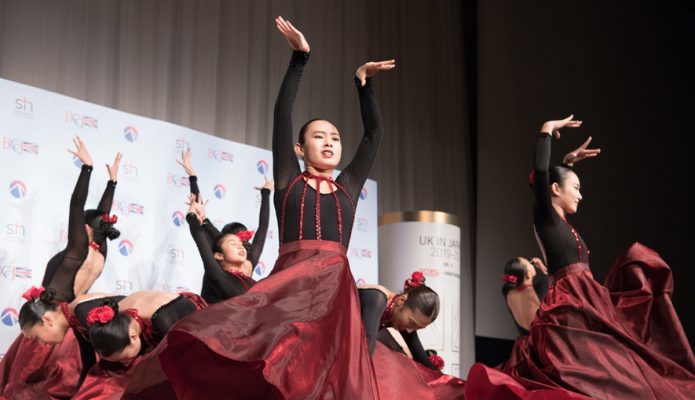 Taste of success
After a short video looking forward to next year's Tokyo 2020 Olympic and Paralympic Games, which will feature five new sports, the meal was served to the sound of English pop classics, including Sade and Joe Jackson.
The autumnal cauliflower mousse, served with crab relish topped with caviar, was followed by an excellent Miyagi seafood medley marinated with yuzu dressing and topped with sour cream. Next was a creamy green-pea soup with bacon frazzle, followed by a poached sea bream with white wine, tarragon sauce and crispy shallots. The Angus roast beef came with a mashed potato swirl and green pepper gravy, with the meal rounded off by meringue with wild winter berries and fresh cream and coffee.

Surprise message
With the plates being cleared, BCCJ Executive Director Lori Henderson MBE confirmed that the six judges for this year's awards had spent two weeks considering and independently scoring the nominees. The final result had been in the balance right up to 45 minutes before the dinner began as one of the judges had been tardy in returning their scores.
There was also a lengthy exchange of spoof opinions with the Queen via instant messaging. The monarch expressed her regret at not being able to attend the evening's festivities and put Prime Minister Boris Johnson in his place.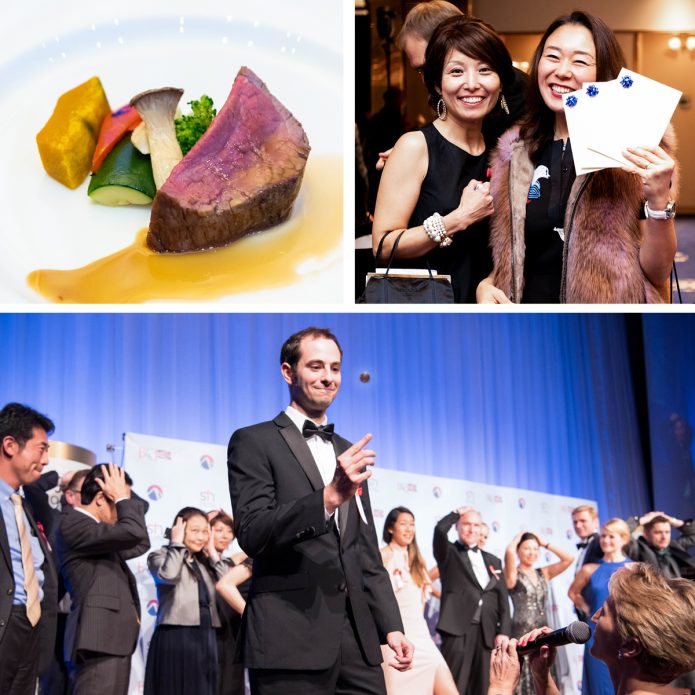 Diplomatic dialogue
The awards, designed by Scottish-born artist Kate Thomson of the Ukishima Sculpture Studio, were presented by Her Majesty's Ambassador Paul Madden CMG. He opened by saying that he wished he could be celebrating an England victory in the Rugby World Cup, but underlined, once again, what a "fantastic omotenashi welcome" Japan had rolled out, as well as the impressive performances of so many nations on the pitch.
The ambassador said he had encountered countless British fans—including some dressed as knights and others in pith helmets—and enjoyed the visit of no fewer than three members of the British Royal Family in recent weeks.
In October, Princess Anne toured the venue that will host the dressage events at the Tokyo 2020 Olympic and Paralympic Games, and Prince Charles attended the subsequent enthronement ceremonies for Emperor Naruhito. Prince Harry arrived on 2 November to watch the Rugby World Cup final.
"At times, it felt like I was running an exclusive Airbnb for the Royal Family," the ambassador joked.
He said the annual awards "show the depth and breadth of British companies that have built alliances with Japanese companies and, as I have said before, everyone who has been nominated is already a winner".

Innovation
The first award of the evening was for Innovation, with EY Advisory & Consulting Co., Ltd. recognised for successfully launching an innovation and emerging technology centre called wavespace. The centre has already run more than 250 innovation and transformation workshops, generating new ideas, technologies and achieving transformations among a number of businesses.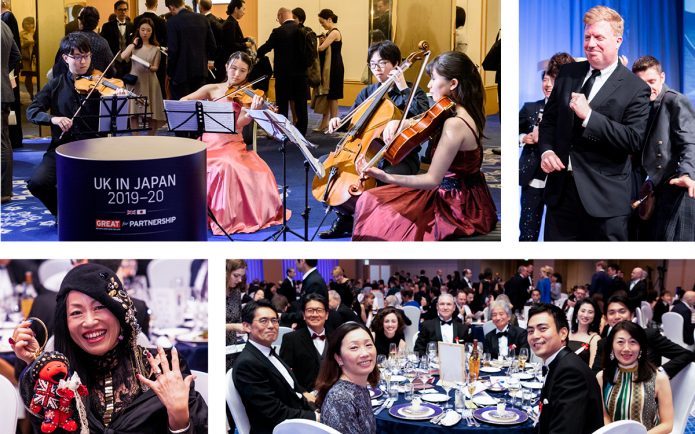 Entrepreneur
The title of Entrepreneur of the Year went to Rachel and Noritaka Takezawa who, in 2012, set up Ryozan Park to be an international community committed to achieving work–life balance, diversity, gender equality and entrepreneurism through village-style interaction. Today, they are the only firm in Tokyo that offers integrated accommodation, offices and childcare services.
UK–Japan Partnership
In the competition for the year's top example of UK–Japan Partnership, Marubeni Corporation and Azuri Technologies Ltd. beat off challenges from five other well-qualified business alliances. Marubeni has invested a sizeable amount of the $26mn raised by the UK-based off-grid solar innova­tor to provide millions in Africa with access to afford­able and clean energy through its pay-as-you-go solar power systems for homes.
Positive impact
Barclays Securities Japan Ltd. was recognised with the Positive Impact award for its contribution to raising awareness of some of the most pressing environmental and social issues facing our society, such as ocean pollution and food waste.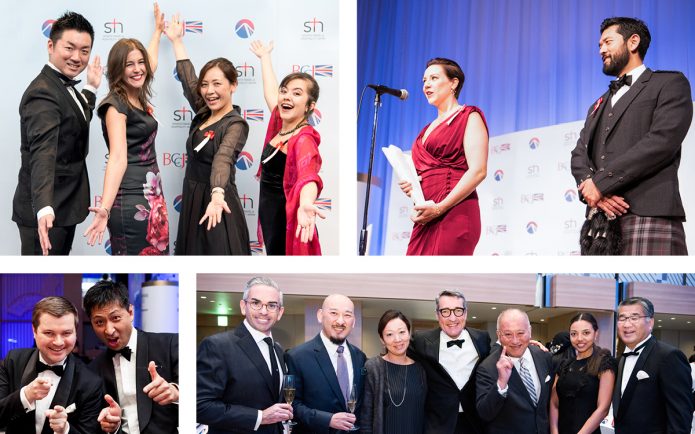 Company of the Year
As is traditional, the final award of the evening was for Company of the Year and celebrates firms that have "shown excellence and innovation across all aspects of their organisation in Japan, demonstrating outstanding achievements in the past 12 months".AstraZeneca KK has delivered four innovative new treatments that combat medical complaints which were not previously being addressed in Japan, making it the fastest-growing here.
Accepting the award, Stefan Woxström, president of Japan operations, said part of the secret behind the success this year and last year is, "We have stopped focusing on the medicine and we are now focusing on the patient".
AstraZeneca, he said, is "interested in the patient's journey," how they handle their illness and how the firm can make that easier.
"We have grown by 30% this year, which is far faster than anyone else," he said. "We are on the right track by focusing on the patient, not the product".
The awards were followed by a number of party games for a selection of stunning prizes provided by BCCJ member firms, including stays at some of the best hotels, guided hikes with Walk Japan and business class flights to the UK with British Airways.
The evening ended with a nijikai after party that continued until midnight.

Sponsors

Headline
• Sports Travel & Hospitality Japan

Gold
• Robert Walters Japan K.K.
• Wimbledon Brewery

Bronze
• Argentum Wealth
• SI–UK (Study in the UK)

In-kind
• Berry Bros. & Rudd
• LIFE.14
• Glenmorangie

Media
• Candlewick Co., Ltd.
• Custom Media K.K.
• Financial Times Ltd.
• Guy Perryman
• Mojoprint Ltd.
---
Judges

Natalie Black
HM Trade Commissioner for
Asia Pacific at the UK Government

Magnus Hansson
Chief executive of Jaguar Land Rover Japan

Yuriko Kotani
Award-winning Japanese UK-based comedian

Mariko McTier
Co-founder and director at Social Innovation Japan

Mike Sharrock
Chief executive of the British Paralympics Association

Haru Tsuyukubo
President of Rolls-Royce Japan Co., Ltd.