For expatriate families who cannot speak Japanese, and want to keep their children's education and curriculum steady, interna­tional schools in Japan share a footing that also provides comfort, familiarity and security. 
With a variety of curricula on offer in Japan, families from abroad have a number of options when it comes to choosing schools for their children. 
While the presence of the British curriculum in Japan is notable, there are several new schools preparing to open their doors in the near future. BCCJ ACUMEN spoke with these, as well as with schools that already enjoy a favourable reputation in the community. We asked how the institutions plan to educate future generations, and how the British-inspired curriculum will help them do so.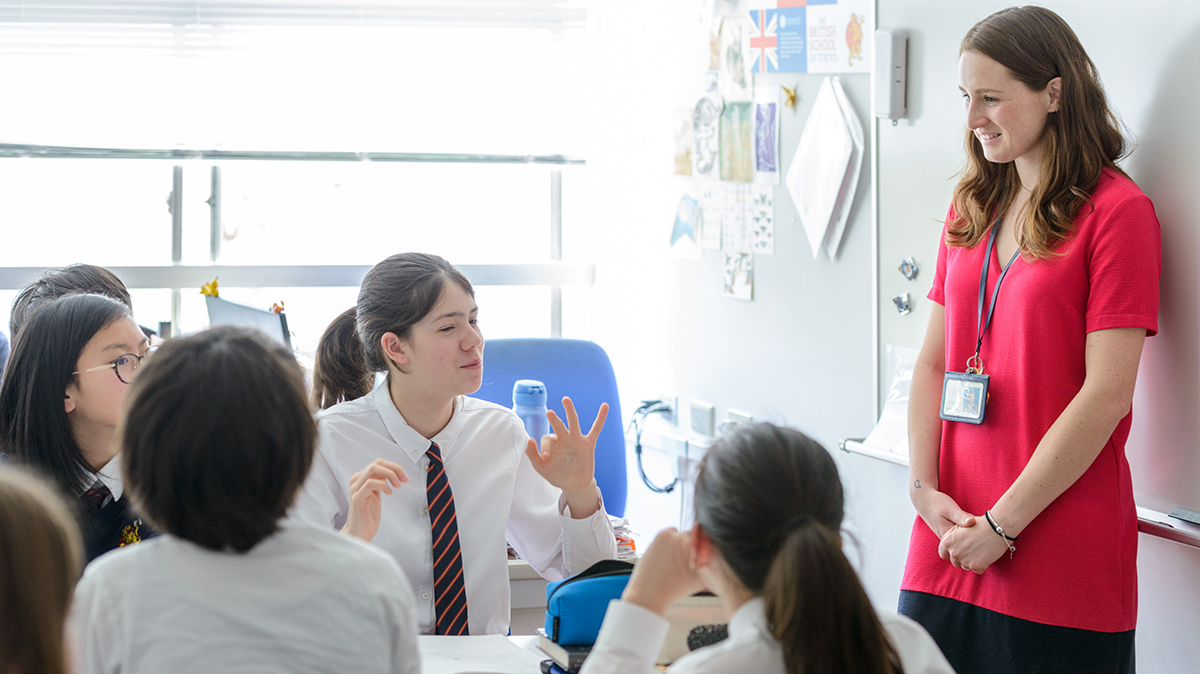 Seamless transition
The British School in Tokyo (BST) was established in 1989 and is at the heart of the British expat community. It has expanded to two campuses with a total of more than 200 members of staff and 1,000 students. Recently, it was confirmed that a new primary school campus has been launched in partnership with Mori Building Corporation. Scheduled to open in 2023, the school will welcome children from nursery to year six, and will be replacing the current primary school facilities at the Shibuya and Showa locations. The new campus will include outdoor areas, an indoor pool, a gym and a library and will be located in the Toranomon-Azabudai Project building, designed by architects at the London-based design and architecture studio, Thomas Heatherwick Studio. 
Paul Tough, principal at BST, spoke about the school's origins. "The school was set up as a charitable trust in 1988 by a group of parents who wanted their children to have a British style education in Tokyo. 
"In the early years of the school, the majority of founding families were British, and would inevi­tably need to move back to the UK. The curri­culum at BST provided their children with a seam­less transition back into the British schooling system. 
"Early on, when the students were aged between five and 10, the majority were British. Today, the school provides education to children aged three to 18—representing more than 65 nationalities—over a third of whom are neither British or Japanese".
The school's curriculum is based on the national curriculum for England and has been tailored to support its international students. "The curriculum helps students develop a range of essential thinking skills, knowledge of critical concepts and, crucially, an aptitude for continuous learning", said Tough. 
Rich and structured
In 2004, Clarence Education Asia (CEA) was co-founded by Fei-Fei Hu, a British-Chinese entre­pre­neur. Kirsten O'Connor, senior education advisor at Clarence Education Asia, said: "The Clarence Education Asia Group has been devel­oping and operating British international schools and paving the way for presti­gious British public schools to provide the highest quality education to children". 
The most notable CEA school in Japan is Clarence International School (CIS), which was established in 2016, and is located in Omotesando, Tokyo. 
"Established in partnership with The Prince's Foundation for Children & the Arts—now known as Children & the Arts—a charity founded in 2002 by The Prince of Wales, CIS now educates 65 children, with a focus on the arts, underpinned by the Early Years foundation stage". 
Speaking on the Early Years foundation stage (EYFS), O'Connor said, "It is a rich and structured curri­culum, well matched to children's early develop­ment stages. The programme is enhanced by an art-based approach to enable children to develop, enrich and extend their creativity.
"The founders of CIS were keen to make sure the children enjoyed a practical and creative learning environment. Developmental activities embedded within play—as well as plenty of oppor­tunity to explore the performing and visual arts—form the basis of the school. 
"The EYFS curriculum offers excellent structure, while also being conscious of the age of children and their physical developmental needs". 
Another open door
Clarence International School will no longer be the only institution that CEA operate in Japan. Set to open in central Tokyo and Hokkaido in August is Phoenix House International School. 
"Phoenix House is within walking distance of the Imperial Palace and the British Embassy Tokyo. As a language-rich international school, based on the national curriculum of England, we will welcome children between the ages of five and 11", said O'Connor. 
"Offering a well-structured learning programme, the national curriculum of England has excellent provision for the development of core reading, writing and maths skills—not to mention the flexibility to adapt other subjects to a local and global context". 
O'Connor explained how the curriculum also offers the teachers at the school a firm basis to build engaging and relevant learning experiences. 
When it came to the recruitment process for teaching positions at Phoenix House, she enthused, the response was impressive, with more than 1,000 applicants. "We are delighted with the Phoenix House teaching team. All are qualified teachers, experienced in teaching and assessing the national curriculum in England". 
Many of the teachers will be joining the school directly from the UK, with others coming from British schools in Asia and the Middle East. 
Another aspect of Phoenix House that heavily resembles a traditional British school is the intended house system. All children and members of staff will be members of one of four houses: Oak House, Rothesay House, Windsor House or Snowdon House. 
"The houses will be mixed age, which enables our youngest children to learn from their older role models, and also provides a chance for older children to take on leadership responsibilities", explained O'Connor. 
Learning through nature
The goal of Phoenix House is to offer an excellent academic environment, while helping the pupils to develop self-confidence and character. The structure of the curriculum will support this, along with the opportunities to be offered by the school's North Peak enrichment campus in Hokkaido.
"While being at school in such a wonderful central Tokyo location is convenient", O'Connor explained, "it means we truly are an urban school, with all the outdoor space challenges that brings". 
The North Peak enrichment campus provides an excellent opportunity for children to escape the city and learn in a natural environment. It has an accommodation lodge with a dining room and baths, as well as classroom teaching areas and a lecture theatre. 
"The children will be travelling with their classmates and teachers from Tokyo to Hokkaido twice a year. While they will continue the curri­culum and explore things that are challenging to teach in the city—such as animal habits—they will also be able enjoy plenty of outdoor and creative pursuits", O'Connor said. 
Horse riding, cheese making and kayaking are some of the interesting activities on offer to pupils at Phoenix House. Additionally, optional summer programmes will be available at the campus from the summer of 2022.
Phoenix House will also encourage pupils to develop a global perspective. By offering Mandarin Chinese and Japanese language programmes, they will enable pupils to develop a valuable bilingual skillset.
O'Connor mentioned the next school currently being planned. It will accommodate day pupils and boarders in the Tokyo area. "CEA is proud to be partnering with Rugby School in the UK to establish Rugby School Japan, which will open in 2023", she said. 
British title 
Based on the values and heritage of the world-famous Harrow School, in London, Harrow International (Asia International School Limited) has been providing primary and secondary international education since the 1990s and operates Harrow International Schools, Harrow Innovation Leadership Academies, as well as Harrow Little Lions Early Years Centres, in several locations in East Asia. 
Harrow International School Appi will open in the Appi Ski Resort, in Japan's Iwate Prefecture, in August 2022. The school will be co-educational and full-time boarding in the natural setting of the Tohoku mountains. Comparable to the Swiss mountain schools, Harrow Appi will be unique in Asia. 
Located a Shinkansen ride from Tokyo, and close to Iwate-Hanamaki Airport, it is a prime option for families both in Japan and across the region. 
Mick Farley, director of Group Operations at Harrow International (and ex-Head Master of both Harrow Bangkok and BST), explained that the school will utilise Harrow's British international curriculum, which already holds a robust track record in Asia. "The rigor­ous core curriculum is strongly enriched with super curricular activities that intellectually stretch our students, plus we have a deep commitment to a holis­tic approach to education to develop the character, values and leadership attributes of our students through our extensive co-curricular programmes. Importantly, our individualised approach to university counselling is supported by Harrow's strong connec­tions to top colleges and universities, meaning our graduates get to their university of choice". 
One of the benefits of opening a new school in the mountains is the opportunity and space to build a campus that reflects the best in school design. The use of digital technologies is a particular priority at Harrow Appi, according to Farley. "Harrow Appi will be a digital campus", he explained. "Integral will be our Inno­vation Hub. You have all heard of STEM or STEAM education, a blend of science, technology, engineering, maths, and sometimes art. Our Hub is modelled on the tech centre of Harrow School, in London, providing for a multi-disciplinary approach to problem solving and design".
Another valuable part of Harrow Appi's education will be language. "The language of inclusion will be English. However, we will run a very strong Japanese programme. There will be five slots in the pupils' timetables for the Japanese language. The cultural element will also be very strong. Whether it's the tea ceremony, or pounding mochi and celebrating the appropriate festivals.
"We will have a very strong Chinese programme as well— also focusing both on the language and culture. If a student wanted, they could be trilingual on graduation", said Farley.
After class
Harrow International School, Phoenix House and Rugby School Japan are set to become academically strong British international schools, joining BST and Clarence in reputation.
However, for these schools, it is not solely about academic success. Not overlooked are co-curricular activities, which allow children a chance to learn more about themselves as people, interact with their peers, and challenge their minds outside the classroom.
Tough, Farley and O'Connor expressed a deep concern for the personal growth and self-awareness of their pupils. 
Tough spoke about the different co-curricular activities available for pupils at BST.
"Primary children can attend a variety of sports clubs, music clubs and lessons, and the external clubs run by BST-endorsed external groups. These include everything from Chinese language to hip hop and street dance programmes". 
For the secondary school children in years seven to 10, pupils have the opportunity to do BST Electives. "An elective is a nine-week course in a new activity", explained Tough. Pupils have the ability to choose from photography or an introduction to Korean, to brain training or dance cardio. 
Students at BST have a large number of co-curricular activities from which to choose. These prepare them well for their further education and careers, and include work experi­ence opportunities, taking part in a visiting lecture programme, or volunteering as part of The Duke of Edinburgh's Award programme. Additionally, some students occasionally attend British Chamber of Commerce in Japan seminars, or even British Embassy Tokyo events. 
O'Connor described the after-school activities that will be offered to children at Phoenix House. "We will offer a range of after school activities for children, ranging from sports, dance, drama, music and arts, to public speaking, debate and broad­casting. Coding and science, technology, engineering and mathematics will also feature". 
Similar to BST, Phoenix House will provide access to onsite independent clubs, operated by external specialists. "Ballet, mandarin and aikido will be available. We have designed our dance studio with advice from professional ballet and contemporary dancers from the UK, and will be offering a range of dance and martial arts activities in these wonderful facilities", she explained. 
Creating lifestyle
Farley discussed the positive impact that full-time boarding can have on co-curricular activity schedules, as well as pupils. 
"We can programme our educational co-curricular offerings right the way through the seven-day week, and we have a great opportunity at Appi. 
"We can have students in the mountains, on bikes or skis or observing nature as often as possible, really learning from the experience, developing characteristics such as resilience, team­work and problem solving". 
However, the activities are not all on the slopes. "We will have a music school and specialisms in drama and visual arts. Additionally, Innovation, Entrepreneurship and languages are all features of the co-curricular programme".
Farley also spoke on the extensive sports opportu­nities that are available to the students of Harrow Appi. Making the most of the school's location, there will be the Harrow Ski Academy. "In the winter, students can be skiing or snow­boarding up to four times a week. The programme will include advanced race training; practising the technique of skiing through race gates. All students will also be trained in avalanche rescue and mountain survival techniques and will trek and ski mountaineer with increasing skill and independence as they mature. There also will be traditional sports clubs such as football, rugby and basketball. 
"In the summer we'll run three academies—golf, tennis and cycling, which will include mountain biking and road riding—on top of the year-round Swimming Academy". 
Farley explained that a range of super-curricular activities will be key to the programme, such as an Engineering Society, Model United Nations, public speaking and coding competitions. 
Harrow has a deep commitment to service learning; students working to serve their community and learning transferable valuable life skills and values in the process. Volunteering at retirement homes and getting involved in local businesses to build international perspectives, for example, allows Harrow students to better understand the importance of serving, a habit that they will take into their adult life. 
As the new schools gear up to open their doors, the existing schools are excited to see the expanding application of the British curriculum. 
Global interest in Japan has been on the rise. The increase in the number of British international schools can only serve to further encourage the influx of expatriate families coming to Japan.