Chocolate with a twist
• Fife-Osaka couple experiment with nettles, wasabi and seaweed
• Their London boutiques now export luxury creations to Tokyo
• UK's top chocolatier for five years inspired by Japanese wife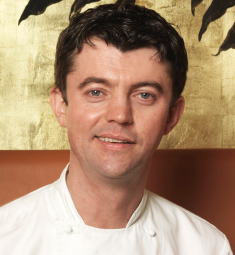 Wasabi, yuzu, black vinegar, nettles and seaweed might seem unlikely ingredients for a British chocolatier building a growing reputation in London, but a touch of inspiration from his Japanese wife is helping keep William Curley's boutique stores in Belgravia and Richmond very busy.
The products are proving so successful that a selection of William and Suzue Curley's creations will be available at Takashimaya department stores in Japan for the first time, in the run-up to this year's all-important St Valentine's Day celebrations.
"Suzue brings creativity to the business", said Curley, who was brought up in Fife, Scotland, and began his career with an apprenticeship at Gleneagles, the exclusive 5-star golf and spa resort hotel in Perthshire.
"She has a good vision of how she wants things to look, how the business should be, and where it should be heading", he said.
"The Japanese influence originated with Suzue, and I really had no idea about Japan until I first visited and began to realise the incredible flavours and culinary expertise the country offers".
After Gleneagles, Curley worked with some of the best-known chefs in the world at Michelin-starred establishments, including with Raymond Blanc at Le Manoir aux Quat' Saisons, and Marco Pierre White at The Restaurant. He became Chef Patissier at the Savoy Hotel, where he was leading a team of 21 pastry chefs and met Suzue.
The first boutique was opened close to Richmond Green in 2004, followed by the Belgravia outlet in 2009 and, most recently, chocolate and patisserie concessions in Harrods in July 2011.
Along with the business, Curley's reputation is growing and he was recognised as Britain's Best Chocolatier by the Academy of Chocolate for five consecutive years between 2007 and 2011.
The secret to making top-quality chocolates is all in the ingredients, he said. The firm has been using products from Tuscany-based Amedai for more than five years, because of the smooth, elegant notes of the chocolate and the length of time the flavour stays on the palette. Amedai only uses criollo and trinitario cocoa beans, sourced from South America, the Caribbean and Madagascar.
Suzue, meanwhile, is a highly respected patissier in her own right. Originally from Osaka, she moved to London to study in 1996—immigration officials quizzed her as to why she had come to Britain to study cuisine instead of going to France—and trained at Le Cordon Bleu before working at Claridge's Hotel and the Savoy Hotel.
The common perception in Japan is that British cuisine is "not that great", she said, but she is working hard to rectify that.
"Fish and chips is the main dish we are encouraged to try when visiting the UK", she said. "However, what has happened in the UK—particularly in London—over the past 15 or 20 years is amazing.
"London is one of the most cosmopolitan cities in the world and among the leaders in the food world", she added.
The couple's newest flavours are Muscovado Caramel, which won the award for Britain's best filled chocolate in 2011, as well as Beurre de Sel and Lavender. They also like working with local ingredients, such as Richmond Park Honey, and are experimenting with nettles and a range of Japanese flavours.
"I constantly try to create new, Japanese-inspired chocolates and have tried to make a seaweed-flavoured chocolate, although I haven't mastered it yet", William said. "We now have fresh wasabi, so we are working on some new combinations with that, and soy could be on the menu soon as well.
"We are both inspired by Japanese ingredients", he said. "Suzue introduces them to me and I work on creations that complement our chocolate. As a business, we love the Japanese influence and making things look sharp and Suzue is best at this part of the creating".
The Curleys have no ambitions to expand the brand rapidly, but intend to grow on a small scale and to a realistic and manageable time-line, but William admits that the patisserie and chocolate retail market in Japan is "very exciting".
"We have to look after and establish what we have for the time being", he said. "But, if I were to open more stores across the world, Paris and Tokyo would be my first two choices, as they are the cities I admire most for their patisserie inspiration".