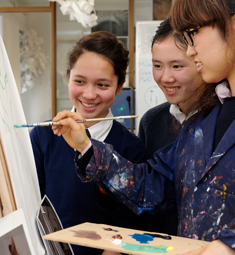 New course encourages participation, collaboration and interaction
The British School in Tokyo (BST) has enjoyed an enviable reputation for the provision of high-quality education since first opening its doors in Shibuya almost a quarter of a century ago. However, the past year has seen its star rise even higher.
One of only 25 British Schools worldwide to have been independently inspected and accredited under the new British Schools Overseas standards, BST celebrated the success of its first cohort of A-level students in 2012 and saw them off to some of the top universities in the UK.
Remarkably, 60% of all examinations were awarded an A* or A grade, which compares very favourably with the UK independent school average of 50%.
The introduction of A-levels at BST has led to a dramatic increase in enquiries from ambitious students of other nationalities who are keen to win places at prestigious universities overseas. Current students have already been offered places at the University of Oxford, the University of Cambridge, Imperial College London and Central Saint Martins College of Art and Design.
However, the UK is not the only destination of choice. Young people today see themselves as global citizens and recognise that A-levels offer an academic passport that can take them almost anywhere.
Most universities worldwide are very familiar with the UK's public examination system and are more than happy to accept students with A-levels or their equivalent. The specialist nature of British sixth form courses means that students with better grades can earn significant credit.
At Harvard University, for example, at least three A or B grades will earn you a place, but three A grades will merit a full year's academic credit.
The heightened interest in A-levels has led to the development of F1, a challenging and innovative one-year bridging course. It is to be offered to students who are high-achievers, beginning in September 2013, as an introduction to the A-level programme. This path is not for the faint-hearted.
The 15 and 16 year-old students who choose this option will frequently find themselves outside their comfort zone. They will need to bring with them the expectation that they will not just sit and listen, but participate, collaborate and interact. They will be expected to shape their curriculum in partnership with teachers and facilitators, and will have to be 21st century learners.
Aimed at self-motivated young people currently studying outside the British system, or those arriving in Tokyo too late to start the two-year IGCSE course, the F1 programme will provide an interdisciplinary, project-based and research-driven route to A-levels.
In addition to studying an English, Maths, Science and Humanities core, students will develop transferable skills that will enable them to thrive as confident, independent life-long learners.
In line with BST's ethos, the scope of the course will extend well beyond the classroom and will include physical challenges, opportunities for creativity and artistic appreciation, as well as the requirement to commit to a programme of service to others. Potential for leadership will be the hallmark of successful applicants.
The curriculum will not be textbook-driven, or fragmented with subjects taught in isolation; it will be thematic, project-based and integrated. Skills and content will be learned through research and application, while assessment will be rigorous, ongoing and include a very significant element of reflection and self-evaluation.
Successful graduation from the F1 programme will lead to a two-year course of A-level study, focused on four subjects of the student's choice and an externally assessed course in Critical Thinking and, eventually, to the best universities in the world.
The challenge that all parents and educators face today is to prepare young people for life in a rapidly changing world beyond our imagining.
In The Global Achievement Gap, Tony Wagner identifies seven survival skills that today's young learners will need in the 21st century:
Critical thinking and problem solving
Collaboration across networks and leading by influence
Agility and adaptability
Initiative and entrepreneurialism
Effective oral and written communication
Accessing and analysing information
Curiosity and imagination
These skills are central, not only to the F1 syllabus, but to all that the British School seeks to offer its students from the age of three to 18. Why not visit and learn more?