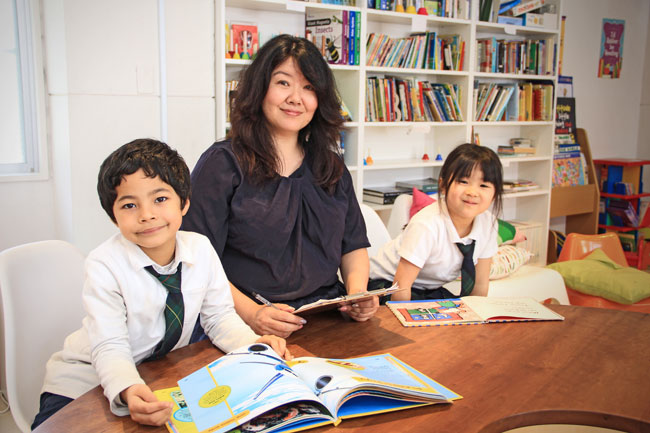 Since its founding in 2006 as a pre-school, Camelot International School has stayed true to its child-first, parent-friendly ethos, and as a result grown to include an elementary school. That will be joined by a middle school in September—further evidence of Camelot's appeal to parents looking to give their children an education that embraces their individual needs and strengths.
This child-first approach can be found in many of the school's operations, from its flexible approach to class schedules to the school curriculum.
In focus
Class size is key to Camelot's child-first philosophy of education. With a maximum of 20 pupils per class, teachers can provide students with more focused attention, and it also allows for more focused group work. It also helps with classroom management, with fewer distractions for children and less time for any problems to escalate.
Small classes are well suited to children who have struggled in larger classes, under less personal systems of education. Smaller numbers also help those who have experienced bullying or who have other personal issues, and so need additional support from the teacher.
Camelot also takes a flexible approach to education, recognising that even in small classes, the range of abilities can be broad. With the more time teachers have and the more focused the attention that each child can receive, even struggling pupils can attain a lesson's main goals. Stronger students, meanwhile, can be encouraged to think beyond those goals through extension activities. As a result, students of all abilities are well supported.
Cambridge system
Although Camelot embraces a friendlier environment than many other schools, the education delivered is nonetheless underpinned by a strong curriculum. The school is working towards adoption of the qualifications offered by Cambridge International Examinations, which is part of Cambridge Assessment, a department of the University of Cambridge. Students will begin to take International General Certificate of Secondary Education (IGCSE) exams and International A Levels in the 2018–19 school year.
Mirroring the UK national curriculum, the Cambridge system provides a clear developmental path from nursery through to the age of 18. Clear standards are set, offering a globally trusted external standard by which Camelot's students can be assessed.
Following the A Level system dovetails with Camelot's child-first philosophy, with students able to focus on their strengths by choosing the subjects they are best at and most interested in. That contrasts with other examination systems, where students are forced to pursue certain subjects, which they might not be so strong at, and so risks bringing their grade point average down.
Open to all
Camelot's approach to education appeals to a wide range of parents, from families looking for non-Japanese-language education and those who are globally minded, to returnee Japanese families and those with children who are more likely to achieve in an English-language environment. The school's offerings are also considered attractive by those seeking an approach that values creativity and critical thinking.
While this kind of international education usually comes at a significant cost, Camelot is striving to remain accessible to a broad spectrum of families by keeping what it charges below market rates. In addition, there are bursaries and, in some cases, financial support for families that would still struggle to meet payments.
Camelot accepts admissions on a rolling basis and requires no entry tests aside from an English comprehension test.