The United Kingdom and Japan have long had a connection, and in recent years that relationship has become increasingly important. Japan is now one of Britain's closest partners in Asia, and this is reflected in the establishment of a new cultural home in London.
Found in a stylish art deco building centrally located on Kensington High Street and backed by the Japanese government, Japan House London aims to showcase the country's talent and innovation. An exhibition gallery, Japanese restaurant, events space, library and retail floor featuring Japanese products invite guests to experience the very best art, gastronomy, design and technology of Japan.
Although relatively new—having opened on 22 June, 2018—Japan House London has already surpassed its visitor expectations for the first year, having welcomed more than 260,000 guests as of the end of December, including Japan's Deputy Prime Minister Taro Aso and Prince William, Duke of Cambridge. ACUMEN sat down with Director of Corporate Development Carolyn Burnett and Partnerships Manager MaryAnn Broughton to discuss this exciting start and promising future.
Brimming with opportunity
"A key objective of Japan House London is to build lasting partnerships between Japan and the UK," Broughton explained. "The development of a Corporate Members scheme is instrumental in meeting this objective. Corporate partner­ships offer a rich and varied range of tailored opportu­nities. Since opening, Japan House London has attracted 37 member organisations, including 34 from Japan's corporate sector. We have a nimble and customised approach to membership which can include a combination of exclusive invitations and access to exhibitions, venue hire and brand alignment".
With the wide range of existing members, potential supporters will be offered opportu­ni­ties to engage with new and existing members of Japan House London to expand their networks and reach new audiences. Members receive exclusive invitations and access to exhibitions and can hear talks from curators as well as take part in expert-led guided tours and creative workshops. There are also opportunities to host clients at Japan House through expert-led tours, member access to Akira restaurant's beautiful tatami room and the opportunity to hold events and meetings in the building's contemporary spaces.
Japan House London has built an impressive following. The first seven months have exceeded expectations with nearly 15,000 followers on Facebook, more than 15,000 on Instagram and just over 4,000 on Twitter.
"The feedback we are receiving from both visitor surveys and members is demonstrating a tremendous interest and appetite for Japan at the moment, as well as for the exhibitions and networks that Japan House London offers," Burnett said.
With an onsite tourist information area staffed by the Japan National Tourism Organization, the London institution is not only sharing culture and building business links but also encouraging potential tourism.

Global nation
As a project led by Japan's Ministry of Foreign Affairs, Japan House has a global presence. Along with London, two other loca­tions—São Paulo in Brazil and Los Angeles in the United States—bring Japanese culture to the world.
As the UK–Japan relationship continues to be of high importance, Japan House London will help encourage interest in Japan as a global destination for culture, business and tourism. And as firms invest in Japan House London, they will be investing in the ongoing alliance between the two countries. "We will continue to contribute to the UK–Japan relation­ship by using culture as a platform through which to share the very best Japan has to offer in terms of art, design and technology, as well as establishing long-lasting UK–Japan ties across all sectors," added Burnett.
Road ahead
Now that a strong foundation of predominantly Japanese members has been established, Japan House London is looking more locally. As Broughton explained: "We are working to bring more UK organisations with an interest or presence in Japan into the fold to foster Japan House London as a platform for further collaboration. There are some excellent exhibi­tions and workshops in the pipeline and some new opportunities for members that will be introduced in March".
With celebrations such as the UK–Japan Season of Culture, which will run alongside the Rugby World Cup 2019 that is to be hosted by 12 cities across Japan from September to November, and the Tokyo 2020 Olympic and Paralympic Games, Japan House London has a vital role to play in preparation for these events. "We will be creating a number of opportunities to engage our members and visitors through­out the year," said Burnett. "The Season of Culture will showcase the best of UK and Japanese creativity by bringing together artists, tech­nology experts, researchers and business leaders from both countries".
Early honours
The British Business Awards (BBA) are hosted each year by the British Chamber of Commerce in Japan. At the 2018 BBA, held on 2 November at the Grand Hyatt, Tokyo, Japan House London took home the UK–Japan Partnership Award.
For an organisation that has been around for less than a year, winning a BBA is no mean feat. "We were absolutely delighted and honoured to accept this incredibly prestigious award from such an influential and recognised organisation as the BCCJ. It is our members' investment in us and their support for us that has enabled Japan House London to receive this award," Burnett said.
As we enter 2019, Japan House London shows no sign of slowing down. The 37 current member organisa­tions look forward to future collabo­ra­tions, exhibi­tions and events, and can expect more connections to form with incoming members. With a BBA under its belt, a substan­tial social media following and the brains of leading Japanese creative talent, there is no doubt that Japan's new cultural home in London will continue to spread knowledge and under­standing of the innovation and cultural depth that together produce Japan's famous flare.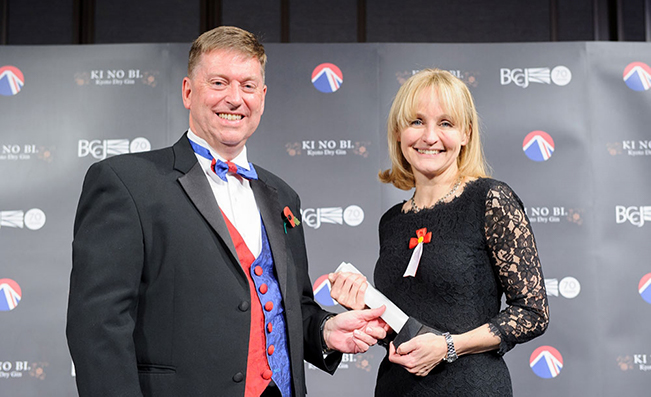 ---