With anticipation and excitement in the air, the executive steps into the spotlight to face the opportunity of a lifetime—not in the boardroom, but in the ring to duke it out in front of a cheering crowd while fighting for an extraordinary cause.
On 25 May, one of the most thrilling international events in Tokyo will take place: Executive Fight Night (EFN) VIII! Eight years ago, the event was born from the vision of Eddie Nixon, Dave Thomas and Nathan Schmid.
Not only does EFN give 16 stressed-out executives a chance to showcase their boxing talent, but it also offers the chance to raise millions of yen for charity. The fighters join a rigorous 12-week training programme run by professional trainers and fighters at Club360, culminating in a Vegas-style fight night at the Grand Hyatt Tokyo.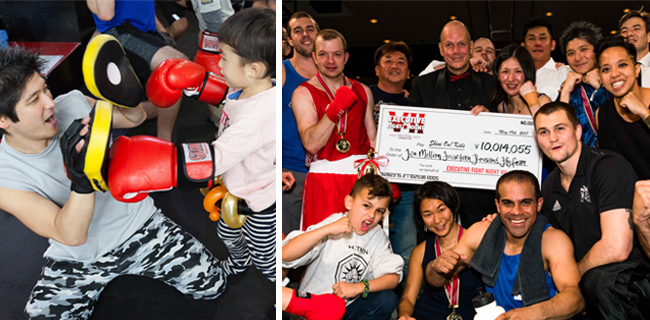 Big support
EFN has raised more than ¥50mn to date to help local Tokyo charities. Non-profit organisation Shine On! Kids (SOK), which supports children with cancer and serious illnesses in Japan and their families, is the EFN's charity partner. This year's theme is "Fighting for Fighters", connecting the strength and determination of both the fighters and the children they are supporting.
Funds raised from EFN VIII will support SOK's Facility Dog Program, which places a specially trained therapy dog together with a nurse to work full-time at a children's hospital. As Japan's first, full-time, animal-assisted therapy programme at a children's hospital, SOK's Facility Dog teams improve outcomes and the children's approach to medical treatment by accompanying kids during scary procedures and visiting them regularly during their hospital stay.
SOK's fourth facility dog will arrive later this year to work at a major Tokyo children's hospital, and funds raised at EFN VIII will go towards a fifth dog, expected to be placed in 2019.
In the ring
This year's group of 16 fighters includes four from the UK:
Charles Simpson of Meitan Tradition
Reginald Azubuike of EIRE Systems
Thomas Kingwell of Robert Walters
Dr Thomas Lomax of Tokyo Medical and Surgical Clinic.
Kingwell, a long-term corporate supporter of both EFN and SOK, confessed that he did a bit of boxing as a teenager. When his colleagues told him about what a fantastic event EFN was, he jumped at the suggestion to try-out and support a great cause. He says he looks forward to getting lots of pledges from his Robert Walters workmates!
Meanwhile, Lomax has volunteered as the ringside doctor since EFN's inception. After watching a few of his patients through the years get fit for the event, Lomax decided to start boxing training more than a year ago in anticipation of EFN VIII. He said it was hard going at first, but he is motivated by supporting a local medical charity. Lomax said he hopes that, as a participant, he can help to raise the profile of the event and maybe even encourage some of his patients to push themselves to get fitter!
The big day
A powerful part of the EFN happens well before the big night, when the 16 fighters meet some of the children they are supporting at a special "Fighters Meet the Fighters" event at Club360. The children learn about the fighters' home countries and cultures, as well as practice English conversation and even a tiny bit of boxing. The fighters also deepen their understanding of SOK's activities, connect with the children and become more motivated to fight even harder for them.
EFN VIII will feature a live auction, raffle and other non-stop entertainment! Don't miss this chance to cheer on the fighters, make an impact on children's lives by supporting SOK and enjoy an extraordinary night at the Grand Hyatt's newly renovated ballroom.
Find out more and get your ticket: www.executivefightnight.com