New National Stadium. Athletes' Village. Expanded Shibuya Station. Yes, we're ready for the Tokyo 2020 Olympic and Paralympic Games! Will it be a good year? Will we have many opportunities for success?
The Lunar New Year starts on 25 January, but with conflict between the United States and Iran starting off the month—as well as the threat of recession—some people are worried. Many think that things will get worse in 2020. Will they? Let's find out by reading the feng shui chart.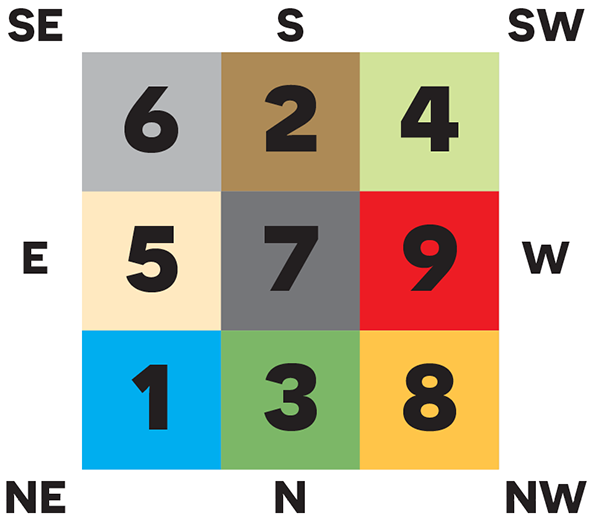 The nine-section grid is called the Annual Flying Star Chart. The centre grid indicates the trend for the whole year, which in 2020 is seven.
Seven represents robbery, financial loss and betrayal. It is also the star of violence, so people tend to fight easily. We should take care of this first.
Take a deep breath before responding in a way that leads to an argument. Wise people say, "Out of the mouth comes evil" and "Think today and speak tomorrow". Restraint is the right attitude for 2020.
Meanwhile, lucky number eight is in the north-west, which is the direction associated with male leaders. This symbolises good leadership. We may have problems, but we can expect that world leaders will end the fighting in a good way.
This annual chart formation is the same as it was nine years ago, because the nine numbers move sequentially. So, 2020 will be something like 2011.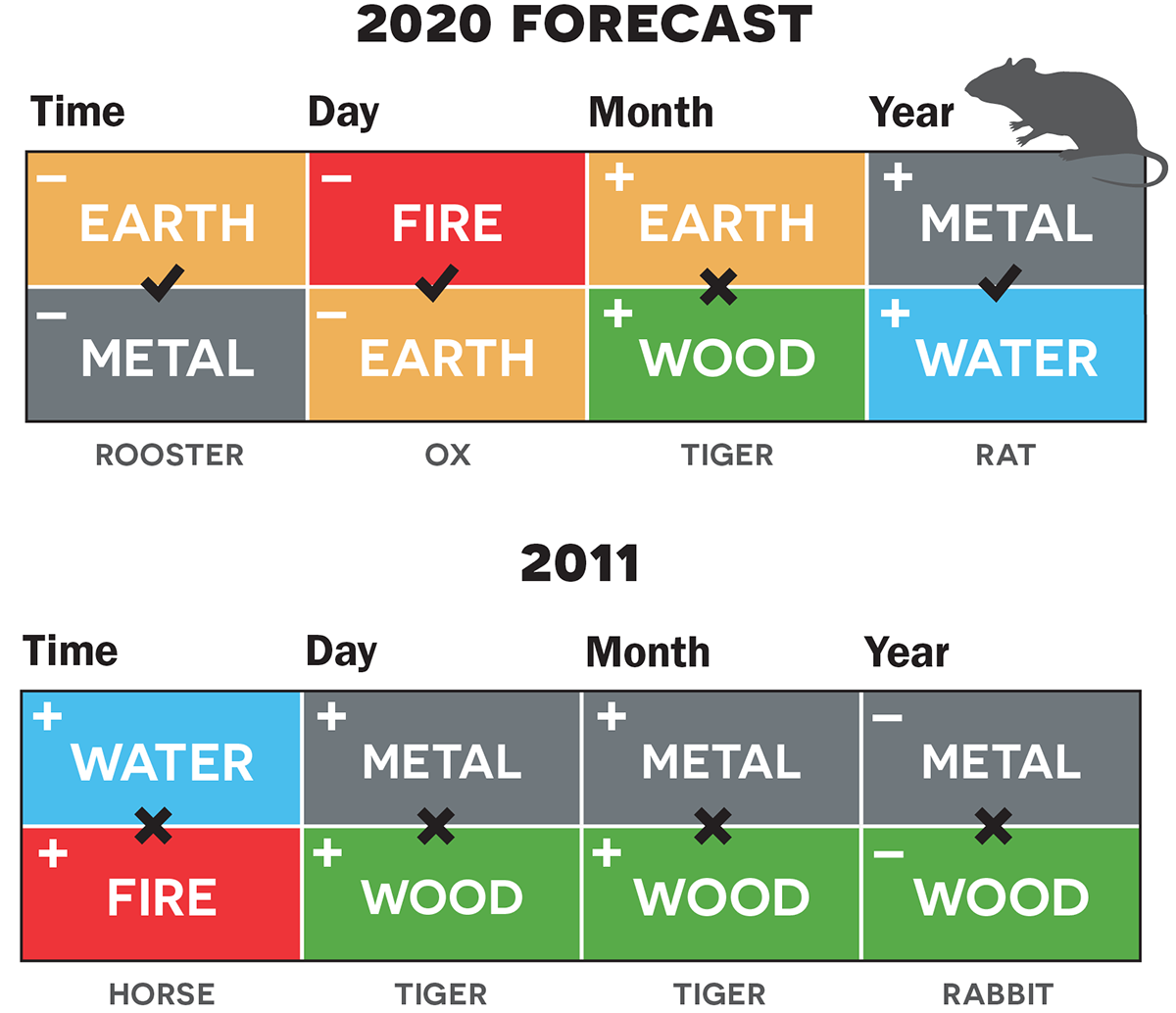 Looking back at 2011, we see:
Military intervention in Libya

Egyptian revolution

Strong hostility in the Middle East

The Great East Japan Earthquake and Tsunami

Riots in London
It was quite a rough year.
To go deeper, let's look at another feng shui chart.
The eight-cell chart also describes the year. Let's compare 2020 and 2011. By reading the balance of top and bottom cells, we can determine the stability of the year.
To get right to the point, problems will not be as big this year as they were in 2011, when there were four clashes. In 2020, there is only one. More make for a rough year. Fewer bring stability. But the earth–wood clash in the month column may bring serious cash flow problems. If you are in business, you can never be too prepared.
Business opportunities
The rat is the first of the 12 animal signs, so 2020 is the beginning of a new astrological cycle. There are five types of rat, one for each classical element: water, wood, fire, earth and metal. This is the Year of the Metal Rat, which last came around in 1960.
Ancient Chinese scholars believed that the five elements related to one another. For example, metal produces water, fire produces earth, water destroys fire, and metal destroys wood. They believed balance among the elements brings good luck while clashes bring bad luck.
The metal and water combination seen on the chart is wonderful because metal creates water in the cycle of nature, so this brings new opportunities and money. The clash of earth, wood and tiger, however, may cause cash flow problems.
Also on the chart we see fire with earth as well as earth with metal, both productive combinations. The ox and rooster are good friends, so this is a very strong sign of improvement—especially in the second half of the year.
Metal is wealth
On this eight-cell chart for 2020, wealth results from the element of metal. In 2019, it was fire. Wearing metallic colours—gold, silver and white—will attract wealth luck this year.
Growth energy
As Lunar New Year's Day is on 25 January, it comes before the first day of spring on 4 February. So, this year we have spring. In 2019 and 2018, we did not have spring, because New Year's Day fell after 4 February.
When a year has spring, seeds develop good roots. This means that we can grow new business steadily or can have good success in achieving our goals. This year, your hard work will pay off thanks to strong growth energy.
Though hostile energy is dominant, 2020 will bring many opportunities. The year has stability. Things will not worsen. I wish you a wonderful Year of the Metal Rat.