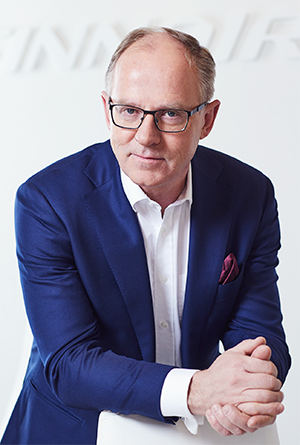 Thirty-five years ago, Finnair Plc was the first European airline to fly non-stop scheduled flights from Europe to Japan. Since then, the airline has seen great success in the Asian market, especially in Japan—their number one destination in Asia in terms of sales.
BCCJ ACUMEN sat down with President and Chief Executive Officer Pekka Vauramo to talk about the firm's growth in Japan, their interest in the UK–Japan route and future prospects.
Promising Growth
With a current growth rate of about 20%, Finnair is expanding at a strong rate, and they expect their long-term growth to be somewhere near 10%.
"Growth means that we will have new aircraft and more destinations, and we add more frequent flights to more destinations—we will do both", Vauramo said.
As regards Helsinki–Japan traffic, the airline has an impressive track record. When Finnair first started, they offered one flight weekly, but today the number has shot up to 31 flights, an increase of almost 43% over the past four years. And by adding Japan Airlines' (JAL) seven flights a week thanks to their alliance, Finnair now boasts 38 weekly flights between Helsinki and Japan.
Optimal gateway
Although Helsinki offers convenient access to anywhere in Europe, Finnair's network is primarily built on the fact that Helsinki has the shortest distance between European destinations and Northeast Asia. This means that the airline can travel from Helsinki to big cities in Asia and return their aircraft within 24 hours.
"We can fly with the same aircraft to the same destination every day", said Vauramo. "And we get an extremely high utilisation rate from the aircraft.
"We fly to more than 100 destinations in Europe, to 20 destinations here in Asia and to four or five destinations in North America, so we concentrate on Europe to Asia primarily".
After Paris, Helsinki serves as the second-biggest gateway from Japan to Europe, and for travellers to the UK who fly through Helsinki, there are comfortable benefits. Besides the convenience factor of a mere 35-minute connection, flying through Helsinki is the shortest and fastest flight to and from Japan that passengers can catch.
"Even for cities such as London, Helsinki is the fastest way to go", Vauramo remarked.
Through Helsinki, UK passengers are offered an increased number of destination choices, includ­ing Fukuoka, Nagoya, Osaka and Manchester.
Teamwork
Regarding the significance of the oneworld alliance, Vauramo emphasised the role of airline cooperation.
"Of course, people like to choose direct flights if there are direct flights, but there are so many combinations of cities and destinations that people's schedules dictate their needs, and the natural way to serve those needs is to cooperate within an alliance".
For Japan flights, Finnair is allied with JAL, British Airways and Iberia.
Personal service
When asked about planned upgrades, Vauramo explained how they choose their next steps.
"When we finalised our cost-cutting programmes, we studied what people value in an aircraft and, to our surprise, what people value most is the personal service that they get on board".
With personal service ranked above flight prices, meals on board or the aircraft itself, Finnair plans to personalise their service through staff training so they offer something personal and don't just follow a script.
"We work together with our people; we are not fighting with our people, as many airlines tend to fight. I don't think it's a good combination to fight with your own people and request good service".
Other areas that have seen an upgrade include on-board meals and the service in Helsinki Airport. On every Narita–Helsinki flight, passengers can enjoy a signature menu specially designed by Rika Maezawa, chef at the restaurant Nanakusa.
"That localisation is something we do in different markets—we've done the same in China and London", Vauramo said.
Adding to the top-notch Finnair service are Japanese translations and guides in Helsinki Airport.
"Our growth is definitely focused on travel between Asia and Europe, and vice versa. That is the Finnair growth strategy", Vauramo concluded.