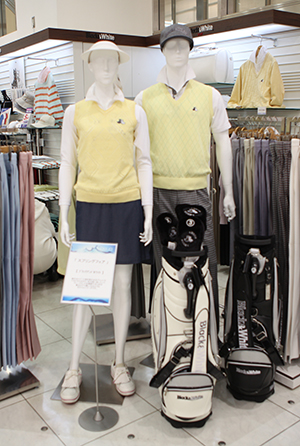 In Japan, it can be challenging for tourists, expats and even long-term residents to identify a trusted sports and lifestyle fashion provider with a wide stock of quality Japanese and international brands.
For some 30 years, Odakyu Department Store Co., Ltd. has offered a wide selection of high-end brands for sports and travel enthusiasts. Haute couture lifestyle brands are also on offer.
And with the Tokyo 2020 Olympic and Paralympic Games just around the corner, Odakyu is in the process of increasing its product and service offerings for non-Japanese visiting or living in Japan.
Accessible via the west exit of Shinjuku Station, the rooftop, first and B1 floors of the Odakyu Halc building are focused on sports and lifestyle attire, as well as related equipment and accessories.
Floor B1, for example, has a selection of outdoor sports, footwear and travel brands, in addition to accessories and items for dance and equestrian sports. The first floor, meanwhile, has a range of classic attire and accessories centred on golf.
"When it comes to golf wear and equipment, Odakyu provides arguably the largest range in Japan", said Takashi Nagumo, senior merchandiser in the merchandise planning department at Odakyu.
The first floor also carries a wide selection of goods catering to runners, swimmers and fitness enthusiasts from brands such as Reebok, Nike, Adidas, Asics, Puma and Fred Perry.
Odakyu Halc Sports is the epitome of the firm's goal of creating a "destination store" concept. This section of the shop focuses on casual and lifestyle brands that blur the boundaries between sportswear and high fashion. Products and services are designed to put mind, body and spirit at ease. They also support society at large by stocking items that encourage the participation of women and seniors in sport.
Working with internationally known designers, the shop constantly seeks to innovate. In 2012, for example, Odakyu Halc began to carry high-end items by Beams Golf, an in-line brand of Japanese fashion label Beams.
Further, since 2013, Odakyu Halc has stocked Samantha Thavasa Japan Limited's Under25 and No.7 collections of golf wear. The stylish brand has augmented the shop's offerings for women who are young at heart.
What is more, new styles are being explored at the department store for activities such as yoga and Pilates. The ultimate aim is to create a new kind of customer-focused shopping where sports, travel, fashion and lifestyle can be enjoyed in a single experience.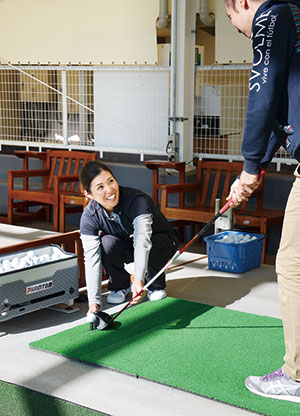 One of Odakyu Halc's best open secrets—the Halc Sports Golf School—can be enjoyed on the rooftop. In line with the "destination store" concept, the school has a custom-made 27-metre driving range for the training of golf novices and enthusiasts.
Having pre-registered, visitors can try out a range of golf equipment, including branded golf clubs and clothing, while working on their putting stroke or golf swing. Expert male and female instructors certified by the Professional Golfers' Association are available to give hands-on advice.
"There are plenty of golfing products conveniently located in our shop", said Nagumo. "But we also have a world-class golfing facility on the roof. Even if you are a golfing beginner, you can start from here. We are ready to welcome you with open arms".
Odakyu department stores are located within walking distance of Shinjuku and Machida Stations in Tokyo, and Fujisawa Station in Kanagawa Prefecture. The shops—and the train lines on which they are located—are managed by the Odakyu Group, which includes firms providing public transport, finance, real estate, resorts and retail services.