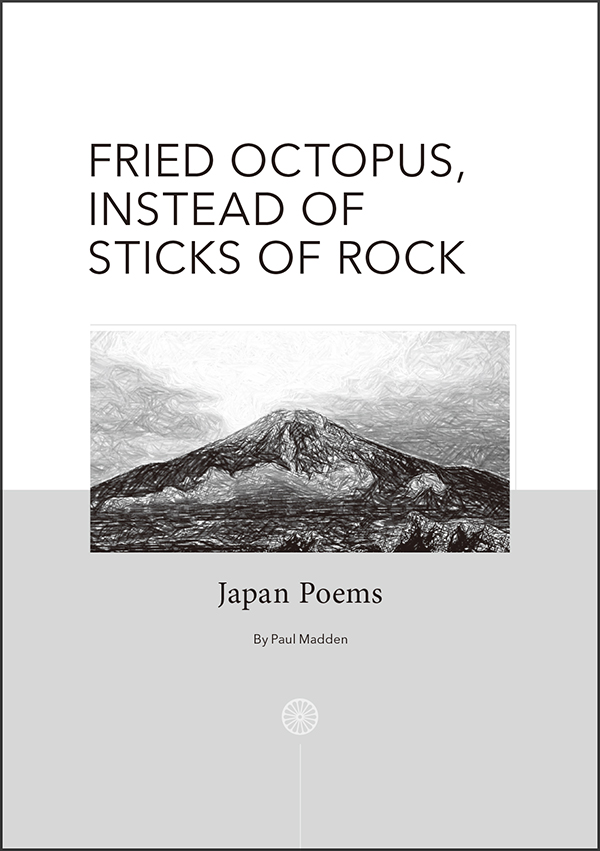 Her Majesty's Ambassador Paul Madden's enigmatically titled collection of 38 poems—each painting a picture (and each accompanied by an exquisite image) of a city, town, village or locality—provides us with a glimpse into the personal musings of the indefatigable diplomat during his—mostly—off-duty experiences. He writes:
I've studied the language and history and wondered at Japan's unique culture, and its extraordinary natural beauty … I've visited all 47 prefectures … I thought I'd try to write some poems about my favourite places.
In typically self-effacing form, he goes on to say:
I've never written poetry before. Some may say I haven't now. But I've never felt as inspired to try by anywhere else.
Sentiments within the poems are akin to visiting a place for the first time; sometimes deep, sometimes shallow, occasionally funny. They are the musings on our return to the city following a weekend away; the memories of the people and the scenery that stay with us for years; the experiences that we leave behind yet stay with us and continue to shape our view of the world. They are simultaneously superficial and profound.
It is the personal reflections that resonate most. And it is the images of the places the private traveller—not the career diplomat—paints that provide us the most direct glimpse into the country and its diverse backdrops. The poem "Matsue" makes reference to Lafcadio Hearn, the Japanese writer of Irish and Greek descent known in Japan as Koizumi Yakumo, and how he, "… began to give us glimpses of unfamiliar Japan". Similarly, we are gifted a view of both the familiar and not-so-familiar through Ambassador Madden's own collection.
The first piece, "Chidorigafuchi", is described as an extension of the poet's home and place of work: "our private demesne". One cannot help but feel that the references to the beginning and the ending of the day in "Chidorigafuchi" serve as a subtle reminder of the impermanence of life, something that diplomats—given the nomadic nature of their role—come to accept as being part and parcel of their lot:
A storm, a heavy rain,
and it's all over for another year.
Yet, concurrently, we are given glimpses into a Japan that has not changed since the writer's first diplo­matic posting in the 1980s. In "Shikoku Fishing Village" we are reminded of a sense of timelessness, a familiarity that engenders the feeling of returning home:
A scene unchanged, for hundreds of years, perhaps.
Yet, an exquisite moment in time preserved in my memory forever.
The concept of home is explored further in "Otari Mura Nagano". This is, perhaps, the most personal in the collection. The formal link between the poet's hometown of Ottery in Devon and the Nagano village of Otari was created by him during his first tour. It is a link that endures and one to which he and the people of Otari remain committed. He tells us that he was the nakado, the omiai facilitator, bridging two communities separated by thousands of miles but joined by a shared humanity:
Ottery/Otari
my birthplace and my adopted Japanese home.
Whilst humour peppers many of the pieces, it is juxta­posed with more earnest reflections of the strong people-to-people ties that represent the bedrock of the UK–Japan relationship. In "Hagi", he writes of the Choshu Five, a group of samurai who secretly travelled to England to study in 1863:
… their roots lie here,
alongside blue waters, crescent of sand.
And he is not afraid to incorporate contemporary societal issues into the collection. "Sapporo" raises the question of gender parity:
"Boys be Ambitious"
said Clark of Amherst, establishing the Agricultural College that became a great university.
But what about girls?
They're still asking that question here.
I will leave it to readers to discover why the collection has such an intriguing title but, given this reviewer's own Sandgrown'un background, the imagery created in the poem "Izu Hanto" put a grin on his face.
There is much in Fried Octopus, Instead of Sticks of Rock that will make the reader both smile and, at times, laugh out loud. "Shibuya", in particular, stands out in this regard. But, ultimately, we have a collection that creates an intelligent counterpoint between the ideas of being simultaneously a guest whilst at home as seen through the eyes of Her Majesty's most senior diplomat in Japan.