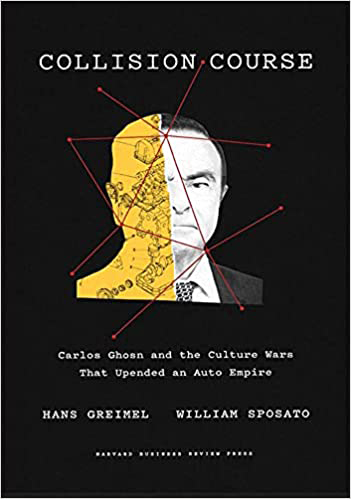 Co-authored by journalists Hans Greimel and William Sposato, Collision Course presents the dramatic story of former Nissan Motor Co., Ltd. Chairman and CEO Carlos Ghosn's fall from grace, arrest, detention and dramatic escape from Japan. The book is an exhaustive study of the case, placing it in a wider context of the history of Japan's econo­mic and industrial relations with the West, the recent evolution of the automotive industry, the 150-year-old Franco–Japanese commercial relation­ship, as well as the history of Japanese business scandals and cultural clashes between Japan and Western nations.
Meticulously researched and packed with fasci­nating and detailed information, the book paints a vivid picture of a dour but relentlessly driven, dynamic executive who rescued the flag­ship Japanese carmaker Nissan from the verge of insolvency in the early 2000s. It relates how Ghosn success­fully crafted an alliance among Renault, Nissan and Mitsubishi Motors, serving as chairman and CEO of each company, and as chairman and CEO of the alliance overall.
Climbing the ladder
Ghosn rose to cult hero status in Japan after spear­heading Nissan's remarkable recovery, which was underpinned by a cross-shareholding arrange­ment in which Renault acquired a controlling stake in the Japanese automaker. Ghosn's vision was to utilise the economies of scale and synergies made possible by the three-way collabo­ra­tion to increase combined global market share and to lead the way on the development of new types of automobiles, such as electrified and self-driving vehicles.
On his arrival in Japan in 1999—complete with his own 30-strong handpicked executive team—Ghosn devised and implemented a Nissan Revival Plan that involved relentless cost-cutting through lay-offs and plant closures. He also took steps to unwind Nissan from the traditional keiretsu system of intertwined cross-shareholdings with affiliated and subsidiary companies. This had underpinned Japan's post-war economic resurgence, but proved a drag on profitability in times of recession. Instead, he instituted a system of merit-based promotion. While anathema to the prevailing Japanese business culture, these measures nevertheless undeniably achieved positive results.
Such was his success that, in 2006, he was knighted for services to economic ties between Japan and the UK. He had potentially saved thousands of jobs at Nissan's UK production plant in Sunderland.
Downfall
As the co-authors recount, however, there were two issues that ultimately brought Ghosn down. Firstly, factions within Nissan chafed at the possibility that the three companies might be merged into a single corporate entity, robbing Nissan of its identity and control over its own destiny. 
Secondly, Ghosn firmly believed that, as the architect and steward of Nissan's turnaround, he was entitled to a level of compensation in line with the stratospheric amounts paid to US automotive CEOs—particularly as General Motors had tried to lure him away from Nissan in 2009.
When Renault extended his CEO contract by four years in 2018, the French company charged him with the task of making the alliance "irreversible", a mandate that stoked Japanese fears of a full-on takeover. 
Meanwhile, conscious of sensibilities in both Japan and France regarding excessive executive compensation, and following a 2010 change in Japanese business law that required increased public transparency, Ghosn and his team had sought ways to conceal or defer his actual remuneration.
With his dramatic arrest and detention in 2018, Ghosn's case became an international cause celèbre that shone a vivid spotlight on the harshness of the Japanese justice system and highlighted the precarious situation of anyone unlucky enough to be arrested and detained in Japan. After Ghosn's daring escape to Beirut, Lebanon, from Osaka airport (concealed in a large music speaker case), Japanese Minister of Justice Masako Mori unintentionally underscored Japan's unfortunate reputation for "hostage justice" and lack of due process when she stated that Ghosn must return to Tokyo to "prove his innocence".
Last words
The authors are somewhat equivocal in their conclu­­sions regarding the true nature of events. Is Ghosn's narrative accurate when he blames a Nissan cabal working with the Japanese government and prosecu­tors to frame him? Or is Nissan's claim correct when they say that Ghosn was a greedy CEO out to line his own pockets? The authors do emphasise the drastic contrast between the company's fortunes with Ghosn at the helm and its parlous state both before and after.
The book has its quirks—a few quotations have been rather literally and unnaturally translated, slang expressions occasionally intrude upon the otherwise formal writing style, and the authors occasionally veer off at a tangent, describing events of only marginal relevance. 
On balance, however, the book is a fascinating, detailed and well-presented account of the entire Ghosn–Nissan saga, which includes numerous quotations from key players, as well as extracts from an interview with Ghosn himself, from his safe haven in Beirut. 
---
BCCJ ACUMEN has an autographed copy of this book to give away.
To apply, please send an email by 15 December to: publisher@custom-media.com
Winner will be picked at random.