OOIL (Orient Overseas International Limited) is one of the largest integrated global container transportation, logistics and terminal firms.
With a strong presence in Japan for many years serving brands such as Toyota, Canon and other well-known global firms, our huge network covers not just Asia, but also Europe, North America and Australia where our clients include Laura Ashley, Walt Disney World and Wal-Mart.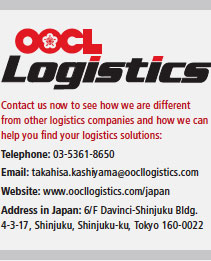 As a public company listed in Hong Kong, where we are one of the most recognized global brands, OOCL Logistics (Japan) Ltd. is an Internet-based logistics management-system provider with our own unique "Podium" specialized core-logistics system offering solutions to suit every client's particular needs.
We have an extensive network of some 98 offices in 31 countries, employing more than 1,300 professionals, including in China where we have 26 offices and own 12 warehouses.
Our service features are not only forwarding many kinds of cargos, but also managing our clients' complete logistics operations—from start to finish. Providing advanced customer-specific and tailor-made logistics solutions, we consider all clients like our business partners.
Professional—Our handpicked experts are among the industry's best.
Technology—With the latest sophisticated IT systems, we set global standards and offer peerless service to give you full control and visibility.
Network—By working together, our global and domestic teams provide multiple service capabilities in key locations around the world.
Making the Right Moves—We believe that supply chains belong to the client, and we help you make the right moves by becoming a vital link in your success that adds real value to your operation.
GALLERY