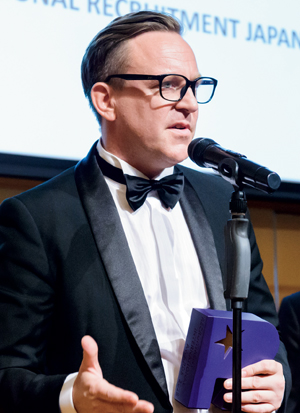 When Matt Nicholls was appointed managing director of RGF Professional in August 2015, the company—then called RGF HR Agent—was struggling. There had been three managing directors since the business was established in 2011, and staff turnover was extremely high.
To compound this, RGF had a mixed reputation among clients as well as recruiters who worked for competing firms, and staff turnover had created another issue: the 19-person RGF team was based in Ebisu, in an office with room for 80. Nicholls was under immediate pressure to steady the business and do something about the unused office space.
Rebuilding
Parent company Recruit had decided it would be best to sublet half the office; but Nicholls had other ideas. It was clear to him that the business had huge potential, being part of Japan's best recruitment brand and having access to great resources. He persuaded Recruit to hold back on any decision for six months and let him replace departed staff.
From the start, Nicholls's vision was to transform RGF into the leading bilingual recruitment agency in Japan. To do so, he had to attract star performers from the competition.
He managed to sell his vision for the company and make several key hires, including Alex Zoboli, who joined from a competitor as director of sales and marketing. Zoboli had just been awarded Manager of the Year for Asia at his previous company and was an extremely valuable recruit.
Nicholls knew that he must present a compelling case to potential hires if they were to choose RGF over competitors.
The success of his new pitch was dramatic, and rarely was a head-to-head battle lost. He took this so seriously that he conducted every initial interview for the first two years, often talking to more than 20 potential new hires a week. By January 2018, there were 85 people squeezed into that same office in Ebisu.
Flourishing
In less than three years, both infrastructure and repu­tation had developed to such an extent that RGF Professional welcomed an additional 30 new starters—half recruited directly from competitors in Tokyo—in one go on the day the company moved into its new office on April 1, 2018.
To grow any business from 19 to 123 people in less than three years is an outstanding achievement. To do so while smashing profit targets—and without any kind of push or direction from the head office—is rare. Quite simply, with a different managing director at the helm, RGF Professional Recruitment would look pretty different than it does today.