Flanker James Haskell towered above his teammates

• England rugby star finishes four-month deal with Ricoh Black Rams
• Reckons skill, speed, commitment here as good as in Europe
• Amazed that up to 60,000 fans watch university matches

Japan may not have been designed for someone who stands 1.9m tall and weighs nearly 18 stone (114kg), but James Haskell says he is fitting in just fine.
Haskell arrived here in October 2011, shortly after England's disappointing performance in the Rugby World Cup in New Zealand, but was intent on putting that experience behind him and performing well for his new Japanese club, the Ricoh Black Rams.
"I was only here a few months and this was my first time in Japan, but it was an incredible experience", said 26-year-old Haskell, who is originally from Windsor, Berkshire, and earned his reputation as an aggressive flanker after joining London Wasps and then later Stade Français.
"I'm so glad that I took the opportunity to come and play in Japan, because changing cultures is enriching in the same way as playing in France was a valuable experience", he explained.
He has also been pleasantly surprised at the level of skill and commitment that he encountered in the game here. "The skill level across the board has been better than that I saw in France, where there would often be 25 dropped balls during a training session", he said. "That doesn't happen here.
"The game is fast here, it is as fast and skillful as the European leagues, but the physicality is different".
Haskell has also been pleasantly surprised by the popularity of rugby at university level, where as many as 60,000 people turned out to watch a match.
Development at that level, combined with coaching at the grass-roots of the game here, should see the national team making major strides by the time Japan hosts the World Cup in 2019, he said.
Equally, Haskell hopes that having played in a completely different environment will help his abilities improve.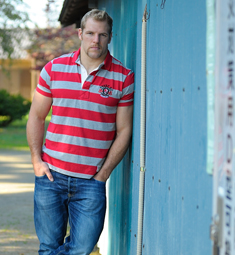 "I had to adapt my game to deal with the speed that is such a part of the sport here, so in that sense this was a good experience and I hope it will help me in the future", he added.
Haskell started playing rugby as a boy for Maidenhead Rugby Club before signing with Wasps, where he was part of the club's highly successful Colts set up. He went on to represent England at the Under-18, Under-19 and Under-21 levels, as well as play for the England Sevens.
He was called into the starting line-up for England in the last game of the 2007 Six Nations tournament against Wales at the Millennium Stadium in Cardiff, where he was part of a back row that was, for the first time in England's history, all provided by one club.
Widely seen as the successor to Lawrence Dallaglio, due to similarities in their style of play, Haskell was more prominent in the England team for the Six Nations competition in the following year and played in both tests of the 2008 summer tour of New Zealand.
Selected by manager Martin Johnson for the 2008–09 Elite Player Squad, Haskell played all three internationals that autumn—starting against South Africa—and participated in every match of the 2009 Six Nations.
In February 2009, Haskell announced that he was joining Top 14 side Stade Français at the end of that season, while he went on to score two tries against Wales in the first match of the 2010 Six Nations. He announced that he would leave the French team at the end of the 2010–11 season and rejoin London Wasps for the start of the 2012–13 season.
Despite a hectic schedule that also included the small matter of the World Cup, Haskell opted to join the Black Rams for the four-month Japanese season and now plays for the New Zealand Highlanders in the Super 15 tournament before returning to London.
Haskell has played for England no fewer than 42 times, but says that, after the problems the team encountered in New Zealand, now is a good time to take a break from international rugby.
He diplomatically refuses to comment on a lot of the media coverage of what went on off the pitch, but is candid about the team's performance when it mattered.
"We just didn't perform as well as we should have done", he said with a shrug. "I think it is a shame that Martin Johnson stepped down as I thought he was a good man, but change will be good for the team and new leaders will get the most out of England's best players".