Target: two gold medals
Four years after her last Paralympic dream ended in a six-person crash on the final straight in Beijing—and put Wakako Tsuchida in hospital for two months—the world number-one is determined to take the gold medal at the London 2012 Paralympic Games.
Determination is something that the 37-year-old Tsuchida has in reserve, as she is Japan's first professional wheelchair athlete and the first Japanese to win gold medals at both a summer and a winter Paralympics.
"I really want to win and I'm never by myself as I have my team around me—which means that we are always working together and we win together, as a team", she said.
Tsuchida lost the use of her legs at the age of 17, after a car accident left her with a broken back.
"I had loved sport before, although I was not all that competitive until after the accident", she said. "I had to stay in hospital for nine months, but it was a very good hospital for people in wheelchairs and I saw many individuals there who were very happy and energetic, which encouraged me".
Tsuchida began by playing basketball—"and I quickly realised how much fun it is, even though I was in a wheelchair", she said.
Road-racing was not her first competitive sport, however, as she represented Japan at the 1994 Paralympic Winter Games, in the Norwegian town of Lillehammer, in ice sledge speed racing over four distances. Four years later, in Nagano, she won gold in both the 1,000m and 1,500m races, as well as two silvers, for the 100m and 500m events.
Before the next winter games, however, ice sledge racing was dropped, because of the lack of participants.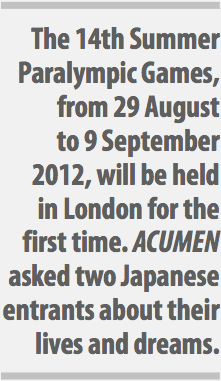 Tsuchida had already taken part in a wheelchair half-marathon—she completed her first when she took part in the world-famous Oita Wheelchair Half Marathon in 1994—and so switched her attention from ice to equally demanding road races.
Competing in her first Summer Paralympic Games, in Sydney in 2000, she took the bronze medal in the marathon. Four years later, in Athens, she won the silver in the marathon and took the gold for the 5,000m.
Ranked number one in the world over the marathon distance and in the top five for the 5,000m event, Tsuchida's ambitions in London are very straightforward: two gold medals.
"I train almost every day, once in the morning and then again in the afternoon, for two or three hours each time", she said. "I have three programmes to follow: road training, track training and weight training. When I'm on the road, I can put in 40km in a morning and then do the same again in the afternoon".
Tsuchida is coached by her husband, Keiju Takahashi, a speed skater who was short-listed for the Japan team for the Nagano Olympics. Now he accompanies her on his bicycle and is managing the rest of her preparations for London.
Before then, however, she will compete in the Tokyo Marathon, followed by a race in Boston.
Tsuchida, who works in the human resources department of healthcare company Sanofi Aventis, holds the official world record for a marathon of 1 hour, 38 minutes, 32 seconds, although she unofficially shaved more than four minutes off that time in Boston last year to come in at 1:34:06.
Sponsored by Nike and Nissan Motor Co., Ltd., and with her wheelchair provided by Ox Engineering, Tsuchida is planning a series of training camps in the run-up to London—and is clearly relishing the challenge ahead.
"One of my toughest competitors will be Britain's Shelly Woods", she said. "Shelly is a very strong competitor and there are a lot of other very good racers out there at the moment.
"But I'm really looking forward to getting to London", she added. "The course for the Paralympics race is not the same as that for the regular London Marathon, and I understand that they are doing a lot of work to make it perfect for the racers".