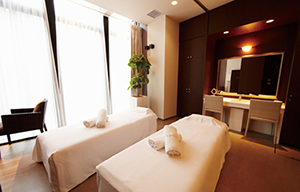 With 55 years of experience in providing beauty and relaxation treatments by hand, SOCIÉ is leading the market in Japan. We aim to offer exclusive products and memorable experiences to stimulate mind, body and soul.
Our specially trained masseuses have perfected head-to-toe treatments for women, offering courses that relax and reinvigorate the body and face, while combating signs of ageing.
For relief from stiffness and fatigue, try our body massage with comfort oils. It will normalise tissue, as well as relieve strains in muscles, tendons and ligaments.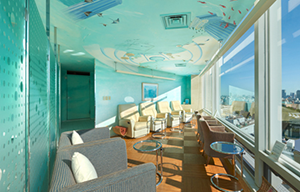 Our facials help maintain skin firmness and elasticity by treating the basic causes of skin damage. They typically begin with a shoulder and neck massage, followed by facial cleansing and peeling to remove make-up and clear pores. A massage to rebalance the skin, a facial mask and finishing treatments with lotions follow.
In particular, our facial ageing care treatment will help hone and lift skin, reducing the appearance of fine lines and under-eye bags.
Providing an exceptional journey in the spirit of omotenashi (hospitality), our spas include Beauty Avenue SOCIÉ Ginza, SOCIÉ Hotel Okura, and Spa Tokione at Tokyo Station.
We invited four professional ladies to these salons to try our treatments, and then asked each of them five questions:
1. What were your first impressions?
2. What treatment did you receive?
3. How did they compare with those you have received at other spas?
4. What stood out about the service you received?
5. Would you recommend the treatment to others?


Emily Le Roux
Director at a recruitment firm
The welcome, as soon as I arrived, was very warm and friendly. Staff took some time to explain the details of the treatment, and were careful to recommend the best solutions.
My therapist was excellent. She had already been informed that I have tense shoulders, mainly from computer work. I received a full body relaxation massage, with particular attention to tight shoulders and sore calf muscles—from running.
I have experienced treatments in the UK, Japan and also while on holiday in other parts of Asia, and the treatment was one of the best I have had. My therapist applied significant pressure where required, and I could really feel the difference during and after the massage. She also gave me great advice on how to combat dry skin.
I feel that I had a customised body massage, rather than a therapist going through a routine. There was a lovely rest area in which to change and reapply make-up, with a beautiful selection of cosmetics to try.
Definitely, especially to people who are experiencing tension, sore muscles or fatigue. I think the spa takes a personal interest in its customers, and wants everyone to walk out feeling rejuvenated.


Jacky Scanlan-Dyas
Partner in an international law firm
The venue is fantastic. The service was impeccable, and the staff were friendly and courteous. They all made the effort to communicate in English. The jacuzzi is gorgeously lit with dimmed blue lights.
I received an anti-ageing facial.
The therapist applied several creams and used different massage techniques and rollers to encourage the creams to penetrate the skin.
The treatment lasted much longer and was more relaxing than what I have generally experienced.
I recommend the treatment for a relaxing experience at the end of a long week, or to get skin glowing before an evening out.

Emma Hickinbotham
International affairs officer
The spa was very bright and clean, with plenty of friendly staff in reception. I was offered a drink while I filled in a short form in English. The relaxation room looked out over Ginza through floor-to-ceiling windows; it was so relaxing and quiet.
I had a lifting facial. The treatment started with a shoulder massage that was very good; the therapist asked if I was happy with the amount of pressure. Next came the facial, which was heavenly.
I haven't had many treatments in Japan with which I could compare this experience, but the scent and feel of the products were great, and my skin felt fabulous the day after my treatment, too.
The therapist explained each stage of the treatment, and made a bit of conversation, but it wasn't too much. After the treatment, I was free to use the spa facilities, and they provided me with a make-up kit to use before I left. This was a nice touch.
I would definitely recommend the spa; it was very luxurious and the extra facilities, such as the relaxation room, made the whole experience so much nicer than just going in and out for a facial. The lady who did my treatments spoke English. I will visit again, for sure.


Sally Erith
Brand strategist
I was greeted warmly, and given a hot towel and a cup of herbal tea. The venue décor is immaculately finished, and the level of English ability was good. I was taken into a little sanctuary, offering beautiful views over Shinjuku Park, with comfy chairs as well as a jacuzzi and sauna in which to unwind.
I received a full body oil massage. Prior to the treatment I had a short consultation regarding what areas of pain I had, to decide on the amount of pressure.
The masseuse was incredibly good, not only at finding and removing knots, but also in giving me both advice on why certain parts of my body are tight, as well as information about stretches and treatments that can help. She really knew her stuff.
It was a real bonus to have access to the relaxation area after the treatment. And you can stay as long as you like, with something to drink provided.
I would recommend this treatment to anyone with lots of aches and pains that need soothing. It's not cheap but, given the access to the facilities, you can easily make a whole afternoon of it.
---
Spring campaign 30% off
SOCIÉ is offering special facial and body treatment packages this spring.
Beauty Avenue SOCIÉ Ginza
Hulic Ginza Sukiyabashi Bldg. 5F
4-2-11 Ginza
03-5159-4136
www.socie.jp/ba/ginza.html
SOCIÉ Hotel Okura
Hotel Okura Tokyo Annex 2F
2-10-4 Toranomon
03-5562-9780
www.socie.jp/shop/1306
Spa Tokione at Tokyo Station
The Tokyo Station Hotel B1F
1-9-1 Marunouchi
03-5220-1111
www.thetokyostationhotel.jp/spa.spa.htm