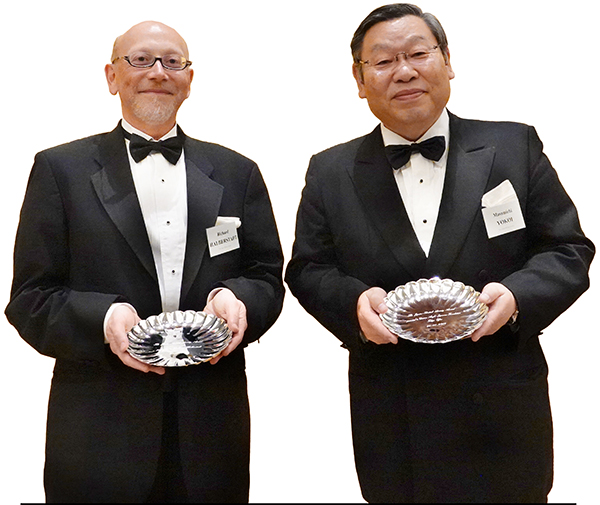 The Japan–British Society (JBS) annual awards recognises "significant work in the field of Japanese–British relations by individuals and organisations that have not otherwise been acknowledged". The JBS was founded in 1908 "to encourage the study of things British and promote cordial relations between the peoples of the United Kingdom and Japan". Today, it has about 1,700 members and is supported by Japanese and British firms.
This year's JBS awards were announced at the annual gala dinner, held on 28 November at The Okura Tokyo. After the guest speech by BBC Tokyo correspondent Rupert Wingfield-Hayes, HIH Princess Akiko of Mikasa presented inscribed silverware to the two recipients: Masamichi Yokoi, director of the Daiwa Anglo-Japanese Foundation's Tokyo office, and Richard Halberstadt, director of the Ishino­maki Community and Information Centre. Each was honoured for their contribu­tions to the furthering of Anglo–Japanese relations.
The Daiwa Anglo-Japanese Foundation
The purpose of this UK charity, established in 1988 with a generous benefaction from Daiwa Securities Co., Ltd., is to support closer links between Britain and Japan, making grants available for individuals, institutions and organisations to promote links between the two countries across all fields of activity. This includes the awarding of scholar­ships to young British graduates to study Japan and its language.
The foundation's Tokyo office has supported nearly 200 young Britons visiting Japan on its scholarships. These scholars had little knowledge of Japan or its language on arrival in Tokyo, but the scholarships allowed them to acquire language skills and contribute to UK–Japan relations in various fields, such as art, business and education.
Accepting the award on behalf of Daiwa, Yokoi said: "We are very grateful that the British Embassy has supported our office, our project and our 176 British Daiwa Scholars over 30 years. If you have a chance to visit London, you are welcome to visit our London office, [in front of which] 27 cherry trees were planted in October in Regent Park".
Richard Halberstadt
A native of Reading, Halberstadt graduated from SOAS University of London, where he studied in the Japanese Department, and obtained a Master of Arts in Literature from the University of Reading. He has lived in Ishinomaki, Miyagi Prefecture, since 1993, where he taught at Ishinomaki Senshu University.
On 11 March, 2011, when the Great East Japan Earthquake and Tsunami struck the Ishinomaki area, he decided to continue living with the local people and to devote himself to reconstruction. In 2015, he became the director of the Ishinomaki Community and Information Centre, where local residents and visitors could interact and share informa­tion about the earthquake and tsunami.
Halberstadt said: "I am very grateful, and not a little overwhelmed, to have been chosen for this year's Japan-British Society Award. One of the reasons for this is I feel that I was selected not so much for something I did, but rather for something that happened to me.
"I would like to take this opportunity to offer my profound thanks to the Ambassador and his staff for how they handled my situation, and the understanding and compassion that they showed when I made my decision to stay. Bureaucrats are often looked at as unfeeling or procedure obsessed, but I have nothing but the highest praise for the help and encouragement they showed me at that time, and I will never forget it".
He still receives requests for interviews, lectures and writing about the earthquake and the current situation in Ishinomaki, both in English and Japanese.