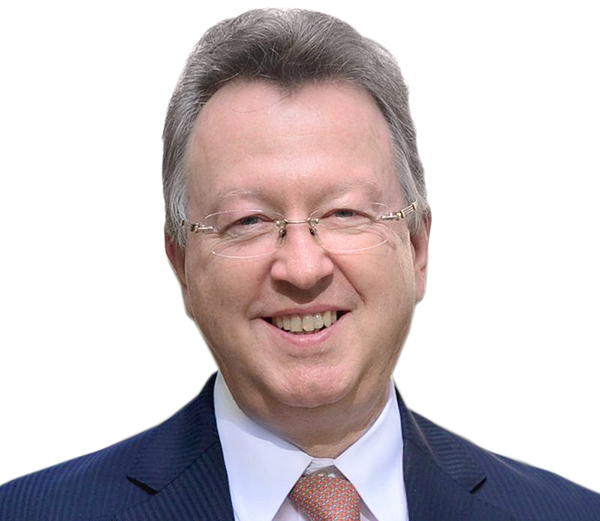 Each year, the Foreign & Commonwealth Office announces the Queen's New Year Honours list in recognition of truly exceptional and outstanding service to Britain abroad. On 27 December, 100 recipients were named, and among them were Keio University Professor Tim Minton, known well in the Tokyo community for his roles with the Japan-British Society and the Cambridge & Oxford Society. Tim has been appointed an Officer of the Most Excellent Order of the British Empire (OBE), and ACUMEN spoke with him to learn more about his years of dedication to UK–Japan ties.
Congratulations on your OBE. Why do you feel you were awarded this honour?
According to the Foreign & Commonwealth Office's press release, it was for my "substantial and wide-ranging volunteer activities in support of various bilateral friendship organisations". Specifically, I've been on the board of the Japan-British Society for five and a half years—executive director for three and a half—and, for the past two decades, I've also been honorary secretary of the Cambridge & Oxford Society, Tokyo, which counts among its members the Emperor and Empress, Princess Takamado and Princess Akiko of Mikasa. I'm also secretary of The Tokyo Club, which is dedicated to promoting cordial relations between Japan and other countries, not only the UK. And I can look back on four years as a trustee of the British School in Tokyo, many years of assisting the late Ian de Stains OBE with the musical component of his annual Christmas charity performances at the British Embassy Tokyo, and the four concert tours of Japan my wife and I arranged for the Choirs of St John's College Cambridge and New College Oxford in the late 1990s and early noughties.
What does this award mean to you?
It's a great honour, so naturally it means a lot. Many of the congratulatory messages that arrived in my inbox told me how much I "deserved" the award, but I don't imagine I'm alone among recipients of such awards in wondering exactly how deserving I am. Such thoughts were going through my mind as I watched Martin Scorsese's The Irishman the other day, and Frank Sheeran (Robert De Niro) gave me a new perspective: in his acceptance speech, after receiving an award—not an OBE—he said, "I don't really deserve this. But I have bursitis, and I don't deserve that, either!"
I was certainly pleased that my award was "for services to UK–Japan relations," because people probably tend to think of international relations in terms of how well countries get along at the governmental level. There's no doubt, of course, that the UK and Japan enjoy an excellent relationship at that level, but the strong ties between the two countries are also built on close personal friendships between many people on both sides. If I have been able to contribute in any small way by creating opportunities for those friendships to blossom, I am very happy. I am concerned, though, about the declining number of young Japanese going abroad to study, as this will only reduce the number of those crucial personal ties. I work for Keio University's School of Medicine, where I'm pleased to say we're bucking the trend—not only by sending increasing numbers of our students abroad on study programmes but also by welcoming more and more overseas students here. But the general trend is worrisome.
Were you surprised to hear about your British order of chivalry?
Yes, of course. I happened to be in London at the time, as was British Ambassador Paul Madden, and he sent me an email suggesting a quick drink because he needed to have a word about something. I had no idea what that "something" was, and his "By the way …" caught me completely by surprise. I seem to remember babbling fairly incoherently for a couple of minutes!
How did you celebrate?
I haven't really celebrated yet, because I didn't want to divert too much attention away from the wedding of my younger daughter, which took place on the very day the award was announced! I'm planning to celebrate with my family after attending an investiture at Buckingham Palace or Windsor Castle, but I haven't yet received a list of dates to choose from.
Do you have time for hobbies, travel or other interests?
I don't have as much time as I'd like, but I can look forward to a lot more when I retire from Keio four years from now. With all three of our children and three grandchildren—so far—living in London, I think my wife and I will spend much more time over there than we currently do, but we will certainly maintain our primary residence in Japan. I like travelling and love spending time in the mountains of Japan but, since my wife is very much a city girl, I don't think I'm in any danger of becoming a hermit!
Do you have any news from the William Adams Club?
It has been very exciting to play a part in the project to excavate his likely remains, but I don't think it's for me to reveal the current situation regarding the remains. I can say, however, that the memorial at the British Embassy Tokyo will be unveiled as scheduled on the 400th anniversary of the death of William Adams—16 May—and that there will also be a lot of commemorative activities taking place in Hirado over the weekend of 30 May.