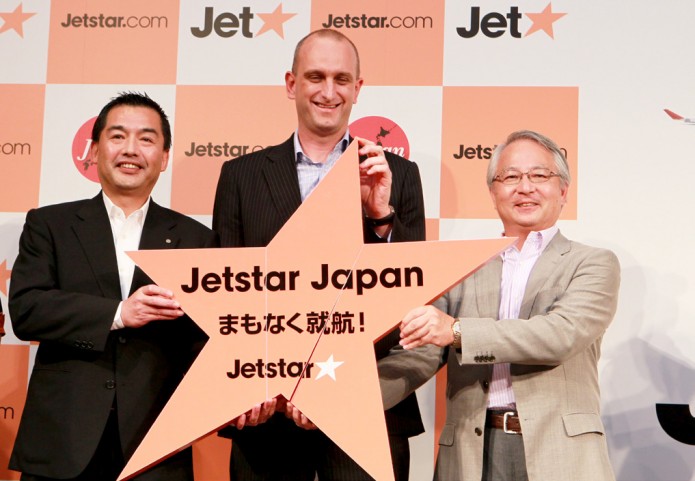 After becoming the first low-cost carrier to fly internationally to Japan in 2007, Jetstar Airways recently announced its participation in a joint venture to establish a new low-fare domestic airline under the Jetstar brand that is expected to stimulate fresh travel demand in Japan.*
Jetstar Japan will be able to be integrated into the Jetstar network, which already connects Japan to its operations in Australia, New Zealand, and South East Asia. Japanese travellers can look forward to significantly more affordable travel options within Japan from 2012.
Chief Executive Officer of the Jetstar Group, Bruce Buchanan, said the new venture would enable Japanese people to travel more often for less. Fares on the new domestic airline are expected to be an average of 40% lower than current prices, with sale prices even lower to help stimulate new demand.
"Jetstar is about bringing exciting travel options within reach of more people, by offering sustainably low fares", said Buchanan.
Jetstar Japan expects to fly from Tokyo (Narita International Airport) and Kansai International, with other destination airports and bases being considered including Sapporo, Fukuoka, and Okinawa.*
The new airline is a partnership between Jetstar Airway's parent, the Qantas Group, JAL and Mitsubishi Corporation. Jetstar Japan is expected to start flying by the end of 2012, with an initial fleet of three new Airbus A320 aircraft, configured for 180 customers in a single class.* This fleet is planned to grow to 24 A320s within a few years. Total capitalization commitment for the new airline is up to ¥12bn.
"We are an Australian airline being invited to partner with two of the most established companies in Japan and apply our successful formula in Japan. We feel very proud to be working together", said Buchanan.
"As the Jetstar Group airlines expand into new markets across Asia, it gives us economies of scale to strengthen the low cost advantage right across our network.
Jetstar Airways was the first low-cost airline to enter Japan, in 2007, with flights from Osaka to Australia. In July 2010, Singapore and Taipei were connected to Osaka by Jetstar Asia. Around 2mn people have since travelled on these routes.
Jetstar is the Asia Pacific's largest airline by revenue as well as its fastest growing, reaching the carriage of almost 20mn people annually in just its seventh year of operation.
* Jetstar Japan Co Ltd's operation as an airline and any flights it may operate are subject to government and regulatory approval.