Essay Topic: "Strategies for a Depopulating Japan"
Since 2005, the Japan Foreign Trade Council, Inc. (JFTC) has sponsored an annual essay competition to encourage students, young researchers and business people to express their opinions on matters of national and international importance.
For the best essays, judges will award one Grand Prize of 1 million yen and three Prizes for Excellence worth 200,000 yen. Award winners from abroad will also be provided with a round-trip flight to Tokyo to attend the award ceremony on 8 January, 2013.
"Strategies for a Depopulating Japan"
The essay topic for this year's competition is "Strategies for a Depopulating Japan". The population of Japan peaked at 127.79mn in 2004 and, according to the medium-variant projection of the National Institute of Population and Social Security Research, it will decrease to 115.22mn by 2030 and continue falling below the 100mn level to reach 95.15mn by 2050.
A variety of proposals to keep our society running with a dwindling population have been developed, including encouraging people to have larger families, new business models focusing on enhancing the standards of living for the ageing, reforms to the political and social security systems, and efforts to import manpower. However, none have proven remarkably effective. What kind of country should we create in the future? And how can we achieve it? The drastic decline of a population in a rapidly ageing society is expected to have a negative impact in various areas of people's lives—slowing economic growth, draining the national revenue, threatening the quality of social security systems, and even causing a serious concern over national security.
Population decline due to a low birth rate in an ageing society is not a unique problem to Japan and represents a globally developing concern—including in China and European nations. As the first country to face this problem, the rest of the world is watching closely to see how Japan will cope effectively.
Based on the issues outlined above, JFTC invites all participants to write freely about their ideas on a depopulating Japan—unrestricted by conventional ideas worldwide.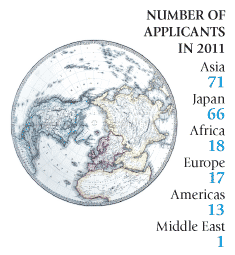 How to submit
Individuals of all nationalities and ages are free to enter the competition. Essays must be submitted using the downloadable entry form on the JFTC website, together with both essay title and summary.
Essays can be submitted in English (max. 4,000 words) or Japanese (max. 10,000 characters) with an accompanying essay summary of no more than 400 words in English and 1,000 Japanese characters.
Deadline for submission is 15 September, 2012 at 24:00 (JST).
Winners will be announced on 14 December, 2012.
All submissions must be original and no previously published materials will be accepted.
About JFTC
JFTC is a trade-industry association with a membership comprising trading firms, trade organizations and so on, aiming to build a stable future and forge closer global links.
JFTC's objective is to contribute to the prosperity of the Japanese economy and enhance international society through the mutual exchange of people, goods, money and information with overseas countries—helping Japan become a new trading nation. The JFTC works towards developing a consensus within the business community regarding various trade-related issues—contributing to the revitalisation and development of the Japanese and global economies.
Japan Foreign Trade Council, Inc.
Public Relations Group
Tel: +81(0)3-3435-5964
E-mail: kouhou@jftc.or.jp
Website: www.jftc.or.jp