Many younger Knights in White Lycra (KIWL) followers ask where the name comes from. The more seasoned among us know it's a play on words, derived from the 1967 hit "Nights in White Satin" by English rock band The Moody Blues. Had it not been for a drunken karaoke session in 2013, we might have called our­selves some­thing entirely different. Good job we were not singing Madonna's "Like a Virgin" at the time!
Being inclusive
I have often wrestled with our name. Does it infer a secret society of middle-aged men in spandex? Does it discourage women from joining? First impressions count. I recall receiving a message from one lady who did not donate because she thought our name was not inclusive. I explained the play on words to her and immediately can­vassed the opinions of our KIWL ladies.
Given the reaction of this potential donor, I was surprised by theirs. "Joan of Arc was a knight," one replied. Another added, "I would be offended if you did not call me a knight". And still another said, "Getting fit and supporting marginalised children in Japan is more important than a name".
I was reassured by their responses, and the natural shortening of our name to KIWL also seems to lessen the confusion. We are fully inclusive: men and women of any ability who wish to get fit and give back are welcome. And they don't need to cycle; we host events for runners, golfers, walkers and even quiz buffs!
Lady knights
We have had some high-profile women in the KIWL peloton over the years:
Julia Longbottom, former deputy British ambassador to Japan
Angela Ortiz, author, philanthropist and founder of Place to Grow
Kozue Oka, executive director of NPO Mirai no Mori
And these are just three of the many brilliant ladies from various backgrounds who have become knights to help children in need.
There is no shortcut to sufficient fitness, and preparing to complete a 500km cycle ride in four days requires a commitment to stringent training regimes. The time demands can be a challenge for mothers, but we welcome and support these true knights and are grateful to have them as part of our family.
Meet the 2020 riders
This year KIWL is proud to have two new "Couch to 500" superstars: Emi Tsuneizumi from Japan and Neha Shrivastava from the UK, both of whom have taken up cycling this year to be part of the ride! They are accompanied by second-year participant Miho Sainoki from Malaysia, who is part of the Custom Media team, and four-year veteran Ai Faithy-Perez of Japan.
I asked each about their views of the group as they prepare for this year's KIWL 500, scheduled for 1–4 October. Here are some of the answers.
How is it being part of a largely male group?
Being a woman in KIWL has never had any effect on my experience, because we all know that—first and foremost—KIWL is a charity group with a unifying cause. I have never felt any discomfort or discrimination, nor was I out of place. Gender does not come into it when we are supporting each other to ride 150km a day and up mountains!
How can KIWL attract more women?
Knowing where to start as a beginner was a challenge, but once the training rides begin it is soon clear that experienced KIWL members are incred­ibly supportive—irrespective of ability or gender. Promoting KIWL as a diverse group in publica­tions such as ACUMEN is positive. We need to spread the word and ensure that women know the group is fully inclusive, very supporting and most welcoming.
Why are you participating?
There is a satisfaction in knowing that you are helping yourself and others. We must train hard, but we have such great camaraderie and will eventually get gratified by visiting the children's home in Fukushima at the end of the ride. I want to help disadvantaged children across Japan. That is a big motivating factor.
Why is helping children important to you?
Being a parent has made me more nurturing, so it is easy for me to want to make a difference in a child's life. I never want anyone to be denied the fullness that life can offer because they did not experience the comfort, support and love of their parents. I hope we can help empower the children and give them the tools they need to be successful adults.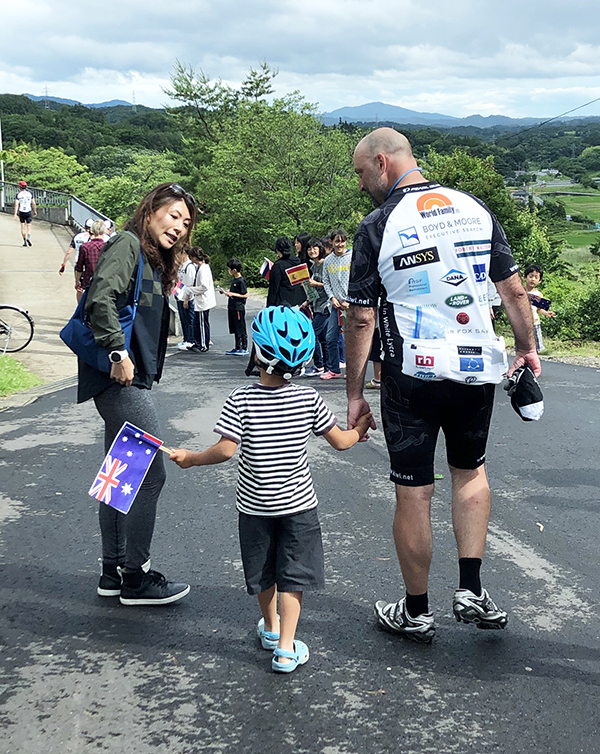 How might KIWL help others choose to give?
Being Japanese, I realise that making donations and fundraising are not so common, so I hope my participation will raise awareness and make people see that taking action to improve the world and themselves is very positive. Also, meeting the children in the home helps to expand their global outlook and lets them know that people the world over care for them and their future.
How has KIWL helped you grow?
Meeting the other knights, who come from all over the world, on our training rides helps broaden my perspectives. They are all so friendly and supportive. Being part of a team—and the camaraderie that fosters—helps me understand my limitations and gives me opportunities to grow. There is nothing quite like descending a mountain on a bicycle in the rain to learn about yourself! Being a KIWL veteran has also taught me that I was capable of a huge physical achievement that, beforehand, I did not believe I could accomplish.
What are you most worried about?
Being strong enough, come October, to ride long distances for four consecutive days. And also the possibility of having an accident!
What are you most looking forward to?
Seeing Sado Island and the countryside in the company of lovely people in tight-fitting clothing! I am also looking forward to lunch every day and being able to stuff my face every hour without worrying about my waistline!
So, there you have it—the sisters really are doing it for themselves and, more importantly, for others less fortunate. Covid-19 may still deal us a blow, but the Knights shall ride on, and we will be back next year what­ever happens! To have already raised £50,000 for marginalised children in care during such a tough year is quite an achieve­­ment, and we know it has already made a difference in their lives. I deeply thank our sponsors and individual donors for helping us to this outcome.