Welcome to a series of articles about the build-up to June's Knights in White Lycra (KIWL) flagship fundraising event: a four-day, 500km cycle ride through Japan with some British Chamber of Commerce in Japan members and firms. Representing 13 countries, about 45 amateur cyclists of all ages and abilities will battle Japan's mountains to raise funds and awareness for mar­ginalised children living in institutional care.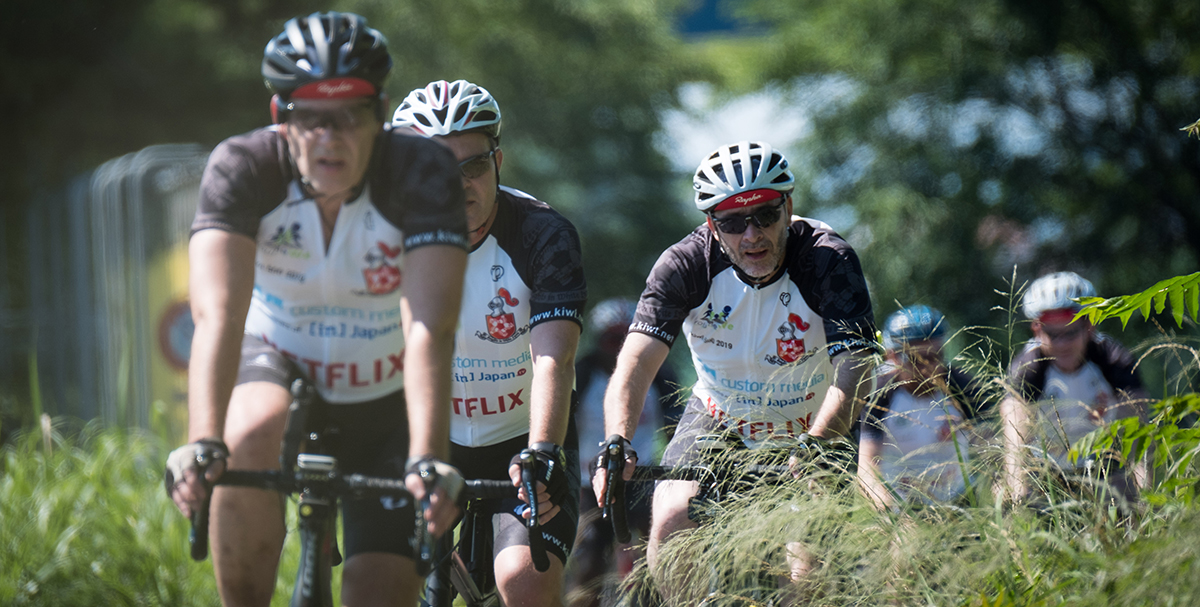 Origins
I am often asked by younger people, Where did the name Knights in White Lycra come from? Some will know the classic hit "Nights in White Satin" by English rock band The Moody Blues. The song gave birth to the name of our group during a drunken Christmas karaoke session in 2012.
In the preceding hours, sat in the Hobgoblin British pub admiring our beer bellies, we wondered how we could get fit and give back to the country we call home. With the Great East Japan Earthquake and Tsunami tragedy of 11 March, 2011, still in mind, we decided to help displaced survivors in Minamisoma, Fukushima Prefecture.
In 2013, 10 Brits overcame a blizzard to complete a 300km ride from Tokyo and raise ¥2.7mn. Arriving at the temporary accommo­da­tion in Minami­soma—cheered in by the occupants—was a tear-jerking motiva­tion for an annual event. Seven years later, we have raised ¥67mn for needy communities in Japan—particu­larly disadvantaged children.
Helping hands
How does KIWL raise about ¥10mn per year? Like any successful firm, by being a team of like-minded people motivated by common goals. It starts in January with a recruitment drive for riders. Having experienced the elation of achieving a huge personal challenge, and the emotion of meeting the kids for whom they were raising funds at the finish line, many riders return for another year. We are also inspired by "zeroes to heroes," beginners who rise to the immense challenge—from couch to 500km!
February marked the deadline for cyclists' deposits, separating the serious from the pretenders. About 40 men and women committed to four months of pain in the gym and on the road to become physically ready and focused on raising at least ¥100,000 each for our charity.
Firm commitment
February was a busy time for me, not only servicing clients in my day job but also persuading firms to adorn our jerseys with their logos in return for a dona­tion to our chosen children's charity, YouMeWe (www.youmewenpo.org). This year, I am greatly indebted to Jody Pang, strategic accounts director at Custom Media KK, publisher of ACUMEN, for introducing 76® LUBRICANTS, our biggest sponsor ever.
Custom Media also kindly produces for us a pro-bono video every year of our training, fundraising and the actual ride which greatly helps attract riders and sponsors for the next ride. And three of their staff are riding with us this year—including two women, one of whom is on her second trip as the firm's videographer:
Why do firms sponsor KIWL? Some do so for commercial exposure or to support employees who want to get fit while also giving back. Others just wish to quietly make a community contribution without active involvement. Kit sponsorship alone usually raises ¥4mn—a large portion of our fund­raising goals.
KIWL also holds fringe events throughout the year. These include the Imperial Palace Walk, a quiz night, a run, a Futsal tournament and golf day. Non-cyclists can participate to get fit and give back with KIWL, too.
Next issue, I shall expand on the work of YouMeWe and focus on our sponsors and unsung heroes. Now I should get back to my day job or clients reading this will wonder whether I am managing their money properly!
---
Learn more at: www.kiwl.net