Nestled in the beautiful surroundings of Jinseki Kogen, a small town in Hiroshima Prefecture, Jinseki International School (JINIS) offers a unique educational experience. A European-style boarding school for children in grades one to six, JINIS's entirely bilingual curriculum equips students with strong Japanese language skills while preparing them to enter the world's top boarding schools.
ACUMEN sat down with two of the school's senior advisors—Michael Rob Gray and John Baugh—to learn more about JINIS, its surround­ings and what has influenced its development.
Expert advice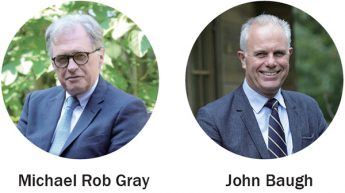 "JINIS is a new school that draws upon the experi­ence of two education advisors and mentors," explained Baugh, who is currently executive director of St. Andrew's School in Kenya. He and Gray, who has been head­master of the prestigious Swiss boarding school Institut Le Rosey since 2002, have provided the know-how that has been essential to the development of the school's backbone.
Baugh believes his experience will inspire his leadership at JINIS. "I ran the Dragon School, Oxford, for 17 years and two other UK prep schools before that. The Dragon is seen by many to be the pre-eminent boarding prep school in the UK and, with more than 30 years of headship under my belt, I hope I bring much knowledge and experience to the team".
Boarding benefits
Baugh spoke about core values and how what children learn from boarding school extends beyond mere academic achievement. Personal growth and under­standing, he said, are equally important.
"In a boarding school, you have to live with people. You cannot disappear at the end of the day. You very quickly learn to get on with every­­one and discover that—in spite of our differences—we need to find empathy, compassion, under­standing, tolerance and forgiveness in our dealings with everyone. It is these qualities that will be crucial to us as we grow up in a multi-cultural world".
Gray, who is considered a thought leader in education and brings a considerable amount of experience to JINIS, mentioned the notice­able progress students make while studying at board­ing school. "You become a part of a group, and you know how to do things yourself. So, if you have a problem, you don't go to mummy and daddy to solve it".
The forging of relationships is also key. "There is the group mentality as well," he said. "They are together, they belong to this community and they have to learn to live together".
Personal approach
JINIS offers many benefits, and a very important one, Baugh said, is individual attention. By keeping class sizes small compared with day schools, JINIS staff can spend much more time with their students. "This can help teachers to engage and encourage each individual in and out of the class­room," he explained.
"Just as staff investment may be higher, this is also true of facilities and resources," he added. "Boarding schools are often set in the countryside, amidst extensive grounds, with top-class facilities such as the well-stocked libraries, sports fields and science, art and music facilities. These may be available to students outside of the school day, too, so that they can enjoy personal hobbies in their own time".
When asked about the verdant locale of JINIS, Gray explained: "It is conducive to a different type of learning. It takes children out of their normal environment to somewhere they can feel safe, and where they can learn in different ways. They can learn about traditional aspects of Japanese culture, and also about cultures across the world. So, I think that is rather special".
Moreover, JINIS is not just appealing to Japanese students and parents. "I think, if you're an expat in Japan, one of the things you would like would be for your children to learn to speak Japanese. What a great advantage," he added. "At the same time, you don't want them to forget their English or to be completely out of the English system. At JINIS, you can have both".
Summer programmes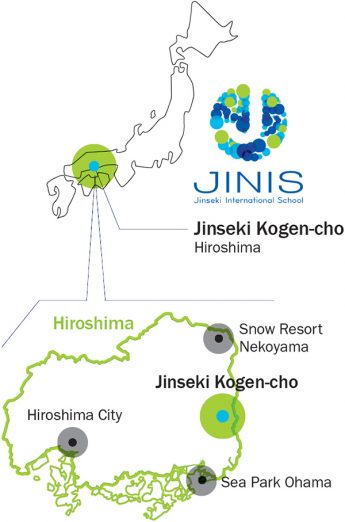 For the past three years, JINIS has been offering summer programmes that help parents and children get a feel for life at the school. Two distinct programmes are now available and are open to young children with limited or no English skills. The programmes explore themes in English, and children can explore the English language while being guided by the teachers. This enables them to steadily build English skills—another way in which JINIS is preparing young children to excel at inter­national schools around the world.
Last year, JINIS started the Academic Pro­gramme, which is designed for native English-speakers. "We brought in a British teacher with international experience and she put on an English-speaking programme for two weeks," Gray explained. The programme is based on various features of the International Primary Curriculum and teaches children history, geography, maths, science, art and international mindedness, as well as personal, social, health and economic skills. "That worked very well, I must say. We are hoping for the same thing this year".
British influence
As a graduate of the University of Cambridge, Gray spoke well of British education and reflected on his own time in British schools. "I think most of us who were educated in Britain probably had a very humanist education—a greater interest in the person, a greater interest in your development—and I think that has probably informed part of my view on education. I don't think it is going to Cambridge or a particular university that does that. I think it is the whole idea of education in the UK".
Boarding schools in the UK hold themselves to impressive standards. Having attended such schools, Baugh sees this as a must for JINIS as well. "British boarding schools are expected to uphold the highest standards of pastoral care and safeguarding for all their students, and they are inspected regularly against those standards". This high-quality boarding and academic brilliance is something Baugh has taken seriously in his role as advisor for JINIS. "I will ensure that JINIS is measured against those same standards so that we remain outstanding in all we do".
Baugh added: "I am in no doubt that Jinseki International School will be a beacon of learning—real learning—for young people in Japan and beyond. The children who learn at Jinseki Interna­tional School will take their learning further, to the great schools and colleges of Japan, Europe and the United States".
Scheduled to open in 2020, JINIS is set to become an institution qualified for and dedicated to educating junior school children in prepara­tion for their future educational lives. In a world that is going through some of the most turbulent times in years, the education and nurturing of junior school children is more important than ever. As Baugh concluded, "Jinseki International School is a school for the future—being created for today's children".