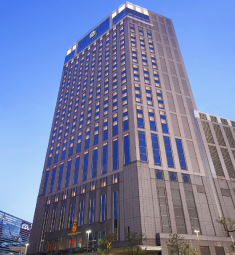 Innovative venues co-operate and compete to raise local profile
For a broad selection of meeting and banquet rooms, look no further than the Yokohama Bay Sheraton Hotel & Towers. Part of the larger Starwood Hotels & Resorts Worldwide, Inc., the hotel is proud of its newly refurbished venues that can accommodate from small meetings to formal dining events and large international conferences.
Sheraton hotels are this year celebrating their 75th anniversary. To mark the event, the Yokohama hotel has incorporated into its plans and services several special offers with a connection to the numbers 75 and 1937—the year in which the first Sheraton hotel was acquired.
The offerings include a Boston 75 cocktail, a wedding plan that costs ¥750,000 and a loaf of bread for ¥1,937.
The highly competitive nature of the meetings, incentives, conferences and exhibitions (MICE) industry in Japan has forced the city of Yokohama to devise an innovative solution.
"Not only venues in Yokohama or Tokyo are fighting for MICE events; places all over Japan, such as Kyoto and Okinawa, are vying for the same ones", Hisanori Azami, assistant sales manager told BCCJ ACUMEN.
"This is the main reason Yokohama, as a city, decided to break up into four groups, allowing each group to try to get the sought-after events", Azami added.
The venues within the four areas—Yokohama Station, Shin-Yokohama, Minato Mirai and Yamashita—work closely with the city's Yokohama Convention & Visitors Bureau.
The bureau facilitates the sharing of information and creation of strategies to enable each area to promote itself, according to Azami, who is also the bureau's chair.
In addition, it helps those wishing to hold an event with the planning and organisation.
Each area focuses on a different aspect of MICE: the Yokohama Station area on meetings and incentives; Minato Mirai on conventions and exhibitions; Yamashita on sightseeing; and Shin Yokohama on sport-related functions and concerts.
"If we tried, individually, to get each event, we would be much more limited. By co-operating as an area, we have increased our chances", he said. "We have to co-operate as Yokohama", he added.
Although the venues co-operate, they compete with each other, too, especially since Yokohama does not have as many hotels as Tokyo.
As well as offering high-quality service, delicious food, comfortable guest rooms—all at competitive prices—the hotel is located one minute's walk from JR Yokohama Station. In addition, it can be accessed easily from both Narita and Haneda airports.
"In the Yokohama Station area, we are definitely the number-one hotel. We are a high-end hotel that has a great variety of banquet rooms and meeting spaces", Azami explained.
The prestigious brand name of Sheraton, one of the biggest international hotel chains, has a major advantage over its competitors.
Non-Japanese firms tend to hold events at different locations each time, and may even pick different parts of Japan or another country for successive functions.
To attract more people from overseas to Yokohama and, therefore, to events in the city, Azami believes that there needs to be an improvement in English-language skills, not only in Yokohama, but also in the country as a whole. This would enable Japan to better compete with other Asian countries in the international MICE industry.
The city of Yokohama has many attractions. They include a strong hospitality industry, Chinatown and a lively port area. But, according to Azami, Yokohama generally is not well known among non-residents for its location, proximity to Tokyo, or services.
So it is not only by improving its facilities, but also by increasing its promotional activities as a city, that visitors will be persuaded of the attractive options that Yokohama offers.
Plans are being drafted for a new development to be built, in seven or eight years, on top of the existing Yokohama station. It is expected that this will help attract to the city a greater number of visitors.