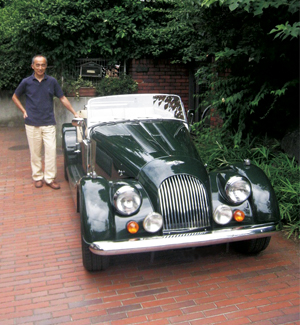 Whenever they encounter another Morgan on the road, drivers of this iconic British car cannot help waving at their fellow enthusiast at the wheel. This happens as much in Britain as it does in Japan. I should know, because I have had my Plus 4 Four-Seater in both countries.
It was love at first sight. Back in 1989, when I was living in London, good friends of mine Brigid and Frank bought their Morgan, a Connaught Green Plus 4 Four-Seater (Brigid's father had been a long-term Morgan owner). They took it on a joint family holiday that we had in Tuscany in 1990 and I decided that I had to have one for myself. My daughter recently having been born, I thought that a four-seater would be more practical.
So, I placed an order and put down a deposit. The dealer told me that I would have to specify the features the car was to have, but there was no point in doing so then as there was a six-year waiting list! The specifications would be submitted six months before the planned delivery date, when the car would start to be built.
In the ensuing years, a number of things happened in my personal life and the work front, resulting in unforeseen changes to financial circumstances. Six years passed but I was unable to proceed with confirming my order as I did not have enough funds.
Luckily, Morgan let me defer my order by a year and, in early 1997, I returned to the dealer to submit the specifications and order option extras (walnut dashboard, leather upholstery, wire spoke wheels, driver's side wing mirror, door handles, glove compartment lid, bumpers, etc.). Some weeks later I was invited to Morgan's Malvern plant to see my car being built.
In August, almost seven years after having placed my order, the Morgan was finally delivered.
The car has now been with me for 21 years and is probably the only Morgan that was bought and driven in the UK, brought to Japan and then returned to Britain, all by the same owner.
It turns heads almost anywhere it goes, even in its country of origin, but a particularly memorable occasion took place somewhere near Lucca in 1996, on another Tuscan holiday. I had driven the car there from London, putting it on a Motorail service from Calais to Bologna. The Morgan was parked for a few minutes near a hilltop church in Petrognano and when I returned to the car, it was surrounded by a swarm of high school students, some of whom on seeing me begged me to open the bonnet while others were heard muttering "Che bella macchina (What a beautiful car)!". It was quite a few minutes before they dispersed.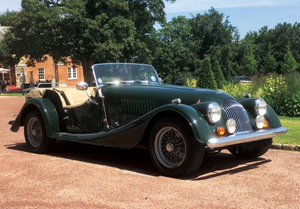 I regard my 21-year old Morgan as the ultimate antithesis to the modern car. It has no air-conditioning, though its heater is very efficient—in summer as well as in winter. It takes a good several minutes to put the hood on and, in heavy rain, the passenger (if one is aboard) is often busy mopping up the water that seeps in through various gaps between the hood and the bodywork. The suspension is good, in fact too good: it indicates the road condition and identifies even the slightest dents in the asphalt. Naturally, there is no satellite navigation system, though I daresay one could be fitted even now. Cleaning and polishing the car can only be done manually. It therefore takes a certain kind of mindset to own, drive and maintain a Morgan.
It never ceases to amaze people, so it seems, to know that the design of the classic Morgans (the 4/4, Roadster, Plus 4 and Plus 8) has not changed much since 1938. Some cannot believe that those cars are still made, to a great extent by hand. The marque exudes idiosyncrasies and eccentricity, which set it apart from all other production cars.
They are beautiful to look at, require delicate handling and yet are impressively robust. Those are the qualities that attract people and the reasons that Morgans retain their popularity. It has most certainly been worthwhile shipping my Morgan across continents!