Director, Dyson KK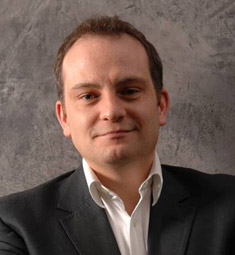 My Blackberry alarm wakes me at 6am most days, just in time to organise myself and get to the pool at Atago Green Hills Forest Tower Spa for opening time 30 minutes later.
One of the many huge benefits of living at this Mori residence is the amazing gym and pool on the top floor. I swim for half an hour or so, which is usually enough for 50 lengths and important for me because, as a former marathon runner, this is the only real exercise that I find time to squeeze into my hectic schedule.
I also tend to take a couple of minutes relaxing in the hot tub. It's a nice way to organise my thoughts and prepare mentally for the day ahead. It's also definitely something the Japanese have got right. On a clear morning, the view out the window, over the Tokyo skyline with Mt Fuji on the horizon, is quite inspiring.
After taking a shower and changing, I walk over to the spa lounge for the free buffet breakfast served to residents every morning.
I've recently been bringing my personal jar of Marmite to breakfast because they don't serve this fine accoutrement here, so I use my own from the UK to spread on my toast. It caused quite a stir originally—residents are not meant to bring in their own food—but they have got used to me now.
I try to spend breakfast reading the Financial Times. Again, free for residents, it gives a good overview of the issues relevant to my job, including a good summary of major Japanese market and political events.
After that, it's a walk of about an hour to the office in Hanzomon, including a quick stop for espresso at a Starbucks. Espresso is one of my vices. I drink far too much of it.
There is no such thing as an average day in my office. The great thing about a creative and commercially bold firm such as Dyson is that every day is full of different opportunities and challenges.
I do try to get out into the "real world" as often as possible, visiting stores to see the retail environment and talking to sales staff and our demonstrators—although always with a translator. I'm particularly keen to see our own merchandising displays and those of the competition, to find out "what the customer sees".
Visiting retailers' headquarters is another vitally important part of my role, enabling us to understand how we can work better and smarter with our key retailers.
As a subsidiary, we are essentially a sales and marketing operation, so planning and preparation for big launches and marketing campaigns are essential with teams across the business, not just in Japan, but also at headquarters in the UK and at our production facility in Malaysia. The time difference with the UK can make this challenging and late-night, so I am on the phone to the UK more often than I would like. Planning and forecasting with the teams from sales, marketing and the supply chain is a real area of focus.
I'm lucky enough to get closely involved with all our advertising campaigns and work directly with our new communications agency, Naked, which won our account last year. I enjoy meetings at their offices in Jingumae as it's a very relaxed and creative space.
Online direct sales are also a major area on which I focus. We only opened our web store last year, but it's a real growth area for us and a great success story.
Spending time at the call centre, just over the road from our main building, and at the service centre helps me stay close to the coal face of the business, listening to our public and understanding what keeps our loyal customers coming back for repeat purchases time and again. I try to meet them in person as often as possible, since they provide real insight into what makes the Japanese consumer buy our products and where we can improve.
I'm lucky enough to be surrounded by some great managers, so work is never a chore and always a pleasure. The team is massively talented and dedicated, and I'm immensely proud of them and what they have achieved. They have helped Dyson understand Japan and Japan to understand—and love—Dyson, which for any foreign brand, let alone a foreign electronics manufacturer, is rare even today.
Testament to this are not only our loyal Japanese customers, but also the number of awards we have won in Japan recently.
Of those, the two of which I am most proud are the BCCJ's British Business Award for Corporate Innovation and the Japan Industrial Design Committee's Good Design Award Grand Prix for our new range of Air Multiplier Fans. This is a hugely prestigious award to win.
Lunch tends to be at my favourite standing sushi bar around the corner in Kojimachi. Braised octopus with mayonnaise and otoro are my favourites and were probably the first words of Japanese that I learned—apart from nama biiru, of course!
For a more formal lunch, both the famous Inagiku tempura restaurant and the fabulous Elio Locando Italiana are close by and never fail to please and impress. The service at both is legendary.
Afternoons I try to leave free to do my own work before the volley of phone calls and video conferences with the UK kicks off from 5pm or 6pm depending on the time of year. The extra hour with British Summer Time makes a huge difference and allows me and the team to get home earlier.
Either way, I try to set a good example by leaving the office by 7pm. When I say that to people in the UK, they all think we're mad to be working so late, but that's pretty good going by Japanese standards.
When the weather is good, I find the walk back to Atago gives me time to put some distance between home and office life and time to reflect on the day's events.
I always make time to phone my wife soon after she gets up in the morning. After living in Tokyo for more than two years to study for an MBA, she returned to the UK at the end of last year.
A bit of downloaded British TV on my Mac rounds off the evening nicely. EastEnders—I never miss an episode, Spooks, Waking The Dead, and the new series of Lewis, the Inspector Morse spin-off that is filmed in my hometown of Oxford, makes me feel quite nostalgic.