Your biggest leverage and trouble comes from bad people, personnel costs and policies, and ill-managed unions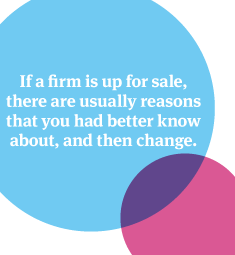 In this article, I cannot help you very much. That said, in my 2004 book, Japan True or False—People Problems, Costs, Restructuring, chapters one, four and five have much useful information on mergers and acquisitions. TMT/Glasford specialises in the areas of HR practices, salaries, benefits, personnel replacement, and supplementary executive search.
The book's first case study is especially important: it tells, in detail, what to look for and why the huge firm involved was happy they did not buy the factory operations mentioned. All meeting times, dates, consulting documents and exhibits are real, with only company and proper names changed.
I have seen many mergers and acquisitions that were about to have their letter of intent signed without due diligence having been conducted regarding the about-to-be-acquired firm's largest costs and potentially largest headaches.
If a firm is up for sale, there are usually reasons that you had better know about, and then change.
When you have to reduce staff, contrary to the myths you may hear, you certainly do not need to allow all employees to voluntarily leave with a severance package.
In fact, by using appropriate tactics and good communication, it is possible to get staff to see that the most unfair thing is dangling the same severance package in front of everyone and dissuading the ones you need from leaving, while repeatedly pushing out and pressuring to leave those people you believe are less necessary. At least these latter poor souls want to know that the people you need are not able to voluntary leave with the same severance package that is being pressed on those whose services are no longer required.
If you know union management, how to communicate with the entire workforce, and how to negotiate with and handle union leaders—even those you consider radical—there is no reason your entire merged entity should be unionised.
As the volume's many other case studies and client-identified and signed testimonials show, employees often willingly give up their union. They may, for example, realise that 3–5% of their pay (some ¥3,000 to ¥5,000 per month) is deducted for union dues that no longer will win them anything.
Among the 87 client letters carried in our website, there is one that shows we persuaded an extremely strong and powerful union at a well-known Japanese firm, in a joint venture with a major US firm, to leave the new venture alone. Everyone had thought that could not be achieved.
At just one three- or four-hour meeting, attended by about 40 people—half union leaders, and half top management from both firms—we succeeded in getting the union to agree to leave the joint venture alone. We did this simply by reasoning, good communication and requesting favourable treatment from the powerful union leaders. We politely expressed the desire to manage without having a union involved in all decisions—as the US firm was accustomed to doing.
So whether acquiring, or merging with, a firm, we can make appropriate cost-saving changes; run with our own rules of employment, benefits and salary plan; adjust down some individuals' salaries, if fair and appropriate; as well as selectively reduce and replace staff.
But sometimes there are good practices to learn and incorporate from the other entity. After duly respecting collective bargaining agreements, there are ways to incorporate them into the employment rules and for the employer to change their rules. Even without union or employee consent, there are ways to smoothly get that done.