When you're getting your­self esta­blished in Japan, one of the first things you do is open a bank account. As long-term residents of Japan well know, this seemingly simple task is full of formalities and extra steps.
But it doesn't have to be this difficult, and that's where Sony Bank's new service comes into the picture. Sony Bank is not a new player in the banking field: they were founded in 2001 with an aim of offering their customers better and simpler banking using advanced technology—ahead of many traditional banks in Japan.
English online banking for the international community
In 2018, acknowledging the growing number of English-speaking international residents in Japan, Sony Bank decided to take steps to meet these customers' needs. They teamed up with Jarman International KK, a consulting com­pany that specializes in helping Japanese businesses effectively reach international customers. The team studied a sample group of approximately 50 international residents from predominantly English-speaking countries, who had lived and worked in Japan on average longer than 11 years. The purpose of the study group was to point out the main banking issues international residents in Japan have and find solutions. Sony Bank also conducted a survey of dozens of international residents in Japan to find out the most prominent issues that they faced in banking.
What they discovered is that residents found the paperwork involved with opening a bank account too complicated. They felt that the need for hanko was an inconvenient formality, and they commented on many banks' lack of English materials and customer support in English. The majority of those surveyed said that what they were looking for from their bank was the ability to take care of their everyday transactions without needing to visit a bank branch in person.
Taking this feedback into account, Sony Bank began work on their English online banking service, which was unveiled in March of this year. As Noriko Rzonca, executive officer at Sony Bank's Digital Transformation Department, pointed out, there are three keywords that their service is based on: "easy" to use and obtain; "fair," in that it offers all of the same services to all of its customers; and "smart," letting customers go almost entirely cashless. 
Ease of use
To make the account-opening process as smooth as possible, Sony Bank created Open Account, an English-language smartphone app, that allows customers to open their account, with no need for Japanese language ability, hanko or complicated paperwork. After the user instals the Open Account app, they can use it to scan two documents: their residence card with a valid address in Japan and their health insurance card (Social Health Insurance card or National Health Insurance card). Open Account uses optical character recognition to extract the information needed from these documents to set up the account.
One of the first things that strikes you when you visit Sony Bank's English website and use the Open Account app is the quality of the English. It is easy to understand, particularly when it is compared with what you might find in other Japanese banks' material. As Rzonca explained, this was a conscious decision. "We partnered with external consulting agencies and design firms with a group of internationals. All the English content on our website and the Open Account app is not directly translated from Japanese—this can easily lead to confusion or misunderstanding. Instead, it has been created and checked by native English speakers".
Sony Bank's English website has an easy-to-understand guide that explains how to use the bank's products and services as well as a regularly updated blog that covers financial topics that international residents in Japan will find useful. The website also includes online live chat and email support in English.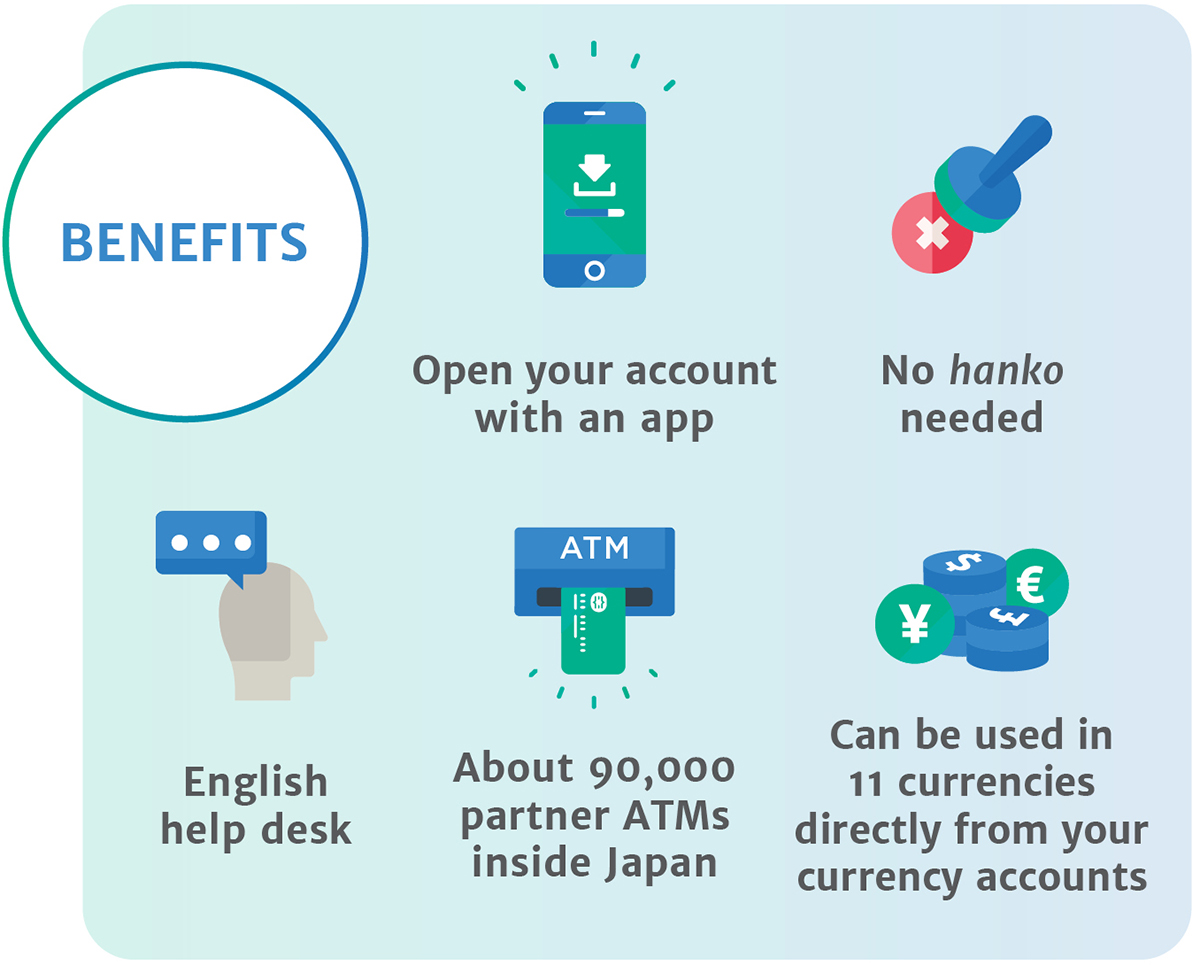 The world in your wallet
Once the bank account has been created, within approximately 10 days, the customer receives their Sony Bank WALLET, a cash card with Visa debit functionality that supports up to 11 different currencies as well as cashless payments. The card can also be used to withdraw Japanese yen from about 90,000 partner ATMs inside Japan, including Seven Bank, Aeon Bank, E-net, Lawson Bank, Japan Post Bank, Mitsubishi UFJ Bank and Sumitomo Mitsui Banking Corporation.
Inside Japan, every Sony Bank customer can enjoy a minimum of four fee-waived cash withdrawals in Japanese yen per month at partner ATMs, and yen deposits at partner ATMs are always free. Sony Bank also offers a rewards program, Club S, which provides extra benefits that include additional fee-waived cash withdrawals. There are three levels within Club S—Silver, Gold and Platinum—and unlimited fee-waived cash withdrawals from partner ATMs inside Japan are available for Platinum-level customers. Using Sony Bank's English online banking, it's easy to check your balance and make fund transfers.
Rzonca said that one valuable benefit of Sony Bank WALLET is the ability to make cash­less payments and withdraw cash in multiple currencies. It can be used in 11 currencies directly from your currency accounts. This is particularly useful for customers who are travelling from Japan back to their home or to other countries. Customers can easily shift their funds around to different currencies using English online banking, and save up various currencies as needed. She presented one example of how this would come in particularly handy: "Let's say you know that you're going to the US in the next three months. You can save up US dollars in your foreign currency account in advance of your trip. And when you withdraw cash or make payments using Sony Bank WALLET, it comes out directly in dollars from your foreign currency account. If you have a sufficient dollar balance in your account, the only fee you will incur is for ATM usage. You can check in to a hotel with this card, rent a car or do your shopping with it where Visa is accepted. You can truly rely on it wherever you go". Of course, Sony Bank WALLET can also be used for cashless payments wherever Visa is accepted. 
Manage your finances in English
The Japanese-language website of Sony Bank offers several other financial services and, in the future, Sony Bank will roll out these services for their English-speaking customers. But just as they did when they prepared to launch their English service, Sony Bank is committed to base what they offer on careful research and listening to the feedback of international residents. "We'll continue to conduct customer research this year and hear what our customers' needs are. After that we will develop our plan for additional products and services accordingly," Rzonca said. They also invite customers to provide feedback via their English help desk.
Even though the service is brand-new and there are a lot of improvements that the company is trying to make, Rzonca is proud that Sony Bank is providing a valuable service to inter­na­tional residents in Japan: giving them the autonomy to bank the way they want, when they want. "I understand that our customers are busy people. The most important thing I want them to know is that they don't need to go to the bank for every transaction they want to make," she said. "Their business and their finances are completely under their control, and almost anything they want to do from a basic banking perspective, they can do it online.
"What we most want potential customers to know is that Sony Bank is always here for you, and that opening a bank account and using our English online banking are things you can do on your own. You don't need to get support from your Japanese friends to handle banking transactions. You can do it yourself in English".
---

For more details about Sony Bank's English online banking, click here.
Important Matters Concerning Foreign Currency Deposits
Foreign currency deposits entail some risks such as loss of principal. When conducting foreign currency transactions, please be sure to make the investment decision on your own after confirming the "Important Matters Concerning Foreign Currency Deposits" on Sony Bank's English website.