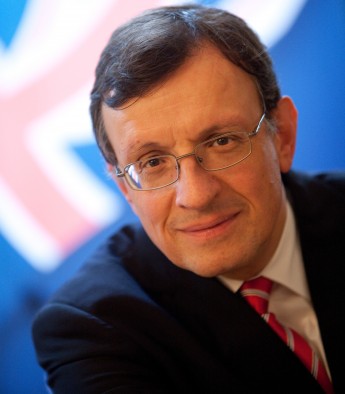 Ambassador David Warren receives a KCMG (Knight Commander of the Order of St Michael and St George)for displaying exceptional qualities of leadership and empathy through the immediate aftermath of the massive earthquake in northern Japan which caused a tsunami and a nuclear disaster at Fukushima, during which the British Embassy Tokyo remained open and fully operational. In the face of these events, he provided careful leadership in the face of considerable uncertainty. He deployed to the earthquake area with the first consular team 40 hours after the earthquake and quickly established himself as the public face of the British response, combining calm authority with quick action to help those who most needed it, enabling the consular teams to help over 80 people leave the worst affected areas. He was a source of reassurance to all the British residents in Japan and thousands of others in the UK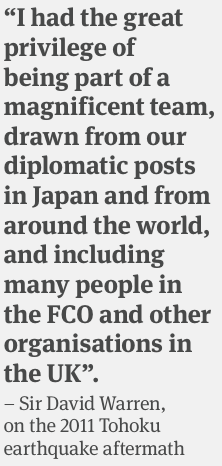 who were concerned about their relatives and friends, liaising with senior members of the Japanese government to get as much information as possible and to get essential assistance to the Japanese.
Sir David said: "Everyone in Britain was horrified by the terrible disasters that affected Japan in March, and humbled by the courage and resilience that the Japanese people showed in their response. I had the great privilege of being part of a magnificent team, drawn from our diplomatic posts in Japan and from around the world, and including many people in the FCO and other organisations in the UK. I am delighted that the team's work is being recognised in this Honours list".
And three drivers at the British Embassy Tokyo—Tsuneo Ogata, Isamu Suzuki and Jun Yanagiya— each receive an honorary MBE (Member of the Order of the British Empire) for exceptional service in the aftermath of the March 2011 earthquake, tsunami and nuclear crisis. Driving to the affected areas in hazardous conditions, they worked long hours in distressing circumstances. In addition they advised on fuel supplies, road conditions and routes, and worked with Japanese relief agencies to ensure that emergency consular staff were able to access the affected areas quickly, assess the situation and help British nationals. They carried out this work despite the risks of further earthquakes, tsunamis and radiation leaks. The drivers displayed the highest standards throughout the crisis and worked together to provide an outstanding service at an extremely difficult time for themselves and their families. This commitment and sense of duty has continued with various fundraising efforts undertaken at their own initiative.

These companies congratulate Ambassador Sir David Warren and his British Embassy Tokyo team on the UK government's recognising their great efforts in the aftermath of the 11 March disasters.