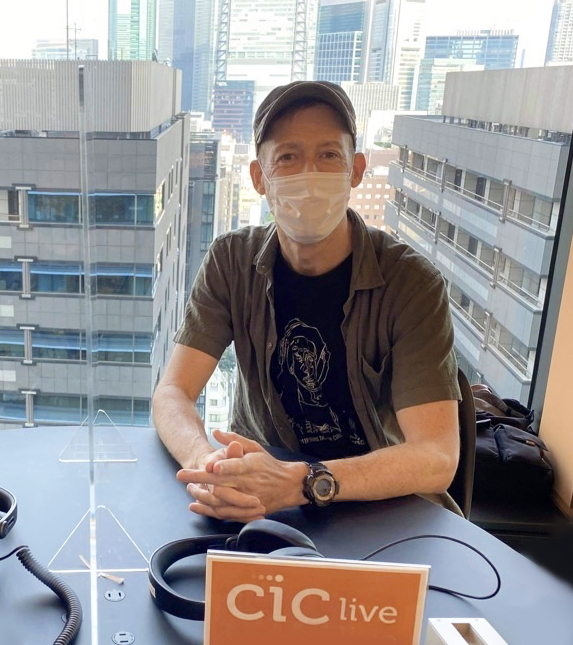 Music is one of the few things in the world that can touch people, regardless of language. It continues to bring together in enjoyment people from different cultures and backgrounds. One man who is forming a musical bridge between the UK and Japan is Nick Luscombe, a man of many talents and projects, once described in the press as a "restless musical soul".
The London–Tokyo based broadcaster, radio producer, soundscape artist—as well as sound and music collector—is a fellow of the London-based Royal Society for Arts, Manufactures and Commerce (RSA), and serves on the board of the Japan organisation. In the past, Luscombe was employed as chief music editor at iTunes and as director of music at London's Institute of Contemporary Art. BCCJ ACUMEN spoke with him about his career and his current projects. 
Showcasing Japan
"I've been coming to Japan since the late 1990s to DJ and dig for music, as well as for various other activities related to a record label I had in the past that featured only Japanese artists.
"This helped me make many friends here and develop various projects that connect the cultures of the UK and Japan. I've produced and presented numerous BBC radio documentaries, including subjects such as work by author Junichiro Tanizaki and farming in Kanagawa and Hokkaido prefectures, as well as a music series for BBC Radio 3 called Nick Luscombe's Sounds of Japan.
"It's been a mission of mine to promote Japanese music in the UK. I've been working on this for many years by curating playlists, DJ sets and radio shows. I recently put together a variety of Japanese music mixes for Japan House London. The mixes range from '60s pop to contemporary classical. I have also arranged and released several compilations of Japanese music—most recently the Tokyo Dreaming LP, CD and digital release of '80s-era Japanese music for the Nippon Columbia label.
I have presented radio programmes here in Tokyo at Inter FM and Tokyo FM, and now broad­cast weekly on the new station in Toranomon Hills, CIC Live, based at the Cambridge Innovation Center (CIC) Tokyo, which is fast becoming Japan's innovation hub".
Power of music
Another one of the many projects that Luscombe founded is MSCTY. As creative director, Luscombe has driven MSCTY to be the leading agency for music and architecture, working on projects across Asia and Europe.
"We work with local governments, cultural institutions, urban planners, architects and music festivals around the world to enhance the quality and context of places and spaces via curated sound and produced and commissioned music. 
"Recently, we established MSCTY Studio here in Tokyo to focus on activities in Japan".
Luscombe spoke about the direction and growth MSCTY is undergoing as the project progresses. 
"MSCTY is developing new partnerships with Japanese artists, property developers and local gov­ernments here in Japan, and we have some exciting announcements coming soon".
OTOCARE
Based on his experience and time in the industry, Luscombe has co-founded OTOCARE, a collabo­ra­tive project with The University of Tokyo. The purpose of the project is to explore the connections between sound and wellbeing. 
"The OTOCARE project initially came about after a conversation with Yu Morishita, project lecturer at The University of Tokyo, about the sounds of nature in Hokkaido, and ways to re-read the land, partly through its sonic landscape. This has developed into a multi-layered set of activities with the university that include research retreats with sound artists, performance and listening events at Fuji Iyashi no Mori near Lake Yamanaka, Yamanashi Prefecture, as well as more recent outputs such as digital music releases and sound mixes.
The goal for OTOCARE is to create music and sounds for patients and staff in hospitals to improve their wellbeing.
"Our research clearly demonstrates that sound and music possess the ability to enhance people's sense of wellbeing. The more we study, the more we prove what we know instinctively—music is a universal source of nourishment for so many and impacts all of our lives in so many positive ways". 
---