Located on the peaceful subtropical island of Yakushima, the Sankara Hotel & Spa sits in a paradise just a two-hour flight from Tokyo. It is a perfect escape from busy city life, offering almost everything the capital is not—dead slow, whisper quiet and with stunning wild nature. Yet it is convenient, with ample entertainment.
The hotel's exceptional butler service adds to the overall relaxing and luxurious experience.
"The friendly and professional bilingual team at Sankara Hotel took complete care of us, without being intrusive—from a warm welcome with a fast, friendly check-in, to a sadly too-soon sayonara", said recent guest Simon Farrell, publisher of BCCJ ACUMEN.


A butler brings guests trays full of delicious local and foreign menu items to their room or private suite, where guests can relax, immersed in the gentle sounds of the deep forest and views of the surrounding nature.
"The massive timber balcony with sweeping ocean views was our favourite breakfast spot, and the twinkling stars and bright moon at night were breathtaking", said Farrell.
Spoil yourself
The Sankara Hotel offers a wide range of activities, amenities and services, from a dip in the sprawling swimming pool overlooking the ocean, to French restaurants and the fitness room and library lounge.
"The agony of choice is that you can join other guests in the restaurants, serving regional and French cuisine, bars and other public places—or stay in your room and enjoy the attentive butler service and cosy accommodation", said Farrell.
Soothing spa treatments, meanwhile, are most welcome after a long day's hiking through Yakushima's lush and verdant forests, or simply as a way of easing away the city's stresses and strains. Treatments in the hotel's special suites for couples, friends and families feature the memorable aromas and themes of ocean, mountain, forest, water, rain and sun.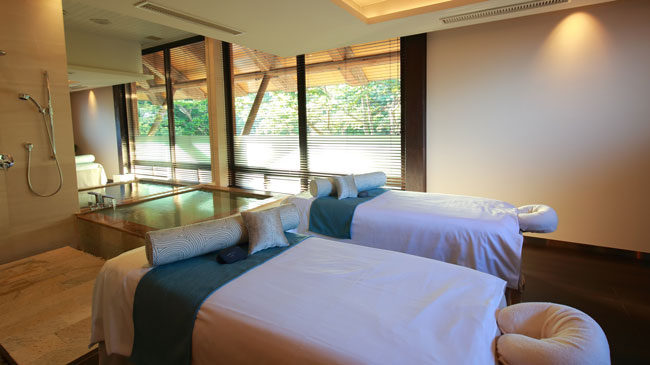 Nature's way
Outside of the hotel, you can hire a car and drive around the mountainous island's coastal route in one full day, while stopping along the way to get up close to nature.
The indigenous Yakushima macaque, for example, is no longer an endangered or rare species, and can often been seen lolling photo­genically in the island's mountains. And at the beach, colourful sea life—including tropical fish, turtles and crabs—abound. It is here that you will also find public spas right by the sea.
"You can sit on the smooth rocks with your feet soaking in the lapping spa water as your eyes take in the stunning ocean views", said Farrell. "Be careful you don't fall asleep!"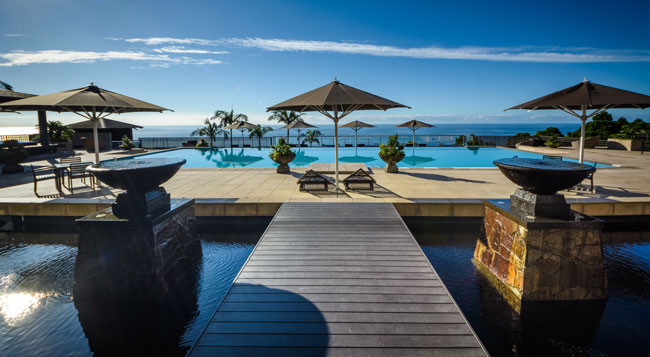 And while in the area, why not take the chance to dine nearby at authentic and colourful local izakaya, where friendly regulars warmly greet you, offering local delicacies.
First class
With its luxury rooms and suites, year-round natural beauty and first-class amenities, Sankara has become the go-to resort on Yakushima.
Unsurprisingly then, Farrell says he intends to visit again and wouldn't hesitate to recommend the hotel to a friend.
"Next time we will plan to stay at least a week to experience and explore more of the island".
---

info@sankarahotel-spa.com
www.sankarahotel-spa.com/en/
+81-997-47-3488