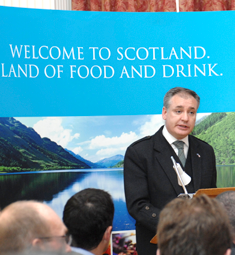 Photos: Scottish Development International Tokyo Office
Trade mission markets best of Scottish cuisine
• Food is nation's strongest growth sector
• Whisky exports hit record £4.23bn in 2011
• Vision: healthier, wealthier, smarter Scots
Among the things that struck Richard Lochhead—a member of the Scottish Parliament and cabinet secretary for Rural Affairs and the Environment—on his first visit to Japan, were the quality and presentation of food, as well as the passion that Japanese people have for what they eat.
This, he said, gave him great optimism that the trade mission he was accompanying to promote Scottish food and drink would meet with success.
"Scotland is a small country, but it benefits enormously from a pristine natural environment. This means that we can focus on premium quality products, capitalising on naturally healthy foods and a provenance with which customers associate quality, authenticity and trustworthiness", Lochhead said at a food and drink tasting event at the British Embassy Tokyo in November.
"Many of our food and drink businesses are family owned, with much pride, passion, skill and experience transferred between generations.
"As a government, we recognise that our food and drink sector is something of which we should be, and are, immensely proud", said Lochhead, a member of the Scottish National Party who represents the Moray constituency.
"That is why, when we came into office, we created the first National Food and Drink Policy for Scotland, and we have come a long way since the conception of the policy in 2007 and its publication in 2009".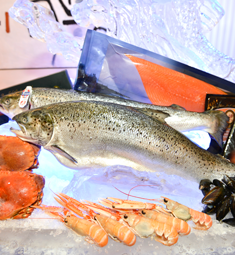 The government's vision for food and drink is to make the nation healthier, wealthier and smarter, he said. As well as addressing quality and health, the policy addresses environmental sustainability, education, access and affordability for all.
The success of this wide-ranging, proactive approach has been recognised around the world, and held up as a model by the government of Canada, the United States Department of Agriculture and the World Health Organization.
"Over the next year, we will focus on food education for young people", he added. "To build on the success of the policy, the Scottish government has more than doubled the food policy budget for the next three years, highlighting the importance we place on the sector".
The food and drink industry is currently Scotland's strongest growth sector, with 2010 figures showing a 5% year-on-year increase in turnover, from £11.8bn to £12.4bn.
"Credit for this success should be given to Scotland Food and Drink Ltd., who are the industry-led body responsible for driving industry growth", he said.
The team was established in 2007 as a non-profit organisation to guide food and drink firms of all sizes towards increased profitability. In 2009, Scotland Food & Drink set a 2017 target of £12.5bn, which is on track to being reached five years early.
"It has helped ensure that fantastic collaboration and partnerships have been fostered—between farmers, fishermen, food processors and manufacturers, salmon farmers, whisky companies and all parts of the food- and drink-supply chains", he said.
"The Scottish food and drink industries are outperforming the UK food industry, breaking records and outperforming all other manufacturing industries".
Scotland reported record exports in 2001, and the government has implemented policies to boost total exports 50% by 2017, with the food and drinks sector a vital piece of that plan. Within that sector, whisky plays a big part.
Exports of Scotch reached a record high of £4.23bn in 2011, up 23% from 2010 and 50% from 2007.
Whisky has also played a special part in cementing the friendship between Scotland and Japan, Lochhead pointed out. The relationship can be traced as far back as King James VI of Scotland and Tokugawa Ieyasu, Japan's first Tokugawa shogun.
While Japan largely made Western-style spirits with chemicals after the country opened up to the world, the secrets of whisky were brought to this country by Masataka Taketsuru, the founder of Japan's whisky industry.
Initially sent to Scotland by a drinks manufacturer in 1918, he worked at a number of distilleries in the Highlands and studied organic chemistry at the University of Glasgow, becoming the first Japanese to learn the art of making top-notch Scotch.
After marrying, he returned to Japan in 1921 with his Scottish bride—and the ability to make genuine whisky. But, aware that the right environment is required for the very best whisky, he started his own firm in 1934, Dainipponkaju Co., Ltd., later to become the Nikka Whisky Distilling Co., Ltd, with its first distillery in Yoichi, Hokkaido.
"History shows us that we can learn much from one another. We can benefit from sharing cultural understanding, but we also have much in common, such as a shared appreciation of quality, authenticity and tradition", said Lochhead.