The market for bilingual professionals in Japan continues to thrive, with demand for candidates at an all-time high.
In this climate, two businesses serving the sector as the bilingual arms of Japanese recruitment giant Recruit Group are rebranding. On 1 April, CDS will become RGF Executive Search Japan, while RGF HR Agent Japan will become RGF Professional Recruitment Japan. These changes are meant to clarify the firms' positions in the market and their service offerings for clients and candidates in Japan and throughout Asia.
---
Matt Nicholls
Managing Director – RGF Professional Recruitment Japan
Tell us about RGF Professional Recruitment Japan?
We deliberately have very broad coverage, dealing with positions from staff level to management across all industry sectors and job functions. RGF Professional is predominantly a database-driven recruitment business. We have access to the largest candidate database in Japan and can respond to any client need rapidly with unique, high-quality candidates. Our consultants operate under a 360-degree model that allows us to provide an extremely consultative service to both candidates and clients.
What impact will the new branding have on business?
Unlike CDS, for us it's pretty minimal. Our name changes from RGF HR Agent Japan to RGF Professional Recruitment Japan. What I like about the new branding is that it brings all our offices in Asia together under the RGF banner. I think this helps underline the power of the group as a whole and makes our position as the number-one recruitment firm in Asia much clearer.
What are the advantages of being part of the Recruit Group?
The brand is instantly recognisable in Japan. We've found that there are many bilingual Japanese candidates who, for whatever reason, only trust their career and personal information to a Japanese recruitment firm. By the same token, they would like to work for an international business. From this perspective, the Recruit brand allows us to access unique, high-quality candidates that our competitors cannot. On the candidate side, the resources at our disposal mean we can work with all the leading firms in Tokyo—so, whatever the candidate's requirements, we can usually find the perfect match. Finally, from an internal perspective, it's a brand that people want to work for. Our internal talent-acquisition team has never been busier!
What are your goals for this year?
RGF Professional Recruitment Japan has quadrupled in size over the past two years. This is due to a combination of the factors listed above. While we can't sustain that level of growth forever, we still have aggressive plans for 2018. The key targets for us are to continue to provide our clients with high-level, exclusive candidates and to give those candidates the opportunity to work for some of the best firms in the world.
---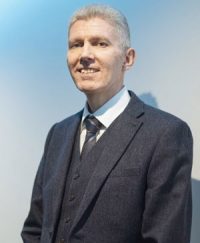 Struan Mckay
CEO – RGF Executive Search Japan
Tell us about RGF Executive Search Japan?
We are predominantly an executive search firm accepting client mandates to place mid- and senior-level bilingual talent into their Japan-based operations. RGF Executive Search Japan will continue in the footsteps of CDS. As the name implies, we are search-focused, involving market mapping, research and headhunting for a particular requirement.
The firm's strength lies in its bespoke in-house research capabilities coupled with the market knowledge and extensive, hands-on experience of its consultants. Our team members have an average of 9.5 years in the industry—well above the level of our competitors.
What impact will the new branding have on business?
Of course, we have a sentimental and emotional connection to the CDS brand that has served us so well over the past 20 years. But now feels like the right time to adopt a more connected brand strategy throughout Asia—and ultimately globally. In this way, we can experience the benefits and leverage the strengths of the whole Recruit Group both in Japan and across borders.
The rebranding is part of an Asia-wide integration, designed to unify various firms that the Recruit Group has acquired over the years under its global RGF brand. There are 45 RGF offices in 26 cities, covering 11 countries and markets.
For clients who are multinationals and work across various geographies in Asia, the new branding will make it much clearer what our organisation is and the fact that the brand they've learned to trust in other markets is actually the same one they have locally. Today, someone who works with, for example, RGF Executive Search Singapore, may have no idea that CDS is effectively the same business in Japan, with the same ownership and the same service offering.
What are the advantages of being part of the Recruit Group?
Being part of the number-one recruiting firm in Japan—the fourth-largest globally—brings instant credibility and trust from clients, candidates and prospective employees alike. The wide range of business services we offer and the prime-time exposure they enjoy deliver visibility and recognition far beyond the capabilities of any single operating unit. That is a huge advantage over our competitors.
Other major strengths are our robust network of executive and specialist personnel and our extensive database of bilingual talent in Asia. We have cultivated this together with the firms Recruit has acquired over the course of 20-plus years, and will continue to grow our 1,300-plus-strong workforce covering international recruitment as we strive to deliver even-higher-quality recruitment services to firms and jobseekers in Asia.
What are your goals for this year?
A key principle in CDS's history—particularly since acquisition by Recruit in 2008—has been "Responsible Growth". This means that growth must be both sustainable and profitable. The goals for 2018 and beyond are clear: we are investing in new facilities to allow further responsible growth and must continue to execute our business plan successfully and deliver against the promises we make to our shareholders, clients, candidates and employees.
This year will also see us celebrate our 20th anniversary with staff, colleagues and friends. It's a truly impressive milestone. The founders and all employees can be proud of what their firm has achieved, how far it has come and the potential for how far it can still develop and grow. We have some fantastic events planned to celebrate and create excitement in the market.
---
CDS (CDSi K.K.):
03-4550-6980
www.cds-consulting.com/
RGF HR Agent:
03-6422-4400
www.rgf-hragent.asia/japan