Firms' premises are more important since 3/11
The past four years have been a challenge for most foreign firms based in Japan.
The 2008 financial crash, the strengthening of the yen and, more recently, the 2011 Tohoku earthquake, have opened up numerous concerns about the future operations of firms already in Japan.
Most firms that thought they had a reasonably solid business continuity plan failed to realise the full impact that these events—especially the earthquake—would have on their business, not just in Japan, but globally.
From a relocation perspective, we at Crown Worldwide K.K. had already started to see a fair share of the foreign population migrate to Singapore and Hong Kong in 2008.
Then, as a result of the Tohoku earthquake, last year indeed posed a challenge in terms of firms retaining existing foreign staff, encouraging their return, or considering replacements.
Some industries have had a reasonably normal, if not slightly delayed, international rotation. But others are uncertain about investing in future growth by hiring overseas talent.
However, one issue does seem to have moved up the priority list since the financial crunch and the earthquake: firms' premises.
Some firms have reduced their workforce; many are concerned about the structural safety of buildings they are in, disaster prevention, and business continuity. These matters are generating new interest in the real estate options available.
Following the earthquake, there was an almost immediate reaction across IT-communications industries, which are the backbone of business continuity.
Some firms have already taken action or are planning to source newer, safer havens for their back office and data centres, either at other domestic locations, or offshore.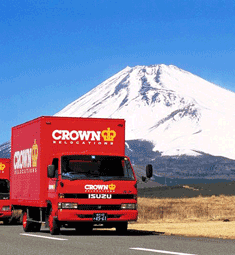 Crown Worldwide's two Japan offices and our global network of over 250 workplaces proved extremely beneficial in ensuring a smooth relocation process.
Real estate development firms are striving to offer higher-grade facilities in areas other than the central hubs that have been accustomed to housing major corporations.
Cost will always be a dominant factor when it comes to deciding on relocation. Given the current climate, especially for some small firms here, it is the uncertainty of business opportunities, or their decline, that is preventing some firms from taking action.
Other firms, meanwhile, lack experience in the daunting task of relocating an entire office, and do not know the available options.
Over the past year, many have taken a wait-and-see stance, cancelled projects, and introduced cautious delays. But we do expect to see more office relocations in 2013.
The downsizing and consolidation of firms due to restructuring has opened up access to alternative, high-grade properties, of which a number have more competitive price tags. Moreover, some firms are exploring the possibility of renting an entire building, rather than partial floor/area occupancy.
Business continuity also depends heavily on property management. Many firms are now seeking to better align their property management interests with the concerns of facility owners.
Crown Relocations' goal has always been to support their clients with management solutions and deliver a seamless migration of their workforce, avoiding client/user downtime.
Since few firms share the same structure or corporate culture, however, it is vital that we remain flexible, bearing in mind that Crown has been operating in Japan for over 47 years, and has a wealth of experience in local and global corporate office migration.
Our investment and commitment to technology and flexibility in the delivery of all our services means that our clients reap the benefits of working with a truly committed partner, capable of providing customer-focused service solutions through dedicated project teams.
The variety of projects that we have completed has also given us the ability to offer advice based on past projects and experiences, which has helped many clients re-strategise their migration. And from these changes, strategy and attitudes have evolved for most firms in the evaluation of necessary workspace.
We have seen an increase in firms wishing to archive their data, both on paper and using electronic tape back-ups. Crown Records Management staff are on hand to offer these services as part of their on-site and off-site solutions.
The changing approach to office space management has also contributed to the growing interest in work environments that are not only new and safer, but also cost effective.
As uncertainty continues to loom, a growing number of firms are trying to keep a lid on the cost of preserving and safeguarding their businesses.
To this end, Crown Relocations and Crown Records Management remain trusted partners and integral parts of their clients' continuity planning and business security.