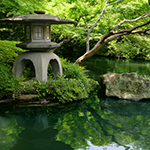 Trusts protect natural and historic places
Britain's National Trust (the Trust) is credited with protecting over 300 buildings, 250,000 hectares of countryside, 1,127km of coastline and more than 200 historic parks and gardens across England, Wales and Northern Ireland.
It is one of the world's largest non-governmental organisations, and has inspired the creation of similar groups around the world.
The Association of National Trusts in Japan (ANTJ) shares the British body's goal of protecting natural and historic places, to pass them down to future generations.
However, according to the ANTJ, the groups have one major difference. Whereas the Trust places equal emphasis on preserving historic properties and landscapes, the ANTJ is a land trust organisation, its efforts focusing primarily on the conservation of natural environments.
The ANTJ has no historic buildings, and mainly acquires land with high natural value. It manages 26 sites that are important habitats of rare flora and fauna such as the Amami rabbit and Tsushima leopard cat.
In the UK, strict principles are adhered to when the Trust acquires a historic property.
Tredegar House in South Wales is an example of a recently acquired, strategically important property. South East Wales has 1.5mn inhabitants, representing almost half of the total Wales population.
Tredegar is situated two minutes from the M4 motorway, about halfway between London and the coast of West Wales. It has the potential to become one of the Trust's most visited properties, as it also has development capacity across the site for new attractions.
When it comes to sustainable urban development, the Trust and ANTJ each have their own approach.
The ANTJ encourages the government to create or restore green spaces along streets, rivers and even in the corners of car parks and factories. In this way, it hopes to create an ecological network connecting natural with urban areas.
The Trust's work in London focuses on engaging Londoners in enjoying and appreciating the "unique historic and natural delights of the capital and all that they offer", including activities that span the arts, culture and the urban green environment. In this way, the group aims to treat the whole of the capital as a conglomeration of "special places".