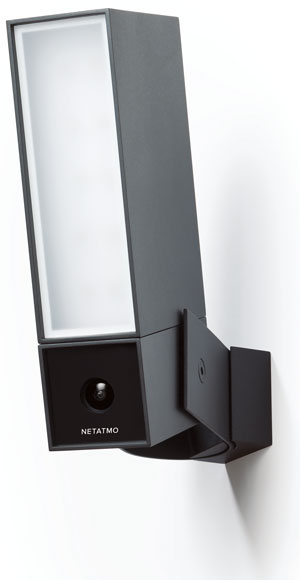 It's never been easier to keep an eye on your property. Your smartphone puts a powerful link to your home in your hand. When tied to the Netatmo Presence, your phone can tell you what is happening on your property day and night, wherever you might be.
The Netatmo Presence is an elegantly designed, web-enabled combination HD security camera and floodlight that simply replaces any existing outdoor light fixture. Deep learning and a revolutionary algorithm inside the camera enables it to detect cars, people and animals, and lets you choose which type of detection triggers a notification.
Installation is straightforward, and a step-by-step guide is included in the box. If you prefer to see the installation in action, Netatmo has a detailed walkthrough video on its YouTube channel.
Remote control
Once the Presence has been installed, download the app to your smartphone or tablet and take control. From the app, you can control the Presence and keep tabs on activity on your property through live streaming video.
In addition to live streaming, you can watch footage from specific events that are within your pre-defined parameters. A list below the video player provides access to each event in a clean and clear manner. Tap the event, such as an animal entering your property, to watch the full footage of that activity. Rotating the phone provides full-screen playback, and you can easily skim through footage.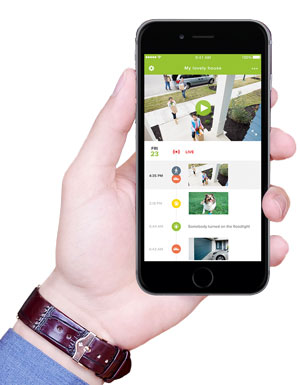 HD anywhere
The Presence features a full-HD camera that records video onto a microSD card. Video can also be synced to your Dropbox account or private FTP network, and bank-level end-to-end encryption is used for the highest level of protection.
One interesting feature is the ability to record discreetly at night using infrared, particularly useful when monitoring animals that would be scared away by a floodlight. However, if you wish to record brightly lit full-color video at night, the floodlight can be turned on manually with a simple toggle in the app, or set to switch on when motion is detected.
Alerts
Any time an event meets your pre-defined parameters, you can receive a notification on your smartphone. To help control the frequency of messages, you can decide which events you would like to know about. For example, if you are only concerned about people entering your property, and don't need to know when animals come or go, you can choose not to be notified when animals enter the area.
Alert Zones is another feature that lets you fine tune detection and notifications. Using the smartphone app, you can draw a box within a scene to limit the area that triggers the Presence. If the camera's field of view includes your driveway, deck, the street and neighbor's driveway, for example, and you only want to know if someone tries to enter your car, you can limit the Alert Zone to just the car.
No hidden costs
Unlike some other security cameras, no subscription service is required to store and review footage. The Netatmo Presence comes with an 8GB microSD card in the box—enough capacity to store about three hours of HD video—and supports cards up to 32GB. Syncing to your Dropbox or private FTP network can be done at no additional cost, and Netatmo never has access to your data.
The Netatmo Presence represents the next step in connectivity that puts you in control of your home and property—without you needing to be there. The sense of security and peace of mind that it provides is priceless, and it's fun to use to boot.
---
Installation video:
bit.ly/presenceinstall