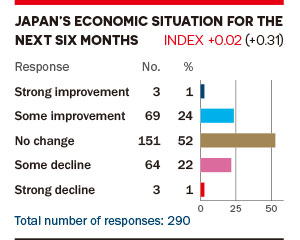 Results from a study, conducted by the Foreign Chambers in Japan (FCIJ), show dampened optimism regarding Japan's economy.
According to analyses provided by the FCIJ Business Confidence Survey Spring 2016, on a scale of +2 (strong improvement) to -2 (strong decline), Japan's economic indices for the next six and 12 months are +0.02 and +0.18, respectively. This compares with +0.31 (six-month forecast) and +0.47 (12-month forecast) in the autumn 2015 poll. It, too, reveals a dip in optimism.
Broken down by industry, the index for finance dropped significantly across question categories (Japan's economy, past/future sales, past/future profitability). Many respondents cited yen exchange rate fluctuations as a primary influence on business, as well as global regulatory changes that have heavily influenced the financial services sector.
Sales over the past six months were down from the previous survey (+0.59 vs. +0.71), with financial businesses having taken the biggest sales hit (+0.19 vs. +0.73). Most firms do not foresee any improvement over the coming six months (+0.73 vs. +0.94 in the autumn survey).
Profitability has been more stable than sales performance, however, with the past six months' results showing a +0.01 rise since the previous survey. Some 58% of respondents attribute recent gains to their own efforts, several having focused on client retention and high-value offerings. But profitability forecasts for the coming six months reveal pessimism, with an index of +0.71 compared with +0.80 in the autumn survey. European firms present a more negative outlook than their US peers.
The spring survey includes two new questions, on childcare and pay raises. Childcare for working parents was cited as a recurring topic in 67% of responding firms. For local hires, 79% of firms said they would increase salaries by 1–6%, with 2.1% the average hike.
The biannual poll comprises responses from 17 local business organisations, with 61% of responses being from European chambers of commerce in Japan or business groups. Typically, a responding firm will have a Japan presence of more than 20 years, 40 employees, and an involvement in sales, trading or the service industry.
Full report:
www.fcc.or.jp/fcij/bcs.html
This survey is sponsored by Asian Tigers, Finnair and MOS Tax Corporation.