At almost any given moment in spring, somewhere in Japan people can be found seated under boughs heavy with the pale pink blooms of the sakura (ornamental cherry blossom tree).
The hanami (blossom viewing) season is a time of year that people enjoy in the company of friends, with whom they share snacks and a favourite beverage. However, this heady show is not the only way that visitors and city residents can enjoy a little bit of nature.
One of the most pleasant surprises that Tokyo offers is the everyday garden. Well known around the world for beautiful formal gardens of sculpted trees, carefully arranged rocks and carp-filled ponds, Japan also has many tiny patches of greenery.
Tucked in doorways, poised on balconies, or lined up along pavements, these little oases come in pots of all shapes and sizes, and in numbers large and small. These "gardens" soften the edges of a city that most people believe comprises little more than concrete, steel and neon lighting.
In A Flower Lover's Guide to Tokyo: Forty Walks for Every Season, Sumiko Enbutsu tells how potted plants became popular in Tokyo and Osaka during the 18th century.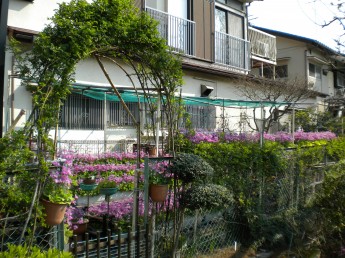 Nurseries that catered to the samurai hobby of gardening began selling overstock cheaply to citizens who pined for gardens of their own. As it climbed past a window, a pot of asagao (morning glory) would be treasured for the shade it provided on hot summer afternoons and, later, the seeds would serve as medicine. A small pot of bright kiku (chrysanthemum) blossoms would mark autumn's arrival.
These pleasures remain traditions that are treasured for the joy they bring the city dweller. Wandering the maze of Tokyo's backstreets, around such areas as Shibuya, Kichijoji and Kokubunji, one can admire the tiny gardens that spill leaves and flowers year round in a kaleidoscope of colour.
While many streets are lined with suisen (narcissus), ajisai (hydrangea), tulips, roses and other blooms in parades of splendour, who could forget the sight of delicate bonsai—matsu (pine), ume (plum) or sakura—that are every bit as magnificent as their larger counterparts?
The potted delights are ubiquitous; they decorate and brighten the day for all who walk past.
Today, not a few city gardeners have added to their mix a selection of edibles, making good use of limited space. Broccoli and cabbage can be seen flourishing next to brilliant red geraniums or the smiling faces of violas. And herbs, such as the tangy shiso (perilla) and sansho (Japanese pepper tree), can be found within easy reach of kitchens.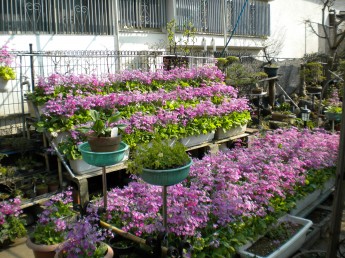 Tomatoes, eggplants, the occasional daikon (white radish) together with other fruit and vegetables decorate the outdoors, only later to join the family for dinner.
As the sun climbs higher and spring swings into full gear, step outside for some fresh air and enjoy the ephemeral blossoms.
But do keep an eye out for those potted gems that brighten the little corners throughout the year.
Flowers Year-round with a Floral Wrapping Cloth
Bright white orchids bloom all year against a black background on this cotton furoshiki (wrapping cloth). A perfect touch for wedding and other special gifts, it also makes a handsome table decoration or room accessory.
For more sustainable home ideas and bonus points, please email us mentioning BCCJ ACUMEN at info@ecotwaza.com
More details: http://greenjapan.com/products-page/accessories/049-004/