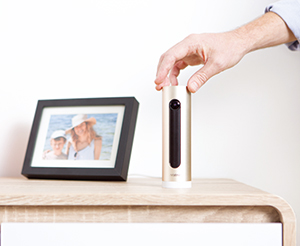 The Netatmo Welcome would not be out of place atop an antique wooden table or alongside a contemporary steel picture frame; it blends in. In fact, such is the unobtrusive quality of the device, it can be placed anywhere without upsetting the eye.
Perhaps Netatmo, the French firm behind the revolutionary face-recognition home video camera, designed it with this in mind. Image is important, particularly for those who do not want to compromise the style of their home for a gadget or accessory.
The Netatmo Welcome's clean, slender lines and fashionable shape make it a stylish addition for any home, be it a modern urban apartment or a traditional house in the country.
In terms of technology, the device does what it promises and is easy to use.
By placing the Netatmo Welcome at the main entrance to the home, it records real time images of family members—or intruders—entering and leaving. Using the settings, the name of each family member or regular visitor can be registered as "known faces".
Once this process is complete, the device's smart software gets to work familiarising itself with what those faces may look like in daylight and darkness, as well as when wearing accessories. Constantly learning, the Netatmo Welcome can even recognise someone who has undergone an extreme haircut or grown, or shaved off, a beard. It also, of course, will remember people as they age.
In an additional step, the settings of each person registered can be customised. For example, teenagers may delight in the fact that, once at home, their movements can be set to not be recorded and parents can select to not be notified in the morning when children depart for school.
More important than convenience and usability, though, the Netatmo Welcome provides peace of mind. An app connects the device to the user's smartphone, providing immediate alerts about what is going on at home.
And, with 1,080p full HD resolution, night vision and all the personal data stored in the device rather than on the cloud, the family can sleep soundly in the knowledge that they are secure—both in the real and the virtual world.