At ABBA RESORTS IZU, our villas symbolise a luxurious retreat where you can feel the fusion of modern Japanese culture and the history of classic Japanese architecture.
All our rooms offer a garden view, opening a window on incredible nature where guests can sometimes even see wild squirrels dashing through foliage. This connection to a simpler world assures that your stay will be a peaceful one as you relax in the ambience of traditional Japanese architecture and culture.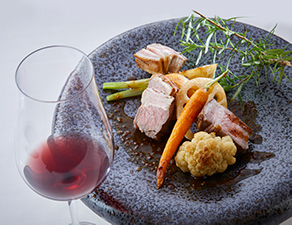 Fine flavours
The World Boutique Hotel Awards named us Asia's Best Culinary Hotel in 2017, thanks to our restaurant and its menu that incorporates many beautiful and delicious items based on the seasonal specialities of the Izu region.
You can start your day with a choice between traditional Japanese and Western-style breakfast dishes, and enjoy a selection of Japanese kaiseki, teppanyaki and French cuisine at dinner.

Peace of mind
Experience the riches of nature and the elegance of Japanese culture as you enjoy our hospitality to your heart's content. At ABBA RESORTS IZU, you can sense the seasons and feel emotions you have never felt before.
Immerse yourself in activities that are carefully crafted with you in mind, and make wonderful memories as you touch history, culture, nature and hearts. Join us for warmth and a welcome that is purely Japanese and make our villas your own.